How to Make Your Own Healing Veggie Broth
ADD TO MY RECIPES
Broth is one of the most underrated diet staples. We've been spending a lot of time sipping on a bowl through the Australian winters (okay, they don't get that cold - but it's still comforting), and that's had us thinking about all of the benefits. It's often hard to find a good storebought broth without hidden preservatives and artificial flavors, so in the Food Matters kitchen, we like to whip up a batch of this one from time to time. If you're inspired, here's how to make your own healing veggie broth.
Serves: 6-8 portions
Preparation time: 15 minutes
Cook time : 10 hours
Equipment: slow cooker or large pot
Ingredients
1 tablespoon extra virgin olive oil
1 large onion, roughly chopped
6 celery stalks, roughly chopped
3 carrots, roughly chopped
4 cloves garlic, crushed
1 bay leaf
1 tablespoon mixed dried Italian herbs (thyme, rosemary, oregano, etc.)
2 tablespoons sea salt
1 teaspoon ground black pepper
1 teaspoon ground turmeric
1 tablespoon fresh ginger, grated
2 tablespoon apple cider vinegar
1 1/3 quarts (11 cups) of water
Method
In a large frying pan, pot, or slow cooker pot (if possible) add 1 tablespoon of extra virgin olive oil and saute the onion, celery, carrots, and garlic over medium-high heat until they become fragrant and begin to soften.
Add the sauteed mix to the slow cooker along with bay leaf, dried herbs, sea salt, pepper, turmeric, ginger,

apple cider vinegar

and water.
If you're making the vegetable broth, slow cook or simmer for 2-4 hours on low; and if you're making the chicken broth slow cook or simmer for 6-10 hours on low.
Strain the liquid. Allow to cool.
Divide the broth into small portions in freezer-safe jars or containers, store in the fridge if using immediately, or store in the freezer ready for when you need it.
Do you have a passion for nutrition & natural healing?. Learn more about the Food Matters Nutrition Certification  Program here.
ENROLLMENT & BONUSES CLOSE IN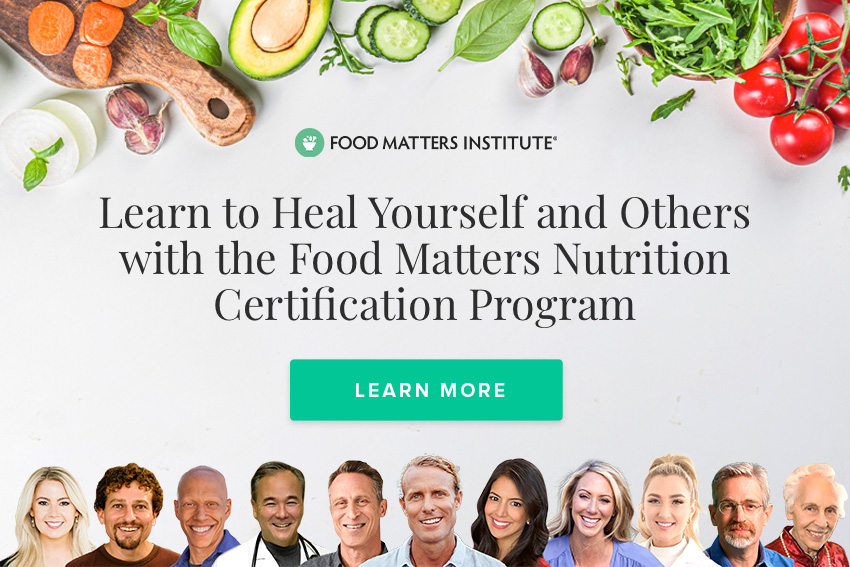 ---