Leek & Mushroom Tart in Shortcrust Pastry
ADD TO MY RECIPES
Gluten-free, vegetarian.
Vegetarian tarts are a fantastic option if you're having people over for morning tea or lunch as they look really fancy and are satisfying without being heavy. This impressive tart – a heavenly combination of mushrooms and leek infused with thyme and garlic – is very easy to make. The shortcrust pastry is beautifully crumbly and super versatile – it works so well with any number of fillings. You are only limited by your imagination.
Ingredients
for the filling:
3 tablespoons extra-virgin olive oil
1 leek, white and light green parts, washed and finely sliced
300 g mixed mushrooms, sliced
1 tablespoon chopped thyme leaves, plus extra to serve
pinch of sea salt flakes and freshly ground
black pepper
2 eggs
125 ml (1/2 cup) milk
50 g kefalograviera cheese, manchego or sharp cheddar, grated, plus extra, shaved, for sprinkling (optional)
for the shortcrust pastry:
90 g (3/4 cup) gluten-free cornflour
100 g (3/4 cup) sweet rice flour (also known as glutinous rice flour)
50 g (1/3 cup) sorghum flour
35 g (1/3 cup) almond meal
1 tablespoon sea salt flakes
125 g cold unsalted butter, cut into cubes
1 egg
Method
To make the pastry, place the flours, almond meal, and salt in a food processor and pulse to combine. Add the butter and egg and pulse until the mixture resembles breadcrumbs. Mix in 2–3 tablespoons of cold water – just enough to form a rubble.
Tip the rubble onto a sheet of plastic wrap and bring it together with your hands to form a disc. Wrap tightly in plastic wrap and rest in the fridge for 1 hour. This will allow the flour to absorb the moisture, making it more pliable and less likely to shrink.
Preheat the oven to 180°C (fan-forced) and line the base of a rectangular tart tin (roughly 35 cm × 13 cm) with baking paper.
Roll out the pastry thinly between two sheets of baking paper. Carefully flip the pastry into the prepared tin and peel away the baking paper. Using your hands, gently press the pastry into the base and sides of the tin and roll over the edges to cut off the overhang. Line the pastry with baking paper and fill with baking beads or uncooked rice, then place in the oven and blind-bake for 15 minutes. Remove the paper and weights and set aside to cool for 10 minutes.
Heat the olive oil in a large frying pan over medium–high heat. Add the leek, mushroom, thyme, salt and pepper and sauté for 5 minutes or until softened. Spoon the mixture into the pastry case and spread it out evenly.
Whisk the eggs, milk and cheese in a bowl and pour evenly over the mushroom filling. If you like, shave over some extra cheese, then bake for 30 minutes or until golden. Sprinkle with extra cheese and thyme, to serve, if desired.
VARIATION: To make a sweet shortcrust pastry, simply omit the salt and add 60 g (1/2 cup) of sifted gluten-free icing sugar. This is a fantastic pastry for galettes and sweet pies.
TIP: Kefalograviera is a salty sheep's milk cheese that can be found in European delis and gourmet grocers.
Take the stress out of cooking with 21-days of guided meal plans, shopping lists, and nutrition support. You'll find all of this, and more, in our signature Clean Eating Program.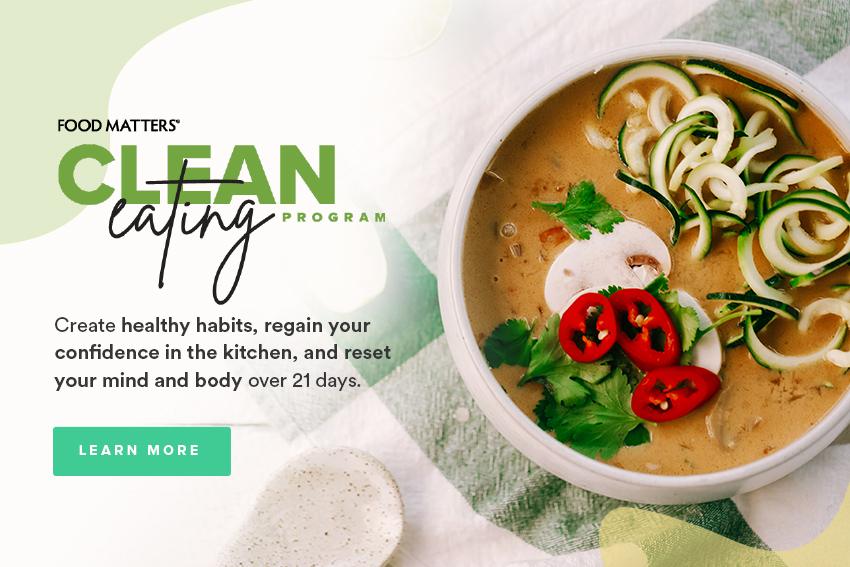 ---