Mango Sorbet with Coconut Milk
ADD TO MY RECIPES

Fresh mango sorbet with creamy, frothy coconut milk! Next time the kids ask for milkshakes, get them making this recipe! A crowd-pleaser for the big and little kids!

MANGO SORBET
Ingredients
500g/1lbs chunks of Frozen Mango

Handful of Dried Mango

1-2 Tbsp of Coconut Sugar
Method
Place the frozen mango chunks and sugar into a high-speed blender and blend until smooth with an ice-cream like consistency.

Scoop out the blended mango and place into a freezable container.

Mix in the dried mango pieces evenly. Place the container with the mango sorbet into the freezer for about 20 mins as it may be too soft to serve after coming out of the blender.

After 10-20 min it should be just right. If it is still soft, leave for another 15 mins or so. If it is too hard, let it stand on the counter for 5 mins or until you can scoop out 3 scoops to use for this recipe.

Place scoops into tall glass ready for frothy coconut milk.
FROTHY COCONUT MILK
Ingredients
1 can of Coconut Milk

1-2 Tbsp Maple Syrup
Method
Place the can of coconut milk in the fridge for at least 2 hours, preferably overnight to allow for the creamy part of the coconut to separate from the watery part.

Then open the can and ensure that you only use the creamy part. Drain the watery part away, though is tiny bits gets mixed into the creamy part its not the end of the world in the case of this recipe.

Mix in 1 Tablespoon of maple syrup. Taste for sweetness. Add another tablespoon if you find it not sweet enough.

Mix with a hand held mixer until the coconut milk becomes nice and frothy, for about 10 mins or so.

Pour the frothy coconut milk over the 3 scoops of mango sorbet and serve with a straw and spoon.
Do you have a passion for nutrition & natural healing?. Learn more about the Food Matters Nutrition Certification  Program here.
ENROLLMENT & BONUSES CLOSE IN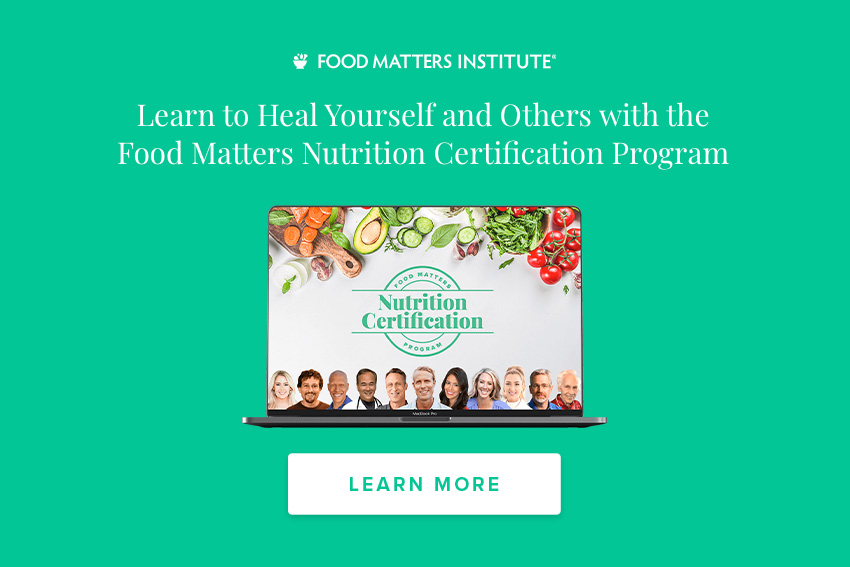 ---