Mexican Sweet Potato Quesadillas
ADD TO MY RECIPES
Ever wanted to create a cheesy quesadilla only to remember you're vegan? Or can't do dairy? Then, guess what?! Today's your lucky day! This deliciously vegan, totally gooey, and oh so tasty sweet potato quesadilla is about to bring your taste buds to life! Ándale!
SWEET POTATO 'MINCE'
Sweet potato mince spiced with cumin, chili, cayenne and zesty lime juice. This taco filling is super quick to put together!
½ onion, finely diced
1 garlic cloves, crushed
3 tbsp oil
1 large sweet potato, grated
1 tsp chili powder
2 tsp ground cumin
Pinch of cayenne
salt and ground black pepper to taste
Fresh lime juice to taste
VEGAN QUESO CHEESE
1 cup raw cashews (soaked overnight)
3 tbsp nutritional yeast
1/2 tsp sea salt
1 garlic clove, crushed
1 tsp ground cumin
1/2 tsp ground chili
1 tsp ground paprika
1 tbsp extra virgin olive oil
1/2 - 1 cup hot water
OTHER
INSTRUCTIONS
In a large pan set over medium heat, sauté the onions and garlic in 2 tbsp of the oil until the onions are cooked.
Add the grated sweet potatoes, chili powder, cumin and cayenne and cook for about 10 minutes. When the sweet potato is tender, add salt and pepper to taste and remove the filling from the heat. Squeeze ½ a lime over the sweet potatoes and mix.
For the Vegan Queso... Combine all ingredients (except water) in a high-speed blender or food processor and process until smooth. Gradually add in the hot water while processing to form a smooth mixture. You don't want this to be too runny.
To cook the quesadillas on the stovetop, heat 2 tsp oil over medium heat in a large frypan. Fill tortillas lightly, with sweet potato filling and some Queso Cheese. Fold them in half and place into the heated frypan. Cook two at a time until golden, about 2 minutes then flip. Cook until golden, about 2 more minutes. Repeat with remaining tortillas and Queso Cheese.
Serve fresh lime wedges, some salsa and fresh cilantro!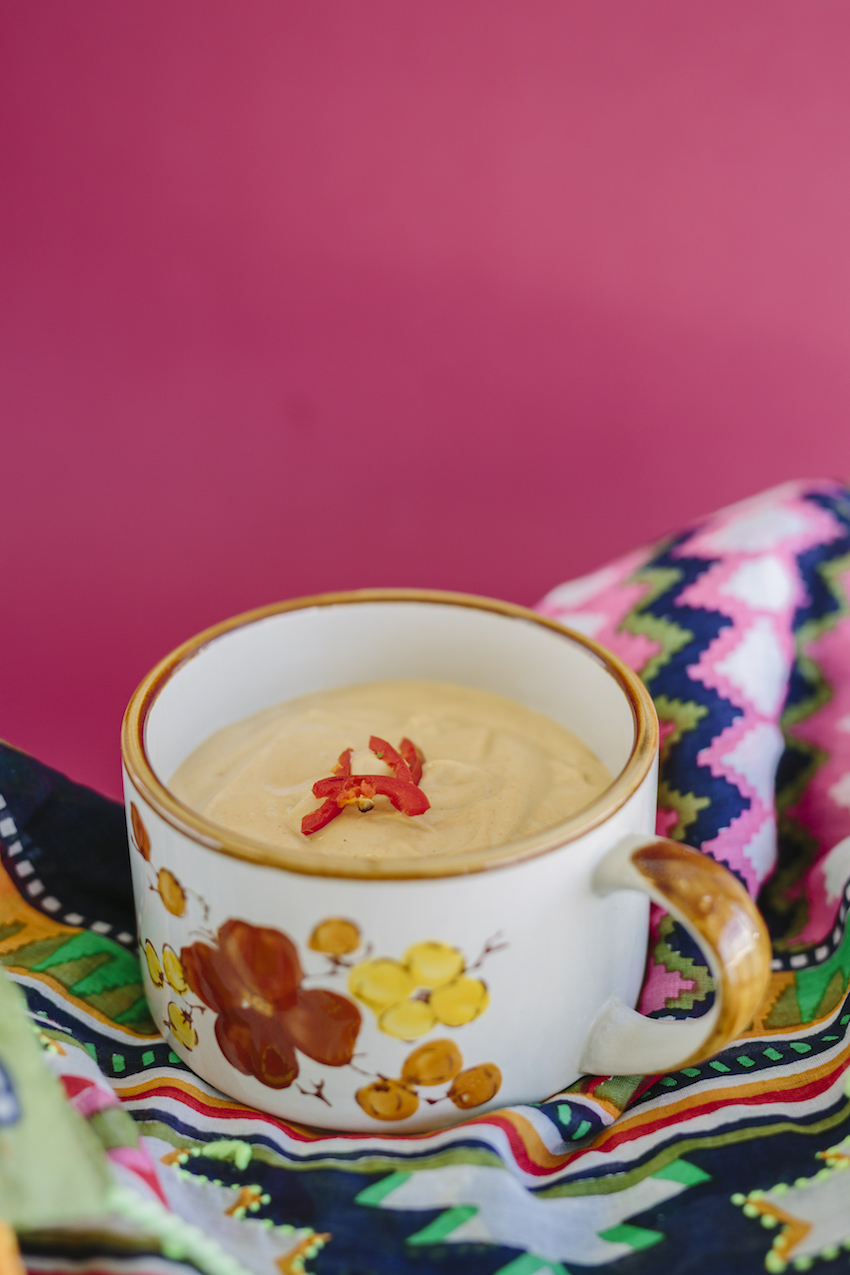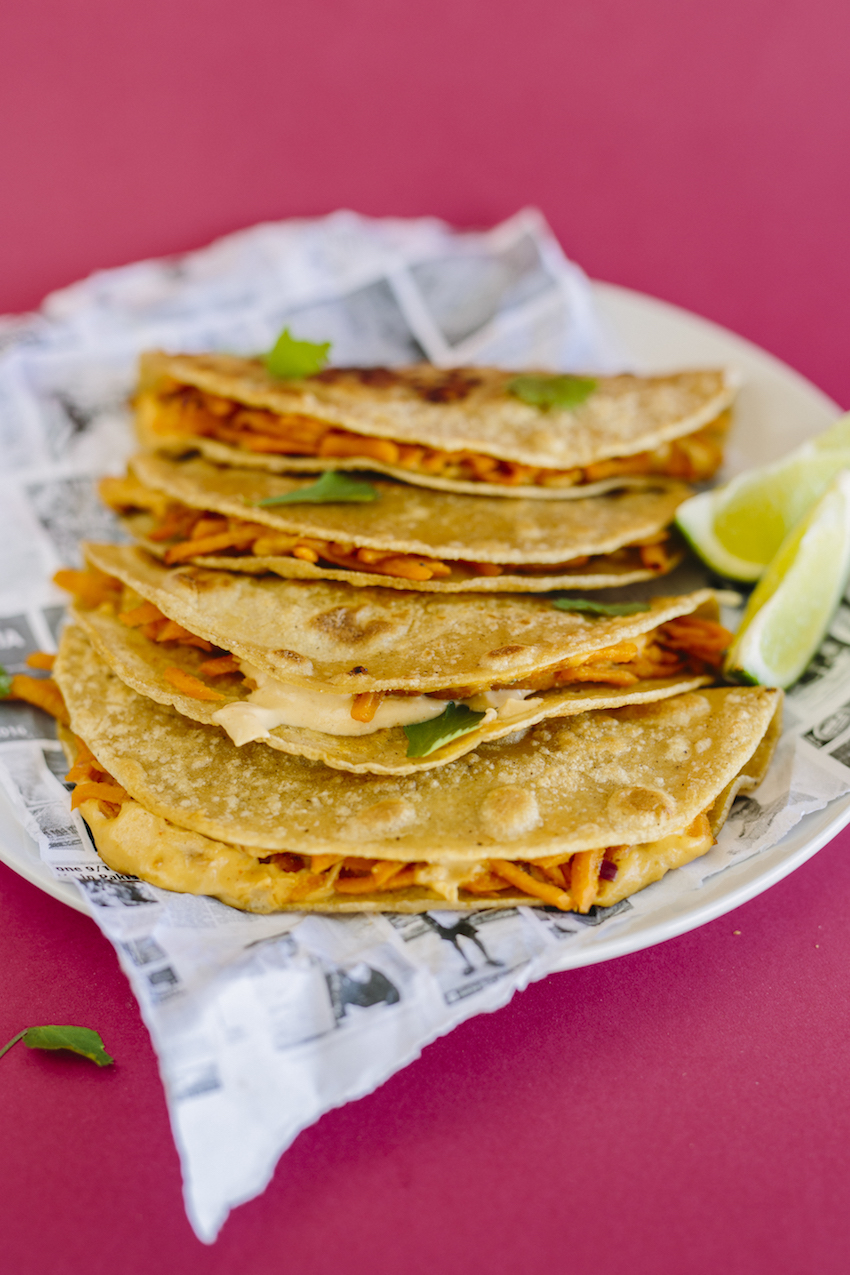 Discover how to lose excess fat from your belly, face & thighs in less than 7 days with this simple ancient practice. Watch the Detox Masterclass here. Playing for a limited time!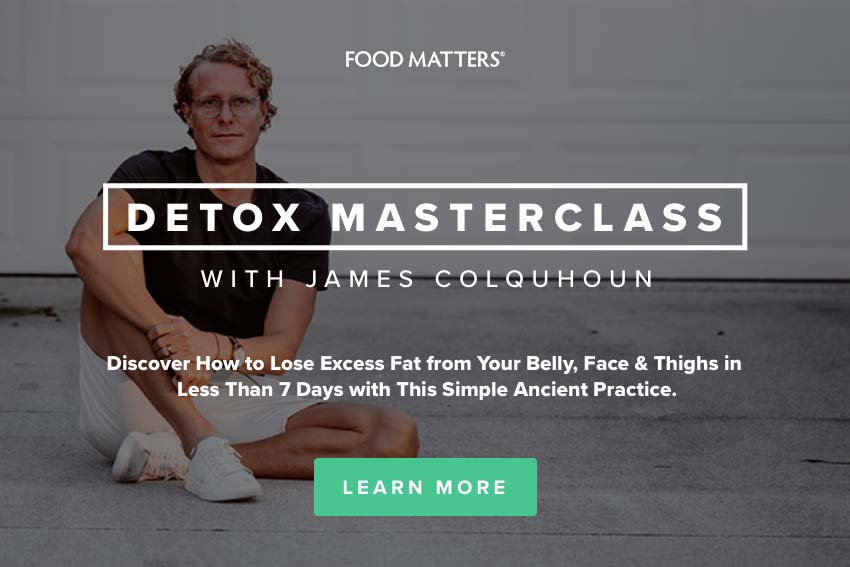 ---