No-Bake Salted Caramel Cups
ADD TO MY RECIPES
There are few things that taste better to us than chocolate and caramel!  No baking required… even better!
The few extra steps in these raw treats are well worth it. You will be glad you made them once complete. A crunchy base, gooey caramel center and rich chocolate topping. It's no wonder that these didn't last long in the Food Matters Headquarters!
While raw desserts should still be considered an occasional treat, you can feel better knowing that you know exactly what ingredients are in your own.  Plus no-bake treats like these ones are a great (and safe) way to get the kids into the kitchen with you!
Ingredients
(use organic where possible)
Bases
1 cup gluten-free rolled oats
1 cup pecan halves
8 pitted Medjool dates
½ cup coconut oil
Salted Caramel Filling
8 pitted Medjool dates
¼ tsp sea salt
½ cup coconut oil
3 tbsp tahini
1 tsp vanilla extract
2 tbsp maple syrup
Chocolate Topping
¼  cup coconut oil
¼ cup 100% pure maple syrup
¼ cup raw cacao or Food Matters Superfood Chocolate
Method
For the base: Pulse the oats and pecans in a food processor until broken down into small pieces. Add the dates and coconut oil and pulse until a soft dough forms. Refrigerate for about 15-20 minutes to help the mixture become easier to work with.
For the caramel layer: Place dates, coconut oil, tahini, vanilla, and maple syrup in the food processor. Process until smooth.
For the chocolate topping: Mix together the melted coconut oil, raw cacao, and sweetener until smooth.
To assemble: When the crust mixture is firm enough, press into mini muffin tins or molds, leaving a well in the center of each. Add a tablespoon or two of caramel into each cup and top with chocolate. Sprinkle with sea salt. Refrigerate or freeze until hardened.
Some health foods are non-negotiable. You can shop the Food Matters' pantry staples here.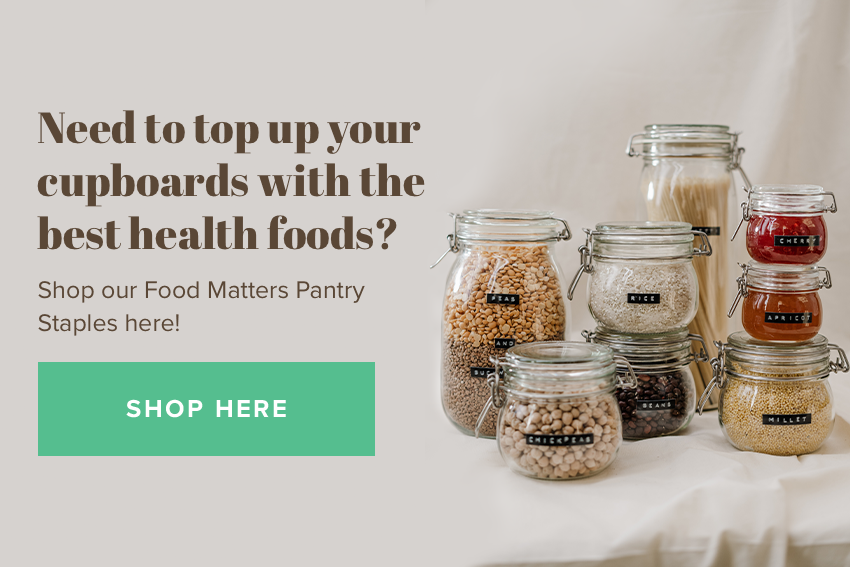 ---