Nut Butter
ADD TO MY RECIPES
Satisfy your hunger pains with a delicious homemade nut butter. Add your favorite extras and you'll never buy store varieties again! We love to make up a big batch once a week and use it in our favorite recipes, just like we've done in the Clean Eating Program.
Why It's So Good For You

Nut and seed butters may contain a significant amount of fat per serving, but it's the types of fat that benefit heart health, reduce the risk of heart disease and type 2 diabetes, and even lower the risk of obesity! Plus they contain protein, fiber, B vitamins, and antioxidants, making them a great slow-releasing source of energy.
Ingredients
(use organic ingredients where possible)
2 cups soaked and dehydrated raw nuts
1 - 2 tbsp neutral tasting oil, we use unrefined organic coconut oil
Optional: sea salt, sweetener of choice (honey, maple syrup), seeds (sesame, chia, flax seeds, hemp), vanilla, cinnamon, cacao, nutmeg
Method
After soaking and dehydrating, add the nuts to your food processor and grind to a fine powder, anywhere between 2 to 10 minutes.
Add the oil and continue processing – the nut's oils are released and as the mixture continues to warm, it should turn creamy and smooth. If not, it is OK to add a bit more oil until the mixture is runny and blending smoothly. It may take up to 15-20 minutes until it is smooth and creamy, this depends on your food processor and how many nuts you are processing.
Optional: Once your butter is creamy and well mixed you can now add your salt, sweetener, or seeds of choice. Pulse until mixed.
Serve butter with fruit, vegetable sticks, in your favorite smoothie, or on crackers.
Do you have a passion for nutrition & natural healing?. Learn more about the Food Matters Nutrition Certification  Program here.
ENROLLMENT & BONUSES CLOSE IN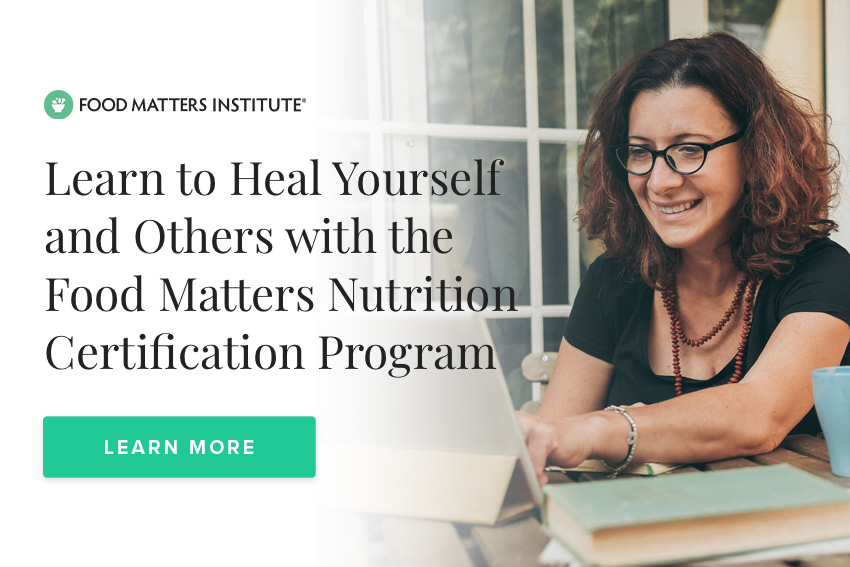 ---