Powerhouse Overnight Oats (Recipe)
ADD TO MY RECIPES
Adequately fueling your body post-workout is essential to replenish used glycogen (stored carbohydrates used for energy) and to restore strained muscles. Carbohydrates, which get absorbed by the muscles first, and protein, which prevents muscle breakdown, are the ideal post-workout nutrient combo. Opting for real, clean sources of protein and carbohydrates is also important to keep in mind as opposed to immediately jumping to processed protein powders or 20-ingredient energy bars.

If you like working out in the morning, it may not always be feasible to go home and prepare a warm and balanced breakfast. Overnight oats serve as the perfect option for those looking to properly refuel their body after a rigorous workout and have a grab and go breakfast that can be prepared the night before. These overnight oats are also vegan and gluten-free - catering to all types of dietary restrictions.

Where is the protein you ask? Nut milk is an excellent non-dairy protein option. Hemp milk is my personal favorite and has 10 grams of protein in every 3 tablespoons. Try and make your own or avoid purchasing nut milks with emulsifiers, additives, and sweeteners.  Pepitas aka pumpkin seeds are also a plant-based source of protein. Additionally, these powerful seeds are packed with zinc, beneficial for immunity and proper metabolic function. Other sources of protein in these overnight oats are found in chia seeds and ground flax seeds, which also give your ticker a hearty dose of Omega-3s. Energy-suppling carbohydrates are found in the fiber-rich oats and in the super fruit banana. Added bonus, bananas contain rich amounts of potassium, which help replenish lost electrolytes following a sweat sesh.
POWERHOUSE OVERNIGHT OATS
Ingredients
1 small ripe banana
1/3 cup rolled oats (gluten-free if needed)
3/4 cups milk of choice
1/2 tsp ground vanilla bean powder or alcohol-free vanilla extract
1/2 tsp cinnamon
1 tbsp chia seeds
1 tbsp ground flax seeds
1 tsp pure maple syrup
1/2 tbsp raw pepitas + additional for garnish
1/4 cup raspberries or blueberries
Method
In a bowl or sealable container, mash the banana with the back of a fork. Mix in the oats, milk or water, vanilla, cinnamon, chia, flax, maple syrup, and pepitas. Stir the mixture vigorously for about a minute until well combined.
Cover and leave in the refrigerator overnight. In the morning the mixture should be firm but slightly giggly from the gelatinized chia seeds.
Top with fresh fruit and additional nuts or seeds, if you wish.
Do you have a passion for nutrition & natural healing?. Learn more about the Food Matters Nutrition Certification  Program here.
ENROLLMENT & BONUSES CLOSE IN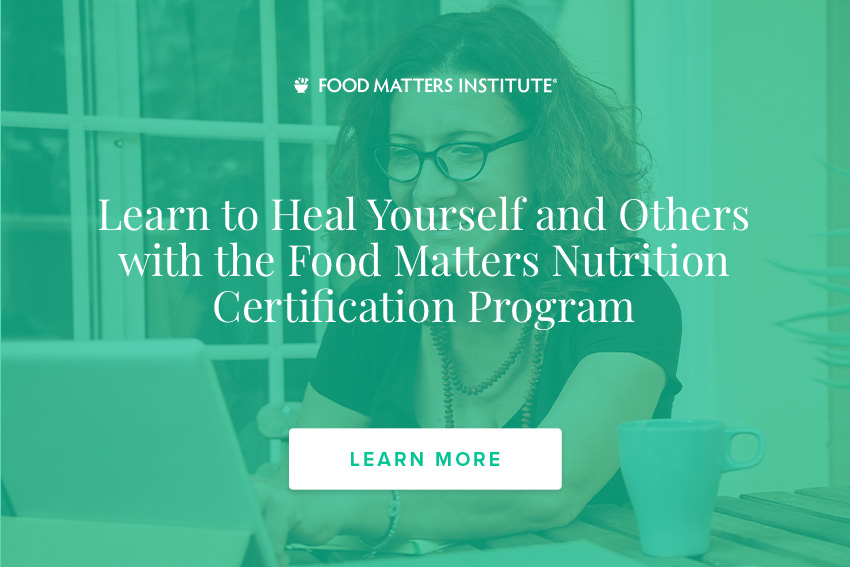 ---