Pumpkin Pie Spiced Turmeric Latte
ADD TO MY RECIPES
As the Pumpkin Pie Latte trend runs wild this time of year in the U.S. we decided to get on board with the Food Matters Approved version! Same pumpkin pie mouth-watering taste, packing a nutritional punch. So, not only will you get your fix, your immune system will, too.
Ingredients
¼ cup water
¼ to ½ tsp turmeric
½ tsp or more of pumpkin pie spice (Pumpkin Pie Spice Blend below)
Pinch of black pepper
1/4 cup pumpkin purée * note below
1½ cups almond milk
1 tbsp 100% pure maple syrup , raw honey or rice malt syrup
Optional: 1 tbsp pasture-fed gelatin or collagen powder
Turmeric, pumpkin pie spice or cinnamon for garnish
INSTRUCTIONS
Bring water and spices to a boil. Simmer for a minute.
Add the pumpkin, almond milk and sweetener in a blender and pulse until frothy. Add to the boiling water that is infused with spices.
Pour into mugs. Sprinkle pinches of turmeric and pumpkin pie spice and serve!
MAKE YOUR OWN PUMPKIN PIE SPICE BLEND
We love making up our own Pumpkin Pie Blend to have on hand to sprinkle on everything! Mix it up in a small jar and use as needed.
3 tbsp ground cinnamon
2 tsp ground ginger
2 tsp ground nutmeg
1½ tsp ground allspice
1½ tsp ground cloves
Note: While squash is in season, you're better off making your own pumpkin purée in bulk to use in recipes. Relying on canned pumpkin purée is convenient, but the USDA is fairly lenient with what can go into these canned purées.
Take the stress out of cooking with 21-days of guided meal plans, shopping lists, and nutrition support. You'll find all of this, and more, in our signature Clean Eating Program.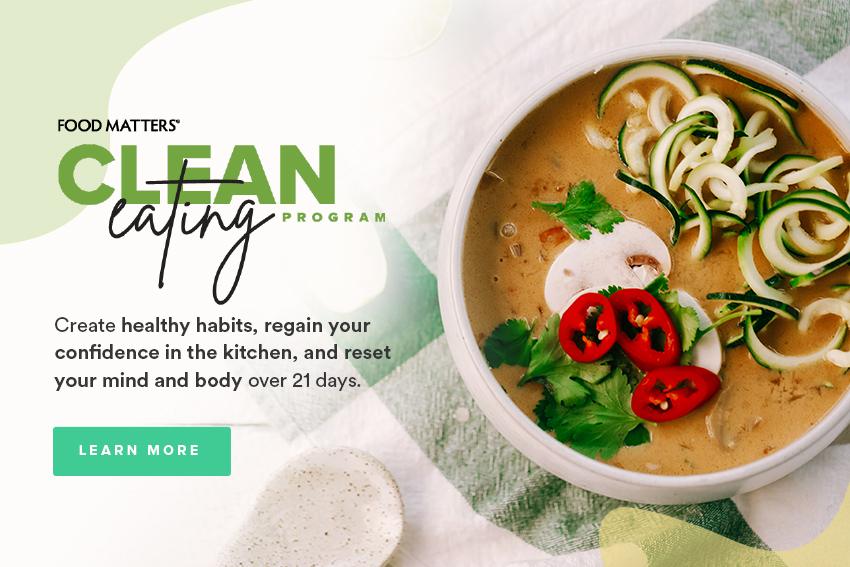 ---