Raw Chocolate-Coated Caramel Yolo Balls (Recipe)
ADD TO MY RECIPES
This candy recipe is inspired by a store-bought favorite of many. We bet you can take a wild guess what they are! The buttery caramel made by Medjool dates will remind you so much of the real candy that your head will spin. In our opinion, these are better than the real thing! Hey, you only live once!

Prep Time: 25 minutes
Chill Time: 40 minutes
Total Time: 1 hour, 5 minutes
Servings: 20 Yolos
Ingredients
(use organic ingredients where possible)

Caramel
7 ounces (1 cup) pitted soft Medjool dates
1 1⁄2 tsp peanut butter or other nut or seed butter (we love almond butter in this recipe)
Pinch of fine-grain sea salt
Chocolate Coating
1⁄4 cup plus 3 tbsp dark chocolate chips
1⁄2 tsp coconut oil
Flaked sea salt or chia seeds (optional)
Method

Caramel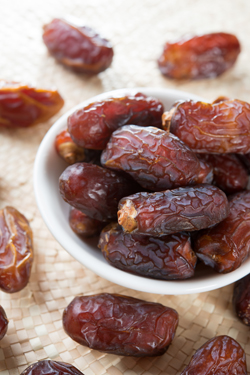 Process the pitted dates in a food processor until a sticky paste forms. Add the peanut butter and salt and process until combined. The mixture will be very sticky, but this is what we want.

Scoop the sticky mixture into a bowl and freeze, uncovered, for about 10 minutes. (Chilling makes the caramel easier to shape into balls).

Line a plate with parchment paper. Lightly wet your fingers and shape the chilled caramel into small balls, making about 20 balls total. Set the balls on the parchment paper — lined plate as you roll them.

Place the finished balls in the freezer for 10 minutes to firm up.

Chocolate Coating

In a small saucepan, melt the chocolate chips and oil over very low heat. When two-thirds of the chips have melted, remove the pan from the heat and stir until smooth.

Remove the caramel balls from the freezer and dunk each ball into the melted chocolate, one at a time. Roll them around with a fork to coat. Tap off any excess chocolate coating and set the balls back on the lined plate. If desired, stick a toothpick in the top of each ball and sprinkle the balls with a tiny amount of flaked sea salt or chia seeds.

Freeze the balls for at least 20 minutes or until the chocolate is set. Yolos taste best straight from the freezer and will soften at room temperature.

Tips: If your dates are stiff or dry, soak them in water for 30 to 60 minutes to soften them before use. Drain them well and blot off excess water before processing.

If you have leftover melted chocolate, scoop it onto a parchment paper — lined plate and freeze it. The chocolate will harden back up and you won't have to throw any away. Break up the chocolate and store it for another use. Waste not, want not, as my mother always says!

Nut-free option: use sunflower seed butter instead of nut butter.

Soy-free option: use soy-free, dairy-free chocolate.
---
If you haven't already, join our free global challenge at www.GetOffTheGluten.com to receive daily recipes & health tips, access to our private group for support and inspiration, plus before and after testing to track your progress in key areas of your life such as weight, sleep, bloating, skin-conditions, mental health and more!
JOIN THE GROUP CHALLENGE STARTS IN: