Simple Clean Snacks! 3 Ways to Make Stuffed Dates
ADD TO MY RECIPES
Sometimes the simplest snacks are the most satisfying. There is nothing complicated about one of our favorite snacks; stuffed dates.
Stuffed dates make a super healthy, raw treat that are quick to whip up and give you the ultimate afternoon pick-me-up!
They're bite-sized and basic in the best way — making them only requires a couple of ingredients you might already have on hand. Best of all, they're all-natural, packed with essential nutrients, and without a stitch of refined-sugar in sight.
Below, we're sharing three easy ideas that will help you make stuffed dates at home right away!
TAHINI & COCONUT
Just one mouthful and you'll get a gooey caramel flavor from the Medjool dates, sweet coconut and creamy tahini. This combination is the perfect energy hit with a nice dose of healthy satisfying fats.
HEMP SEEDS + CASHEW CREAM
The texture of raw cashew cream, crunchy hemp seeds, a bit of pepper and the dates themselves is to die for and worthy of any holiday party spread — or just a dreamy afternoon snack.
NUT BUTTER + DARK CHOCOLATE
Nut butter is the quickest and simplest way to stuff a date. Slice a dried date in half and remove the pit. Fill with a teaspoon of your favorite nut butter and top with a small bit of dark chocolate.
Do you have a passion for nutrition & natural healing?. Learn more about the Food Matters Nutrition Certification  Program here.
ENROLLMENT & BONUSES CLOSE IN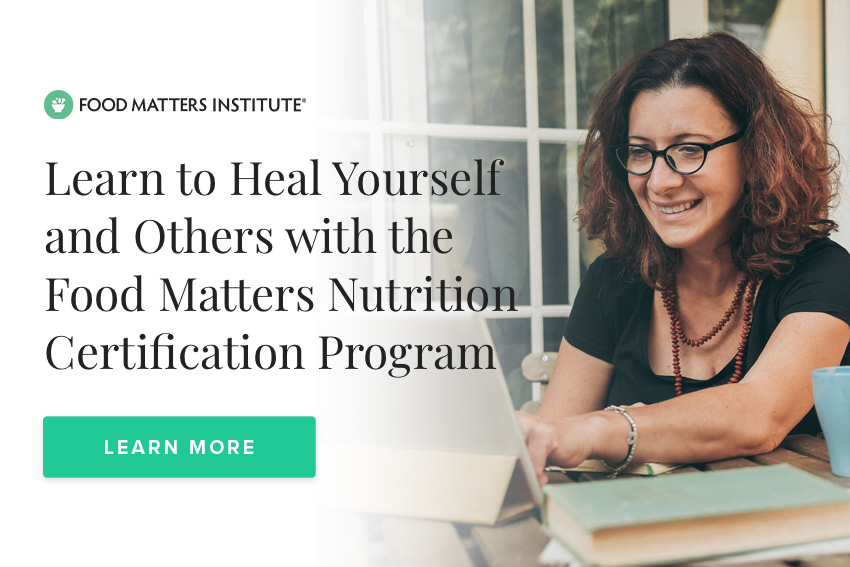 ---