Simple Macadamia Cookies
ADD TO MY RECIPES
Who doesn't like a nice cookie with their cup of tea? These delightful little biscuits, with their crunchy texture, are just the treat you were looking for.
Remarkably, they are made with hardly any ingredients: just dates, macadamia nuts and Food Matters Superfood Chocolate. Sweet, chocolatey, nutty and a fun, bite size.
There are some great things to know macadamia nuts.  Derived from the macadamia tree native to Australia, they are packed with many nutrients, minerals, antioxidants and vitamins that are essential for optimal health and wellness. They blend easily with sweet foods - in this case we've used medjool dates.  There are plenty of reasons to eat fiber-filled fruit: essential minerals such as calcium, iron, phosphorus, sodium, potassium, magnesium and zinc can be found in dates, and they also contain vitamins such as thiamin, riboflavin, niacin, folate, vitamin A and vitamin K.
Let's not forget the powerful benefits of raw cacao for that chocolate fix you're craving.  Our Food Matters Superfood Chocolate has amazing mood-boosting properties and includes anandamide, theobromine, tryptophan and serotonin.
With the proteins, essential fats and minerals, this delicacy is a complete snack which will digest well and, due to the minimal ingredients, it makes them safe for our dairy-free, gluten-free and vegan friends.  Sometimes less is more awesome!
Ingredients
1 cup Medjool dates, pitted
1 cup macadamia nuts
1 tbsp chocolate or raw cacao
Method
Preheat oven to 350℉ (180℃) & line a cookie tray with parchment paper.
Blend all ingredients together to form dough.
Scoop a tablespoon of the mixture and roll into balls in the palm of your hand. Place on the lined cookie tray. Note: if you are having trouble rolling the cookie mixture, it helps to place mixture into the fridge for 15-20 minutes before rolling.
Bake for 10 minutes until cookie begins to brown, then remove from the oven.
Optional: Add a drop of peppermint oil for chocolate mint cookies.
Do you have a passion for nutrition & natural healing?. Learn more about the Food Matters Nutrition Certification  Program here.
ENROLLMENT & BONUSES CLOSE IN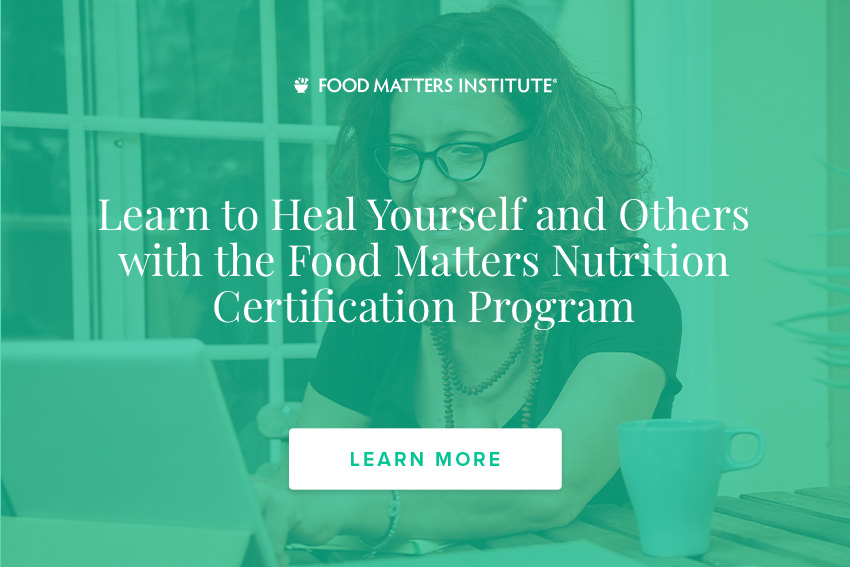 ---