Supercharged Poke Bowl
ADD TO MY RECIPES
Acai bowls and Buddha bowls step aside! There's a new nourishing bowl popping up in trendy cafes, instagram feeds and mouths throughout the world – the Poke bowl; pronounced poh-keh.
What is a poke bowl? Poke is a Hawaiian dish which also has a heavy Japanese influence, and is characterized by the use of raw, sashimi-style fish. Poke originates in Hawaii and can be translated to mean 'cut or slice', referring to the way the fish is prepared.
The fish is usually marinated in a variety of fresh herbs and spices, soy sauce and sesame oil, and can be served sprinkled with fresh ginger, sesame seeds and fresh chili.
In Hawaii, poke isn't generally served on top of white rice, but there are different versions of it springing up around the world - mainly atop sushi rice and brown rice. I've opted for quinoa in my supercharged version of this coastal dish. Quinoa is gluten free, high in protein, high in fiber and contains magnesium, vitamin B12, iron, potassium, calcium, phosphorous, vitamin E, antioxidants and essential amino acids! I've also swapped out soy sauce for a healthier tamari variety.
When you're buying the tuna, remember that fresh is best! Try and purchase a cut with minimal white lines, as this is connective tissue and can make the tuna chewy. The tuna should be firm to touch, with little to no odor, and it should have a deep red/purple hue. The fish offers an array of healthy amino acids and essential omega-3 polyunsaturated fats. Modern adaptations of poke also call for salmon, crab and octopus.
This wholesome and whole-grain dish is bursting with tangy oriental flavors and enticing aromas, and can be enjoyed on a balmy summer evening or by the fireplace on a crisp winter night. It's healthy and simple and downright supercharged!
Supercharged Poke Bowl
QUINOA INGREDIENTS
2 cups quinoa, rinsed
3 cups water
Few slices of ginger (optional)
1/4 cup chopped coriander
Optional: add some sliced ginger to the pot at the beginning to infuse throughout cooking.
Method
Add quinoa and water to a pot.
Bring to boil and let simmer until fluffy.
SEASAME MACADAMIA COCONUT TOPPING
1/2 cup macadamias, roughly chopped
1/4 cup sesame seeds
1/4 cup coconut flakes
Method
Roast all ingredients in a pan until fragrant and set aside.
POKE INGREDIENTS
1/3 cup tamari
1 tsp sesame oil
1 tbsp sesame seeds
2 tbsp chopped shallots
1 clove garlic crushed
Large knob ginger, grated
Zest and juice of 1/2 a lime
1/2 - 1 long chili
3 - 4 sashimi grade tuna, cut into cubes
Method
Combine all ingredients except tuna in a bowl and stir. Add in tuna and toss to coat. Let sit in fridge for 20-30 mins to let the flavors absorb.
TO ASSEMBLE
Stir coriander through quinoa before serving. Add quinoa to bowl. Add poke on top of the quinoa. Top with avocado, prepared macadamia topping and extra coriander!
E ʻai kāua!
(Let's eat!)
---
If you haven't already, join our free global challenge at www.GetOffTheGluten.com to receive daily recipes & health tips, access to our private group for support and inspiration, plus before and after testing to track your progress in key areas of your life such as weight, sleep, bloating, skin-conditions, mental health and more!
JOIN THE GROUP CHALLENGE STARTS IN: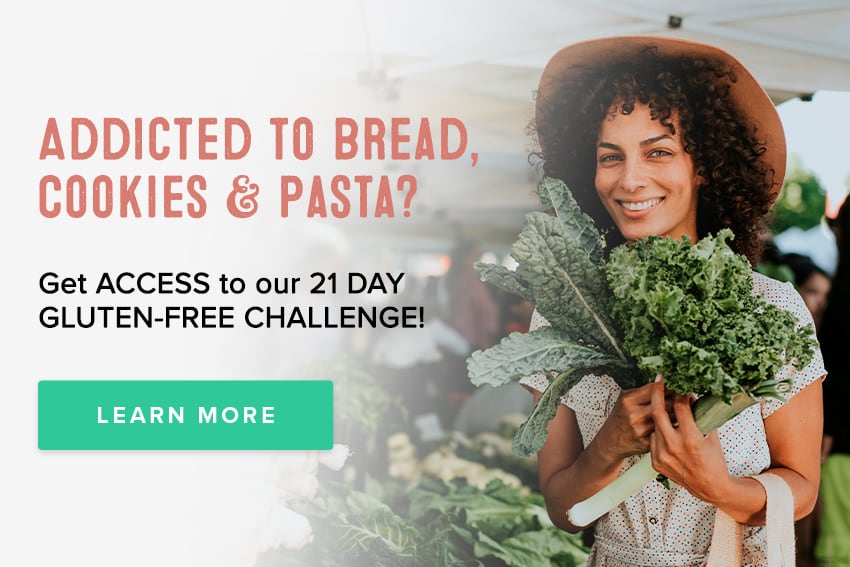 ---