The Best Ever Vegan Mac & Cheese
ADD TO MY RECIPES
Ingredients
(use organic ingredients, where possible)
1 head of cauliflower (about 1 lb)
2 tbsp olive oil
1 cup raw, unsalted cashews
2 cloves garlic
1 large shallot
2 tbsp nutritional yeast
2 cups whole grain, healthy noodles of your choice
Sea salt and black pepper
Utensil
High-Speed Blender
Method
Roasted Cauliflower
Preheat oven to 400°F (204°C).
Chop cauliflower florets into equal-sized pieces, then coat and massage the florets with 2 tablespoons olive oil and a healthy pinch of sea salt.
Roast in the oven for approximately 30-40 minutes, or until very lightly golden brown and evenly roasted.sauce
Cashew cream
Soak the raw cashews in hot water for 15 minutes. Strain and rinse well. If you prefer, you can soak them overnight before draining and & rinsing instead of using hot water.
Sauté the shallots and garlic in olive oil with a pinch of salt over medium-low heat until translucent and soft, about 5-10 minutes.
Cook your noodles in salted water, according to package instructions. Strain and set aside.
To make the cashew cream as your sauce base, add soaked cashews and 3/4 cup water to a high-speed blender. (Start your blender on low, then work your way up to high, using the plunger to push the sauce into the blades)
Add a pinch of salt, a pinch of black pepper, 2 tablespoons of nutritional yeast, roasted cauliflower and sautéed shallots & garlic.
Put it all together
Add cooked pasta to a large mixing bowl and pour sauce directly out of the blender onto the noodles.
Gently stir until all the noodles are completely coated in sauce. Serve immediately or keep in the refrigerator up to three days.
TIPS:
*For a baked Mac 'N Cheese: spray individual ramekins with grapeseed oil, spoon in the mac and cheese, then top with panko bread crumbs and a drizzle of olive oil. Broil for about 3-4 minutes, and watch closely so it won't burn.
*Extra sauce freezes well. Store in an airtight, glass container for up to 3 months.
*Use a plunger that came with your blender so that you won't hit the blades.
Do you have a passion for nutrition & natural healing?. Learn more about the Food Matters Nutrition Certification  Program here.
ENROLLMENT & BONUSES CLOSE IN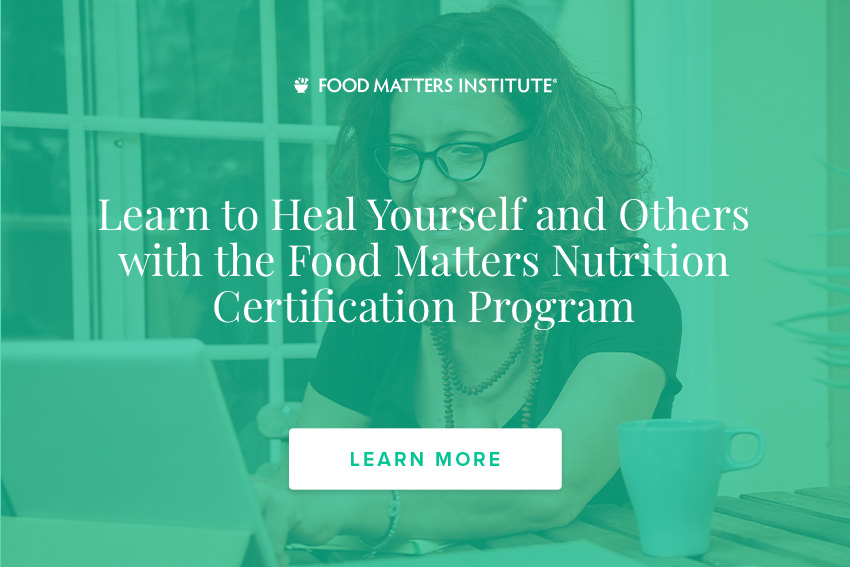 ---