Tom Kha Soup with Zucchini Noodles
ADD TO MY RECIPES
If you find yourself missing soul-warming takeaways, or are looking for a new dish to spice up weeknights, this Tom Kha Soup is your new go-to meal. With the addition of zucchini noodles and a delicious broth, it's a clear winner.
Ingredients
2 stalks lemongrass
1 tablespoon coconut oil, for cooking
1 yellow (brown) onion, diced
2 cloves garlic, minced
2-inch piece ginger, peeled and thinly sliced
1 long red chili, deseeded and thinly sliced
½ cup vegetable stock
1 x 14 fl oz (400mL) can coconut cream
1 cup white mushrooms, sliced
1 tomato, cubed
Juice of 1 lime
1 tablespoon tamari
½ tablespoon maple syrup
To serve
2 medium zucchini, spiralized
¼ lime
½ bunch cilantro (coriander)
Method
To prepare the lemongrass, slice off the thick ends of the lemongrass stalks. Then, using the back of your knife, lightly bang the lemongrass stalks to release the oils. Next, slice stalks into smaller strips.
In a large pot over medium-high heat, add the coconut oil and lemongrass stalks. Cook for 1 - 2 minutes or until the lemongrass is fragrant. Add in the diced onions and sauté until onion begins to soften.
Reduce heat to medium and add in the garlic, ginger, and chili, cooking for another minute until fragrant.
Add ½ cup vegetable stock and the coconut cream and bring to a boil. Reduce heat and continue to simmer for 10 - 15 minutes. Using a slotted spoon, remove the lemongrass from the soup and discard.
Add in the mushrooms, tomato, lime juice, tamari, and maple syrup. Stir well and continue to simmer for another 5 - 8 minutes.
Spiralize one zucchini and ladle the soup on top. Serve with a squeeze of lime and fresh cilantro leaves.
Take the stress out of cooking with 21-days of guided meal plans, shopping lists, and nutrition support. You'll find all of this, and more, in our signature Clean Eating Program.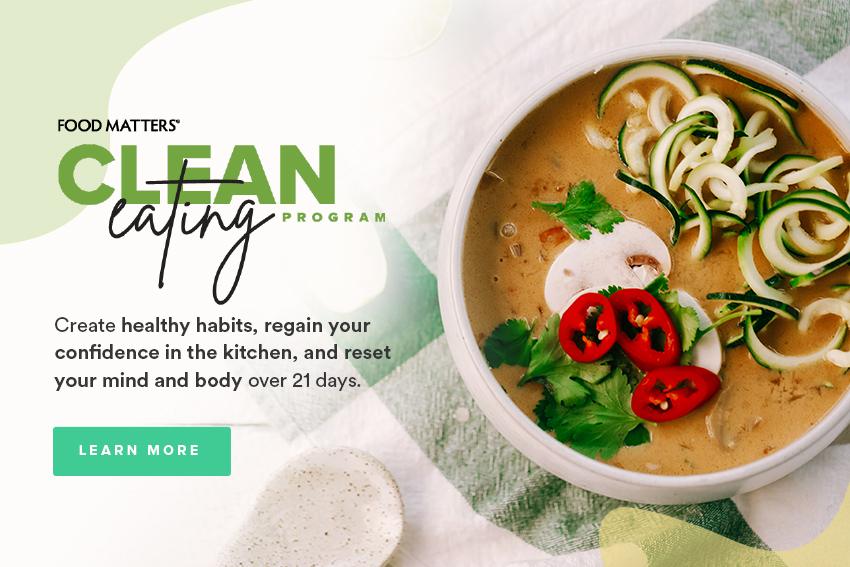 ---