Vegan Cauliflower Cheese Bake
ADD TO MY RECIPES
Cauliflower has been one of our favorite vegetables to recreate into new dishes over and over again! It's amazing what you can do with this humble vegetable that too often gets neglected in the bottom of the vegetable drawer.
Try this tasty vegan cauliflower 'cheesebake' then keep on exploring all of our cauliflower recipes for more inspiration.
Ingredients
1/2 head cauliflower, broken into florets
1/2 cup cashew nuts, soaked overnight
1/2 onion, diced
2 cloves garlic, crushed
1 tsp turmeric
1 tbsp coconut oil, plus a little extra
1/2 cup vegetable broth
2 tbsp nutritional yeast
Pinch of Salt
Method
Lightly steam your cauliflower and then place into a baking dish.
In a small pot on a medium heat, sauté the onion, and garlic in the coconut oil until golden brown.
Add the vegetable broth, turmeric and salt, allow to simmer on a low heat. Remove from the heat and allow to cool slightly.
In a blender, add the cashew nuts, nutritional yeast and vegetable broth mix.
Blend until smooth and creamy then pour this mixture over the top of your cauliflower in the baking dish, spreading evenly.
Grill for 5-8 minutes, or until golden brown.
Do you have a passion for nutrition & natural healing?. Learn more about the Food Matters Nutrition Certification  Program here.
ENROLLMENT & BONUSES CLOSE IN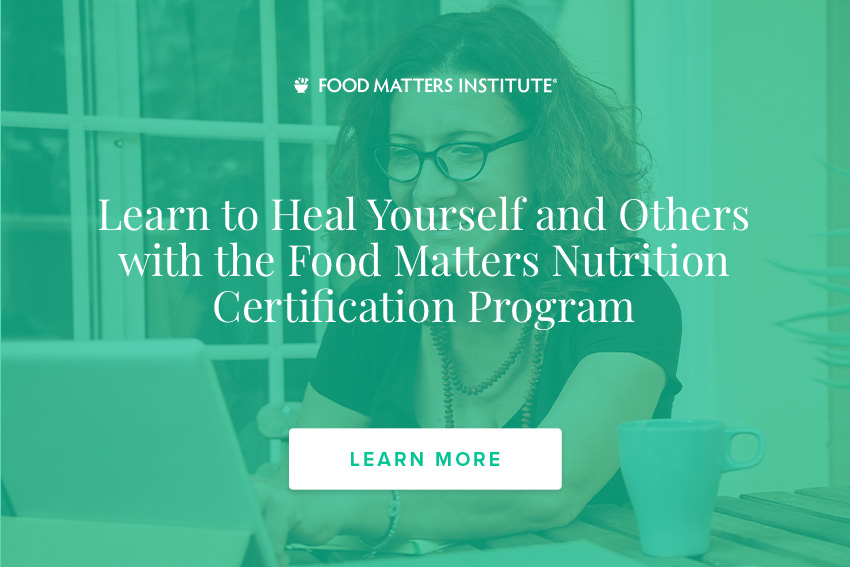 ---