Vegan Pumpkin & Spinach Lentil Lasagne
ADD TO MY RECIPES
Looking for 'Meatless Monday' options the whole family will love? Try this vegetarian twist on an old family favorite. Substituting lentils for meat can be a cheaper option, include more vitamins and minerals, and also have fewer calories.
Brown Lentils - This is by far the most common variety of lentil, and probably the one that you see at your local grocery store. They can range in color from khaki-brown to dark black, and generally have a mild earthy flavor. They cook in about 20-30 minutes and hold their shape very well.
Green Lentils - These can be pale or mottled green-brown in color with a glossy exterior. They have a robust, somewhat peppery flavor. Green lentils generally take the longest to cook, upwards of 45 minutes, but they keep a firm texture even after cooking. This makes them ideal for salads and other side dishes.
Red Lentils - With colors ranging from gold to orange to actual red, these are the sweetest and nuttiest of the lentils! They're somewhere in the middle in terms of cooking time and are usually done in about 30 minutes. They tend to get mushy when cooked through, so they're perfect for Indian dals and other curries, or for thickening soups.
Prepping Your Lentils
Lentils are super cheap and one of the most nutritious legumes, high in minerals and help to assimilate protein and iron absorption. But they are pretty bland and boring and can upset your tummy and cause flatulence if not prepared correctly. The most important tip for lentils is to soak them. The longer they are soaked, the easier they are to digest. We suggest 24-48 hours.
Soak in a jar with room temperature, filtered water. Drain and rinse thoroughly before adding to recipes.
Ingredients
1 tbsp olive oil
1 small brown onion, diced
2 garlic cloves, crushed
500g pumpkin, cut into 1cm cubes
800g red lentils, presoaked, drained and rinsed
½ cup water or vegetable stock
600g bottle of organic passata
500g tofu ricotta
Pack of gluten-free lasagne sheets
2 cups loosely packed baby spinach
TOFU RICOTTA
1 block of firm tofu, drained
Juice of 1 lemon
4 tbsp nutritional yeast
½ cup of fresh basil leaves
1 tbsp dried oregano
Salt and pepper, to taste
2 tbsp olive oil
Method
Preheat oven 350℉ (180℃). Grease a 26cm x 20cm x 6cm baking dish.
Heat the oil in a large saucepan over medium heat.
Cook the onion until soft and lightly golden. Add the garlic and cook for 1 min.
Add pumpkin, lentils and stock.
Reserve 1 cup of the passata and stir the remaining passata into the pumpkin & lentil mixture. Cover and bring to the boil. Reduce heat slightly and cook, covered, for 20 mins or until the pumpkin is tender and the mixture is thick.
Meanwhile, make the tofu ricotta. Add all ricotta ingredients to a food processor or blender and pulse to combine, scraping down sides as needed
Line the base of the prepared dish with a layer of lasagne sheets. Spread over some of the pumpkin & lentil mixture, then top with another layer of lasagne sheets. Spread with the ricotta mixture. Top with spinach, then cover with another layer of lasagne sheets.
Continue layering being sure to save some of the ricotta mixture for the top.
Spread over the reserved passata to cover completely and top with the remaining ricotta.
Bake for 30-45 mins or until golden and cooked through. Serve with seasonal greens.
---
If you haven't already, join our free global challenge at www.GetOffTheGluten.com to receive daily recipes & health tips, access to our private group for support and inspiration, plus before and after testing to track your progress in key areas of your life such as weight, sleep, bloating, skin-conditions, mental health and more!
JOIN THE GROUP CHALLENGE STARTS IN: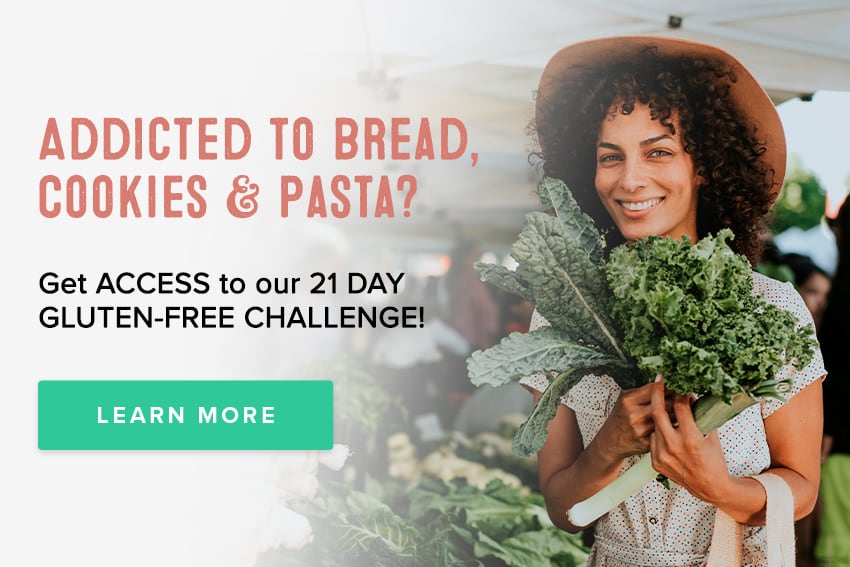 ---