Vegan Quesadilla
ADD TO MY RECIPES
Hey Senorita and Senor! Try our vegan version of one of our favorite Mexican dishes!

If you visit our Food Matters Recipes frequently, you will see we love to 'healthify' some of our favorite dishes. Mexican is often on the list! We've re-created the traditional Mexican Quesadilla into a vegan-friendly version with gluten-free tortillas, a 'cheesy' queso sauce and a zesty guacamole.

Next time your friend screws up their face at an invite to your vegan-friendly Mexican soiree, these guys should be at the top of your list!


VEGAN QUESADILLA INGREDIENTS (Makes 4)
1 serve of gluten-free tortillas (recipe below)

1 serve of vegan queso 'cheese' (recipe below)

1

serve

of guacamole

1 tin of organic black

beans,

drained and rinsed

fresh lime to serve

extra cilantro to serve
Method
To make a quesadilla, lay a tortilla on a flat surface. Spread with a little of the guacamole mixture, some vegan queso sauce, and some black beans. Top with another tortilla and repeat step to make a second quesadilla with the remaining ingredients.

Heat a large frying pan over medium-low heat. Place one quesadilla in the pan, making sure it remains flat. Cook for 2-3 minutes, gently

flip

and cook 2nd side for 2-3 minutes.

Remove and repeat with remaining quesadilla.

Cut into wedges and serve with any leftover guacamole, queso, a squeeze of fresh lime and a sprinkle of cilantro.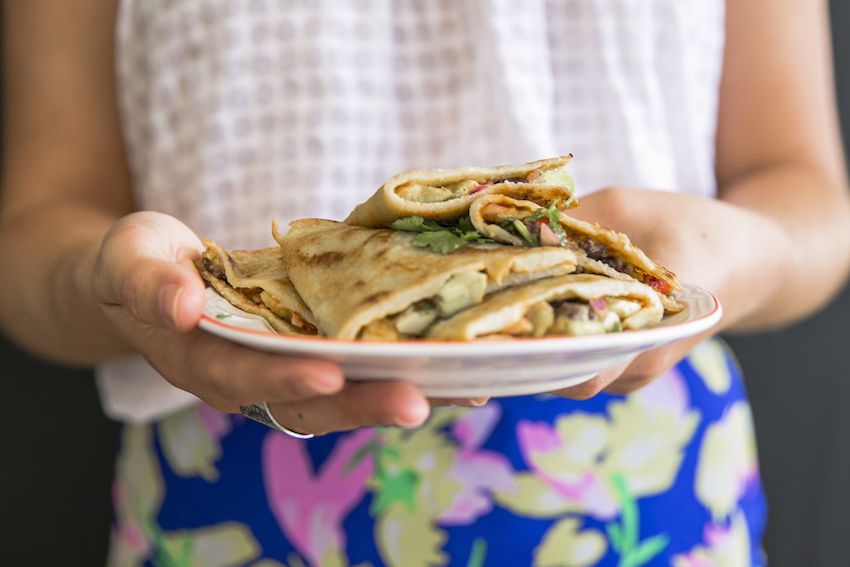 GLUTEN-FREE TORTILLAS
2 tbsp ground flax seeds
6 tbsp water

250ml (1 cup) coconut milk

3/4 cup tapioca flour

pinch of paprika

pinch of cumin

1/2 tsp ground chili

3 tbsp coconut flour

pinch of salt
Method
Prepare your flax seed binder by combining 2 tbsp ground flax with 6 tbsp water. Mix well and let sit in the fridge for 15 minutes to form 'egg-like' mixture.

Mix together all of your tortilla ingredients, and combine well by mixing with a whisk.

Heat a tiny amount of coconut oil in small fry pan over medium-high heat. Drizzle 1/4 cup of the mixture into the pan, gently moving around to form a round tortilla. Cook on one side for 1-2 minutes and gently flip and the other

side for

1-2 minutes or until golden.

Continue this same process until you have no more tortilla mixture. Makes about 6-8 tortillas. Tortillas can be prepared ahead of time and warmed in the oven.
VEGAN QUESO
1 cup raw cashews (soaked for at least 4 hours)

3 tbsp nutritional yeast

1/2 tsp sea salt

1 garlic clove, crushed

1 tsp ground cumin

1/2 tsp ground chili

1 tsp ground paprika

1 tbsp extra virgin olive oil

1/2 - 1 cup hot water
Method
Combine all ingredients (except water) in a high-speed blender or food processor and process until smooth. Gradually add in the hot water while processing to form a smooth mixture. You don't want this to be too runny.
GUACAMOLE
1

avocado

diced

½ red

onion

finely diced

juice of 1 lime

1 tsp paprika

Pinch of sea salt

Pinch of pepper
Method
Mix all ingredients in a small just before serving your nachos so the avocado remains as fresh as possible.
What Vegan Dish Would You Create For Your Non-Vegan Friends?
Get access to the entire Food Matters Film Library. Start watching here.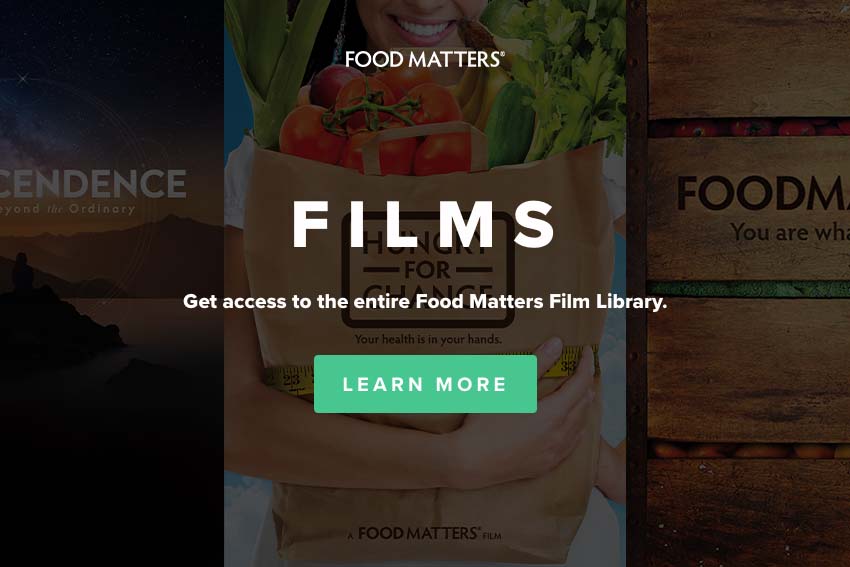 ---