Vitality Bowls
ADD TO MY RECIPES
Although there are some cooked elements to this dish, which are lovely and warming, most of the recipe calls for raw ingredients, which makes it so easy to prepare. The bowls just feel beautifully nourishing and full of flavor - you come away feeling like you just gave your body a great gift.
Ingredients
1 medium-sized sweet potato
1 small carrot
1 cup shredded cabbage
1 cup mixed baby salad leaves
1 small avocado
1 cup cherry tomatoes, halved
1 zucchini, peeled into strips
1/2 apple, sliced
1 can (15oz / 420g) chickpeas, rinsed and drained
1 handful mint leaves
1 handful almonds
2 small red chillies, sliced
1 handful sultanas
1 tbsp sesame seeds
1 tbsp tahini
1 tbsp coconut or natural yogurt
1/2 cauliflower
1/2 can coconut cream
1/2 red onion
2 tsp cumin, ground
1 tsp turmeric
2 limes
Macadamia or coconut oil, melted
Sea salt
Black pepper
Method
Pre-heat the oven to 180C.
Cut the sweet potatoes into 1cm thick chips then place them in a baking tray. Drizzle with oil, season with salt and pepper, and cook for 40 minutes or until tender.
Meanwhile to make the cauliflower curry, chop the cauliflower into small bite-sized pieces.
Next, process the onion, cumin, turmeric, 1/2 teaspoon sea salt, the juice of one lime and a couple of tablespoons of oil together in a small blender until relatively smooth. Pour the mixture into a frying pan and cook on a medium heat for 30 seconds. Add the cauliflower to the pan and toss to coat. Finally, pour in the coconut cream and simmer for 15 minutes or until the cauliflower is tender but still has a little bite.
To make the dressing, in a small bowl squeeze in the juice from the remaining lime, add the tahini, yogurt and 1 tablespoon of oil. Stir to combine. Set aside.
Grate the carrot and mix with the cabbage, then toast the sesame seeds and pour over them.
To assemble the bowls arrange the sweet potato chips, curried cauliflower, tomatoes, zucchini, cabbage/carrot mix, avocado, mixed leaves, chickpeas and apple. Top with the sultanas, almonds, mint leaves, chilli and dressing. Serve, seasoning with salt and pepper.
Do you have a passion for nutrition & natural healing?. Learn more about the Food Matters Nutrition Certification  Program here.
ENROLLMENT & BONUSES CLOSE IN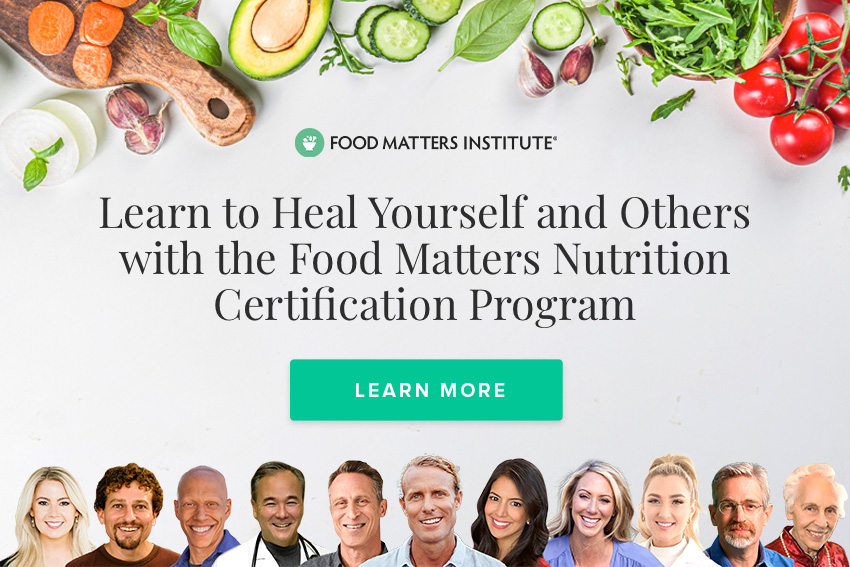 ---