Who Knew Caesar Was A Vegan?
ADD TO MY RECIPES
Caesar salad is notoriously known for its cheesy, garlicky, and creamy dressing that blankets leafy, watery greens. What it is not known for is its nutritional attributes. Traditional caesar salad dressing contains anchovies, raw egg yolk, and parm - tasty, but not necessarily virtuous. For a vegan and healthified version, I made a few swaps and modifications to add nutrient density to a classic dish without sacrificing palatability and mass appeal.

The anchovies in traditional caesar dressing add a umami quality. White miso paste delivers a similar savory and salty taste with the added benefits of being a fermented food. Capers also lend a briny flavor note, and soaked cashews serve as the creamy dreamy foundation. In order to add nutritional mileage to the salad, shredded brussels sprouts and lacinato kale are partnered with crisp hearts of romaine to create a trifecta of fiber, Vitamin K, and Vitamin C rich greens.

Big hunks of toasted white bread traditionally serve as croutons in your everyday caesar. Here, crispy roasted chickpeas provide crunch, flavor, and texture along with a dose of plant-based protein. Think that you will miss the finishing touch of a generous sprinkling of parm? Think again- nutritional yeast and hemp seeds emulate the look and taste of cheese minus the sodium and animal origin.

For a spin on the salad, throw the dressed greens in a whole grain, brown rice, or nori paper wrap with avocado and thinly sliced cucumber or add it to a bowl with quinoa and roasted veggies.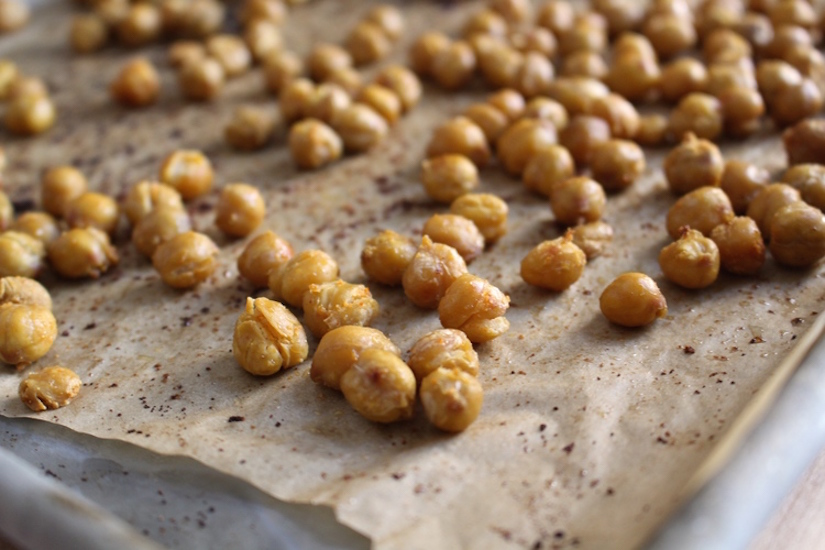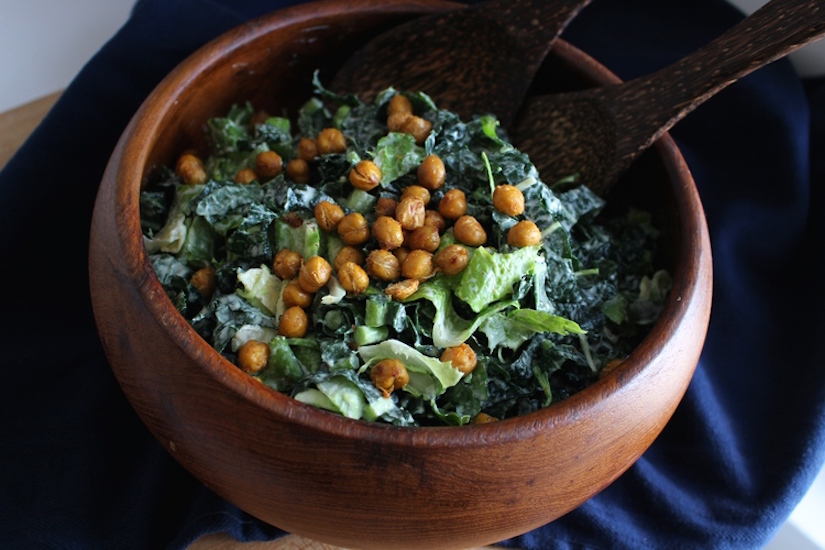 WHAT YOU NEED
DRESSING
1/2 cup raw cashews, soaked at least two hours and drained

Juice of 5 lemons

2 cloves of garlic

1/4 cup filtered water

1 tbsp Dijon mustard

1/2 tbsp nutritional yeast

1 tbsp white miso paste

2 tsp capers
CHICKPEA CROUTONS
1- BPA-free can chickpeas, rinsed, drained, and dried

1/4 tsp paprika or cayenne pepper

1 tsp garlic powder

1/2 tbsp olive oil

a pinch of sea salt
GREENS
1 bunch of lacinato kale, thinly sliced, bottom stems discarded

1/2 lb brussels sprouts

2 hearts of romaine, chopped

Juice of 1 lemon

Pinch of sea salt
GARNISHES (OPTIONAL)
Hemp seeds

Nutritional Yeast
What to do
Preheat oven to 400 degrees. Line a sheet pan with parchment paper. In a bowl, whisk together olive oil, paprika, or cayenne pepper, garlic powder, and sea salt. Add chickpeas and coat well with the spice mixture. Spread chickpeas out evenly on sheet pan and roast 15-20 minutes or until chickpeas are crispy. Toss halfway through cooking.

While the chickpeas cook, combine all the ingredients for the salad dressing in a high speed blender until smooth and creamy. Taste and make adjustments if needed. Set aside.

To shred the brussels sprouts - slice off the ends and remove any tough, brown colored, or dried out outer leaves. Slice each brussels sprout in half from top to bottom. Turn each brussels sprout cut side down and shred by slicing cross wise from root to top. Tease apart layers and place in a big salad bowl.

(optional step) Add the sliced kale to the brussels sprouts. Pour in the juice of 1 lemon and a pinch of sea salt. Using your hands, massage the greens for 2 minutes in order to soften the leaves.

Add romaine to the kale and brussels sprouts and pour in the salad dressing. Toss well to fully coat all the greens.

Top with chickpeas and a sprinkling of hemp seeds and nutritional yeast, if you wish
---
If you haven't already, join our free global challenge at www.GetOffTheGluten.com to receive daily recipes & health tips, access to our private group for support and inspiration, plus before and after testing to track your progress in key areas of your life such as weight, sleep, bloating, skin-conditions, mental health and more!
JOIN THE GROUP CHALLENGE STARTS IN: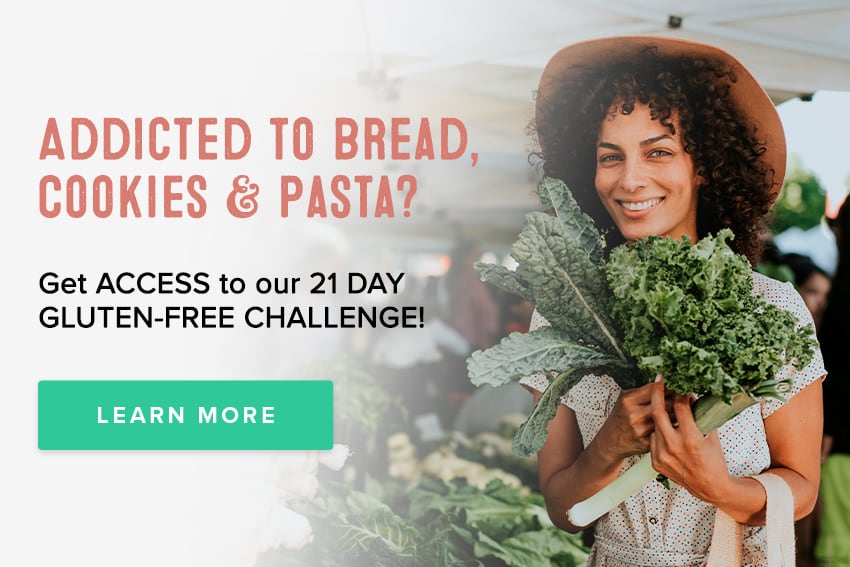 ---