Your Favorite Appetizers, Healthified!
ADD TO MY RECIPES
Bring back your favorite appetizers! Try the crunchy onion bloom with Outback dipping sauce or tempt your taste buds with the fully loaded sweet potato skins. Cravings? Busted.
---
Crunchy Oven-Baked Onion Bloom Outback Dipping Sauce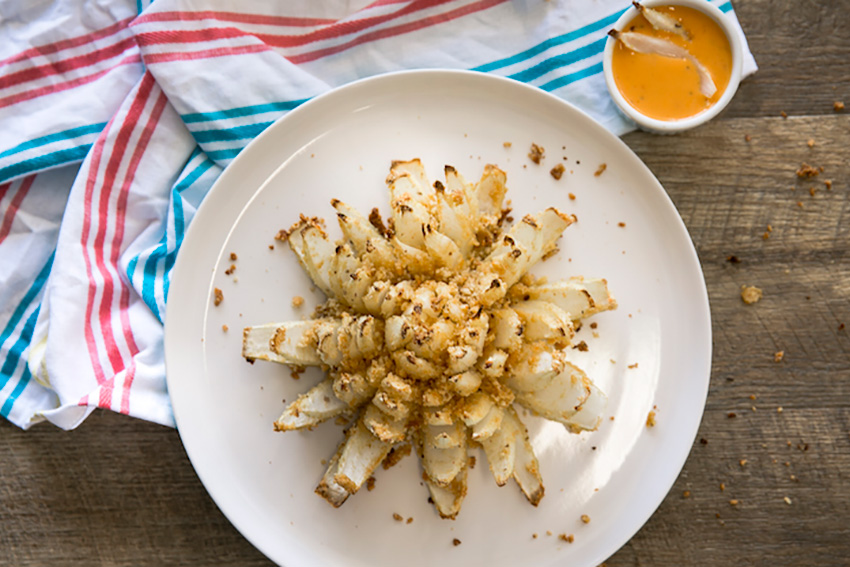 The beloved deep-fried onion bloom is a classic bar appetizer. If you've every enjoyed the "blooming onion" then you will love this healthier alternative! A great one to impress those guests.
Ingredients
1 large onion

1/4 cup almond meal
1/4 cup cashews
1/4 cup nutritional yeast

1 tsp paprika

1 tsp sea salt

1/2 tsp pepper

1 tsp ground garlic powder

1 egg
Method
Preheat oven to 400°F (200°C).

On a cutting board, use a knife to cut off the top (not the root) 1/4-inch of the onion until a few of the inside layers are exposed. Peel the outermost layer of the onion down to the root, but leave the root intact.

Lay the onion on the cutting board so that the flat side (that you just cut) is facing downward. Then use a knife to section the onion into 16ths, beginning with your knife 1/8-inch away from the root and cutting straight down. Once all cuts are complete, turn the onion over and set on a piece of parchment paper on a baking sheet. Then use your fingers to gently spread apart the petals. If any of your cuts did not go all the way through, you can use a paring knife to be sure that the entire onion is cut into 16ths.

(Update: I have had readers give the tip that if you soak your sliced onion in cold water overnight, it will open up naturally on its own.)

In a food processor, add the almond meal, cashews, nutritional yeast, paprika, salt, pepper and garlic powder. Pulse to make a crumble. Transfer into a small separate bowl.

In a separate (additional) bowl, whisk the egg until light and fluffy.

Beginning with the lowest (bottom) layers of the onion, brush the top of each petal with the egg mixture until coated, then immediately sprinkle with the crumble mixture. Repeat until all petals are coated.

Place your onion on a baking tray, lined with parchment paper and bake for 15-25 minutes until the onion is soft and the tips are lightly crisped.

Remove and serve with homemade dipping sauce.
Outback Dipping Sauce
We hate to be the bearer of bad news but your favorite dipping sauces are often loaded with nasty sugars and additives! It is well worth creating your own to keep in the fridge.
Ingredients
½ cup organic mayonnaise (so important to search for an organic one made on whole egg, or make your own )

2 tsp tomato sauce (again, search for an organic version with no additional additives, or make your own)

1 tsp creamed horseradish

¼ tsp paprika

¼ tsp salt

⅛ dried oregano

dash of cayenne
Method
1. Whisk all ingredients together until combined. Serve immediately or refrigerate in a sealed container for up to 1 week.
---
Sweet Potato Skins With  Zesty Salsa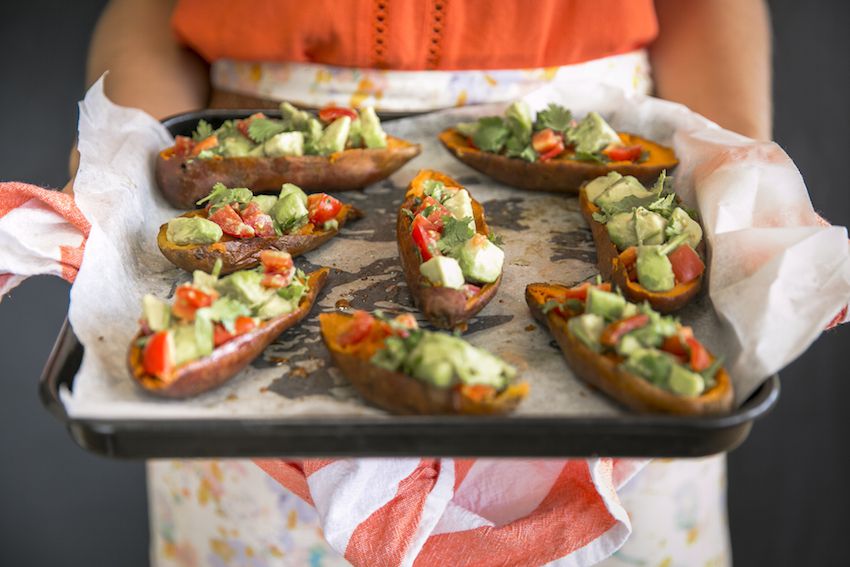 Who has been a lover of those tasty potato skin appetizers? Did you know that potato skins are often deep fried to be crispy? Why would you, when you can achieve the same delicious crispiness from baking them in the oven. The beauty of this recipe is you can top with any of your favorite healthy ingredients. We've topped ours with a zesty and refreshing salsa!
Ingredients
4 small sweet potatoes

2-3 tsp of coconut oil

1/2 tsp sea salt

1 punnet of cherry tomatoes, halved

handful cilantro, roughly chopped

juice of 1 lime

1 tsp paprika

1 avocado, diced

salt and pepper to season
Method
Preheat oven to 400°F (200°C).

Rub sweet potatoes in a little coconut oil and with a dash of salt.
Place on a baking tray lined with parchment and bake whole sweet potatoes for 25-30 minutes.
Remove sweet potatoes from oven (but leave the oven on). Let them cool slightly, cut in half and scoop out flesh (save for another use).
Place naked sweet potato skins back in the oven for 10-15 minutes until slightly browned and crispy.
While skins are baking make your zesty salsa by mixing together cherry tomatoes, cilantro, lime juice, paprika, avocado and season with salt and pepper.
Remove baked skins from the oven and top with salsa to serve straight away.
Discover how to lose excess fat from your belly, face & thighs in less than 7 days with this simple ancient practice. Watch the Detox Masterclass here. Playing for a limited time!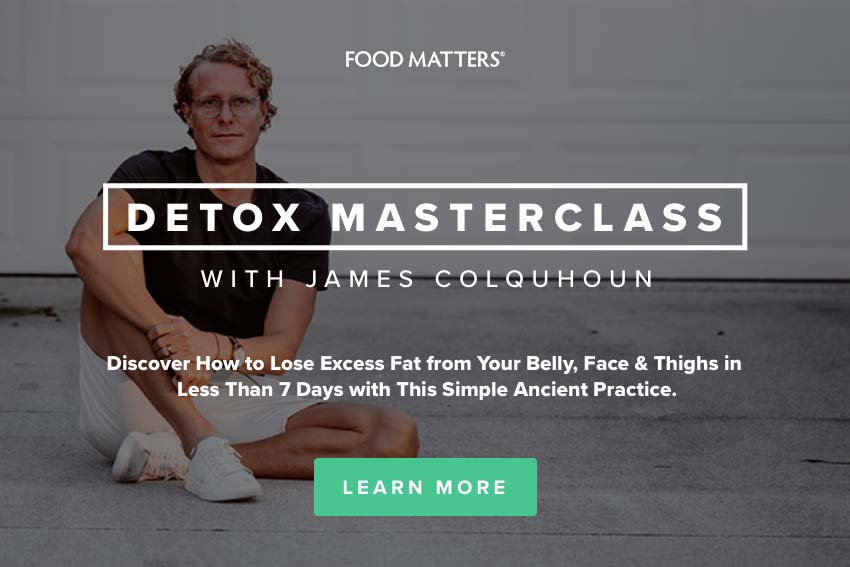 ---