Quick, easy, delicious! All it takes is two ingredients for an amazing breakfast! Loaded with protein, they're a filling everyday treat!
INGREDIENTS
(use organic ingredients where possible)
1 banana, peeled, chopped roughly

2 eggs

Optional: Serve with fresh strawberries and yogurt, cinnamon butter, maple syrup or sweetener of choice, nut butter and seeds (sesame, chia, hemp seed) sprinkle with a drizzle of raw honey.
Coconut oil or butter for frying.
WHAT TO DO
Whisk egg in a bowl, add the banana and mash together to form a batter.

Heat 1 tablespoon of coconut oil/ or butter in a frying pan and pour in the batter to create a thin pancake. Let the pancake cook through before flipping it. After flipping it, let the other side cook through.

Serve with fresh strawberries and yogurt, cinnamon, butter, pure maple syrup, nut butter, seed sprinkle and raw honey or your desired toppings.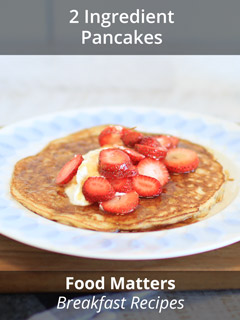 Eating healthy can be quick and easy! You just need to know how! Join us over at FMTV and be inspired by 100's of recipe videos to guide you to create healthy cooking magic! Explore FMTV recipes today!
Last Updated: January 26th, 2017.