4 SPOOKILY HEALTHY HALLOWEEN RECIPES
ADD TO MY RECIPES
No tricks here! Staying healthy at Halloween doesn't mean missing out on all of the good things. Your kids will love healthy alternatives to Halloween candy if you make them frightfully good!
---
RASPBERRY BLOOD GUMMIES
No need to worry about the fillers and additives in regular, over-processed candies with these quick and simple gummies. Make with grass-fed gelatin, well known for gut healing benefits, or swap for a vegan version using the seaweed agar-agar.

Ingredients
Method
1. Blend raspberries into a purée, pour into saucepan.
2. Add honey & gelatin or agar-agar. Whisk until thick. Low heat 5-10 minutes.
3. Pour into molds and refrigerate for 1 hour until set.
---
CHOCOLATE COATED STRAWBERRY SPIDERS
The combination of strawberries and chocolates is always a winner! Easily converted into a healthy Halloween treat that will be loved by both kids and adults!
Ingredients
1 punnet of strawberries

Goji berries, enough for 2 on each strawberry

Batch of raw chocolate recipe or organic dark chocolate
RAW CHOCOLATE RECIPE
3 tbsp coconut

oil,

melted

1/3 cup raw cacao powder

2 tbsp maple syrup

1/2 tsp vanilla

Pinch of salt
Method
Whisk together your raw chocolate ingredients or melt dark chocolate over boiling water, bain-marie style.
Dip strawberries into the chocolate and place on a tray lined with parchment paper, and save a little bit of extra chocolate to stick goji berry eyes on.
Decorate with plastic spider legs.
Using a toothpick, spot a tiny bit of melted chocolate in the place of the eyes and attach goji berries.
Place into the freezer to allow chocolate to set.
---
SWEET POTATO PUMPKIN FACE CHIPS
Pop a bowl of these sweet potato chips out at the Halloween party to break up the sweet treats!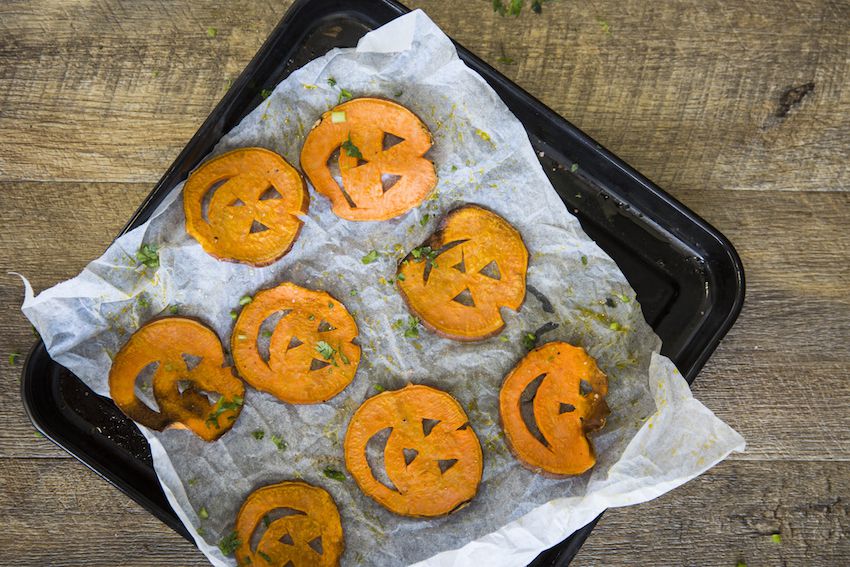 Ingredients
1 large sweet potato

2 tbsp coconut

oil,

melted

Pinch of salt

1 tsp ground cinnamon
Method
Preheat oven to 400° Fahrenheit. (200° Celsius).
Cut ends off sweet potatoes. Slice them thinly, then using a sharp vegetable knife cut out shapes to resemble Jack O' Lanterns.
In a large bowl, toss sweet potato slices with coconut oil, cinnamon, and salt, making sure all pieces are coated.
Spread out over a baking sheet. Bake for 40-45 minutes (until edges are lightly browned), flipping halfway.
---
ZOMBIE EYES
While snacking on Zombie Eyes doesn't sound too appetizing to everyone, they are guaranteed to be a hit with the kids! Plus, this Zombi Eyes pack a nutritional punch for the little ones!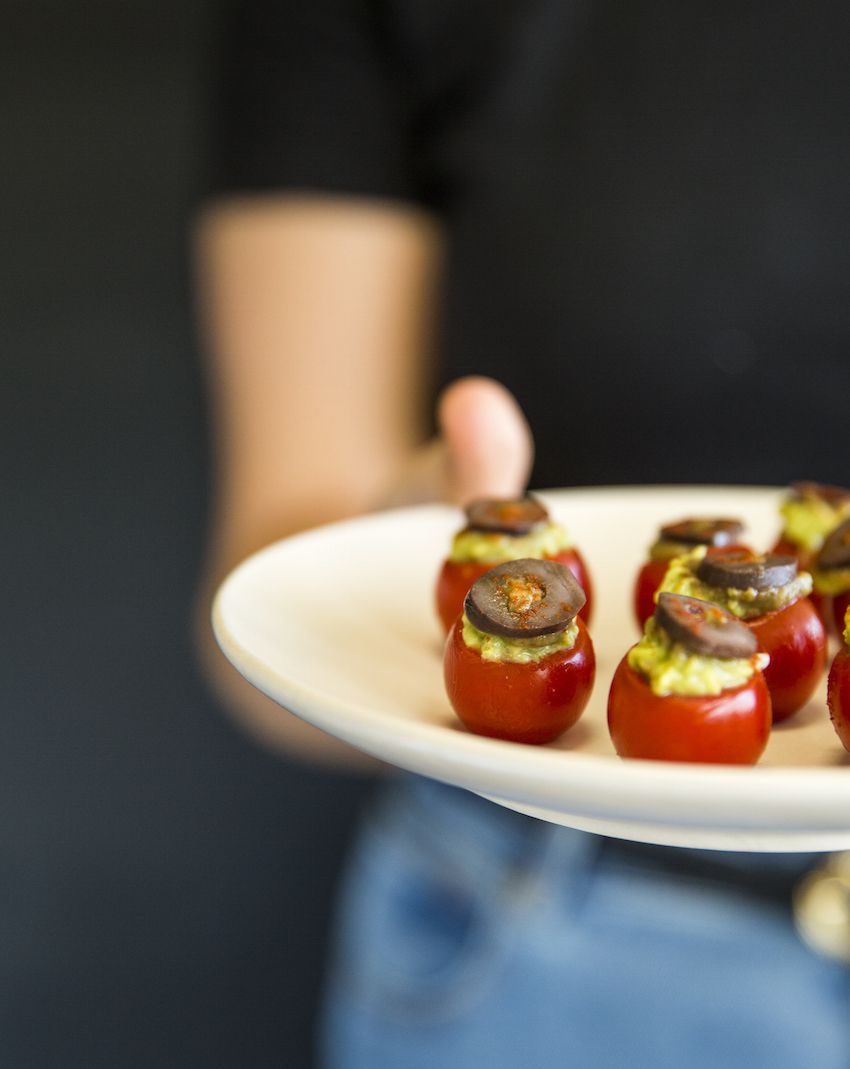 Ingredients
1 punnet of cherry tomatoes (more on the large side)

5 hard-boiled eggs

2 ripe avocados

1 heaped tbsp organic Greek yogurt

Juice of ½ lemon

Salt & pepper to taste

Pinch of smoked paprika

6 Kalamata

olives, halved

UTENSILS
Piping bag

Sharp knife

Small metal scoop/ melon baller

Small saucepan

Method
Wash and dry the tomatoes and slice a very thin layer off the bottom so they sit flat on a cutting board.
Slice off the very top of the tomatoes and hollow out the seeds and center, leaving an empty cavity
Mash up your boiled eggs in one bowl and in another, mash together your avocados and yogurt.
Combine your egg and avo mix and stir thoroughly. Season with salt, pepper and lemon juice to taste.
Fold down your piping bag and spoon in your green egg mixture. Depending on the size of the opening on your tomatoes, cut your piping bag tip so it can easily fit inside while still allowing it to be big enough for the filling to come out.
Slowly pipe the mixture into the tomatoes until slightly coming out of the top. Repeat on all tomatoes
Sprinkle each ' eyeball' with the paprika to give a bloodshot look to them and top with a half an olive to finish off the eye. Serve up to your little grommets and goblins as a fun lunchtime snack or as a movie-time munchies.
What Are You Creating This Halloween?
Do you have a passion for nutrition & natural healing?. Learn more about the Food Matters Nutrition Certification  Program here.
ENROLLMENT & BONUSES CLOSE IN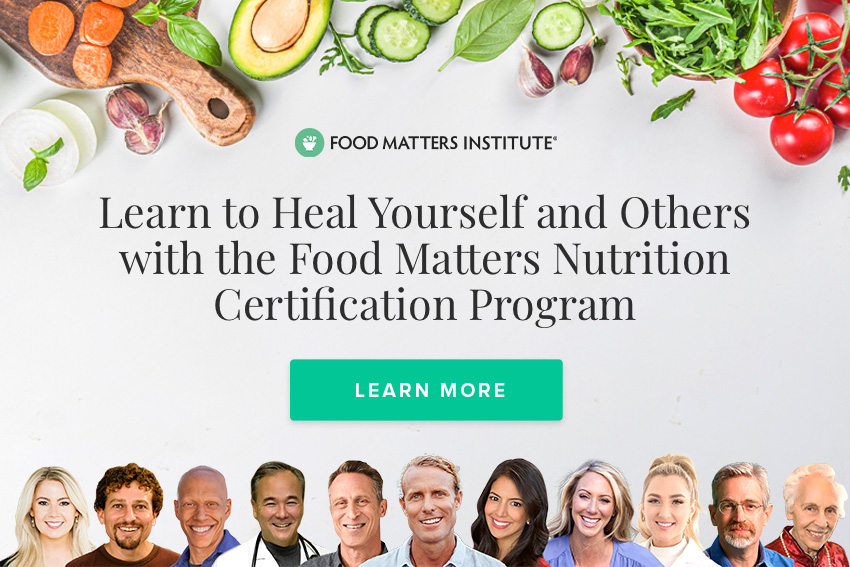 ---