5 Superbowl Super Bowls
ADD TO MY RECIPES
We've created 5 NEW super bowls to cater to whatever mood you're in.
THE MEXICAN BOWL
(Pictured Above)
Lime and Cilantro Rice
½ small cauliflower
1 tbsp extra-virgin olive oil
1 garlic clove
1 scallion, diced
Salt and pepper, to taste
1 fresh lime
Handful fresh chopped cilantro
Pineapple Salsa
1/2 small fresh pineapple, diced
1 fresh chili, thinly sliced
½ bunch of fresh mint, roughly chopped
1/2 small red onion, thinly diced
Juice of 1 lime
Sweet Potato Mince
½ onion, finely diced
1 garlic clove, crushed
3 tbsp oil
1 large sweet potato, grated
1 tsp chili powder
2 tsp ground cumin
Pinch of cayenne
Salt and ground black pepper, to taste
Fresh lime juice, to taste
Extras for serving:
Method
For the cauliflower rice, roughly chop cauliflower into florets, then place cauliflower in a food processor and pulse until the cauliflower is small and has the texture of rice or couscous – don't over process or it will get mushy. In a pan over medium heat, add olive oil, scallions and garlic and sauté about 3 to 4 minutes, or until soft. Add the cauliflower "rice" to the pan and cook for another 3-4 minutes.Season with salt and pepper to taste. Remove from heat and place in a medium bowl and toss with fresh cilantro and lime juice.
For the sweet potato mince, in a large pan set over medium heat, sauté the onions and garlic in 2 tbsp of the oil until the onions are cooked. Add the grated sweet potatoes, chili powder, cumin and cayenne and cook for about 10 minutes. When the sweet potato is tender, add salt and pepper to taste and remove the filling from the heat. Squeeze ½ a lime over the sweet potatoes and mix.
Mix all Pineapple Salsa ingredients in a medium-sized bowl.
Layer your ingredients in your favorite bowl and enjoy!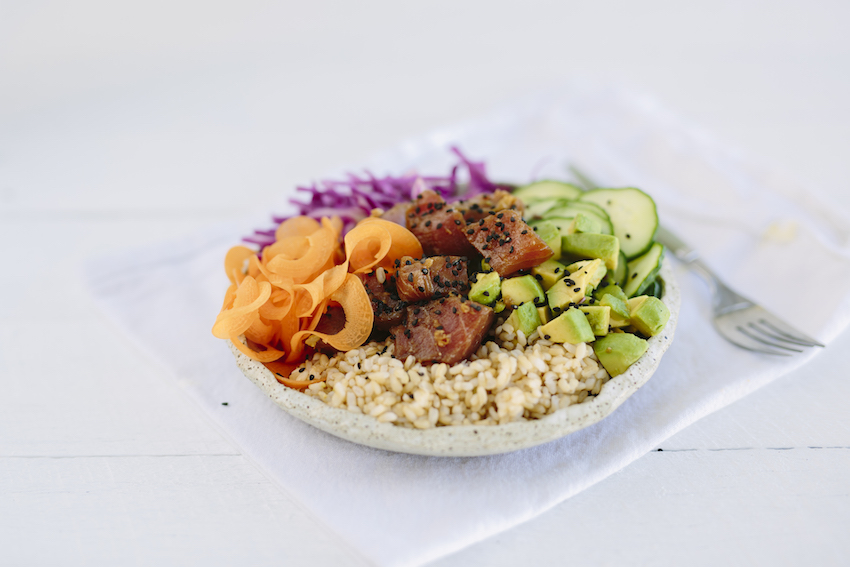 THE HONEY & TAMARI POKE BOWL
Salmon or Tuna Poke
3 tbsp tamari
2 tbsp raw honey
1 tsp freshly grated ginger
2 rice-wine vinegar
1 tsp sesame oil
1 tsp sesame seeds, plus extra for garnish
¼ tsp red chili flakes
150 g wild-caught salmon or tuna, cubed into bite-sized pieces
2 scallions, thinly sliced
Pickled Cucumber:
1 Lebanese cucumber, thinly sliced
2-3 tbsp rice-wine vinegar
½ tsp mustard seeds
Extras for serving:
Red cabbage, thinly sliced
1 small carrot, julienned or thinly sliced
¼-½ cup cooked brown rice
½ avocado, diced or sliced
Method
In a small bowl, add sliced cucumber pieces, mustard seeds and rice-wine vinegar. Allow to soak while you prepare the rest of your bowl.
In another small bowl, mix together tamari, honey, ginger, rice-wine vinegar and sesame oil.
Cube the salmon or tuna into even cubes, approximately 1cm x 1cm. Add cubed salmon to the tamari and honey dressing and allow to marinade for 8-10 minutes.
While the salmon or tuna marinades, prep the rest of your bowl ingredients and assemble.
Top with poke salmon and avocado.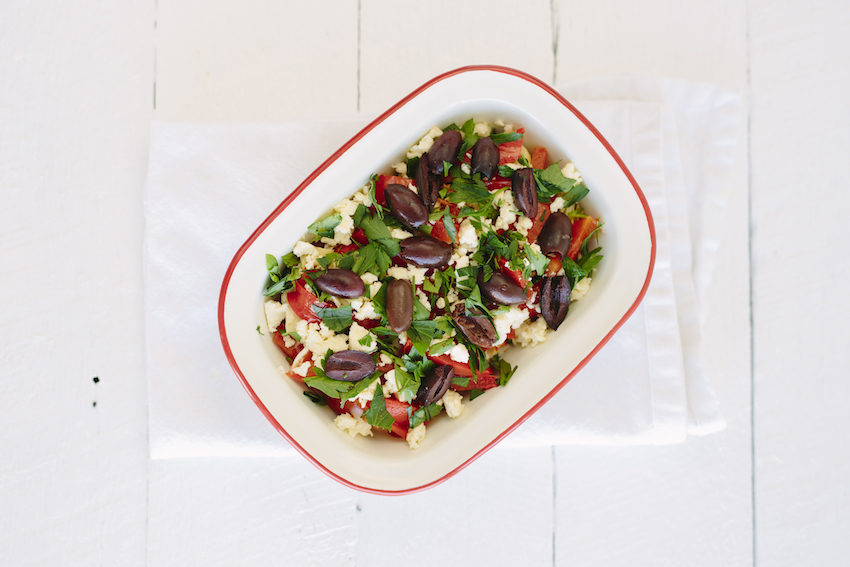 THE MEDITERRANEAN LAYERED DIP
Dip ingredients…
1 tomato, diced
1 cucumber, diced
½ cup organic Greek yogurt
¼ tsp sea salt
1 tsp paprika
2 artichoke hearts, chopped
2 roasted red peppers, diced
¼ cup crumbled feta cheese
Handful parsley, roughly chopped
½ cup Kalamata olives, halved
Method
In a large serving dish, spread the hummus evenly on the bottom. Layer the tomatoes and cucumber over top.
Drizzle yogurt over the tomatoes and cucumber.
Sprinkle the yogurt with salt and paprika.
Layer the artichoke heart, roasted red peppers and feta cheese. Sprinkle the parsley over top and garnish with olives.
Serve with fresh vegetables, pita chips or crackers .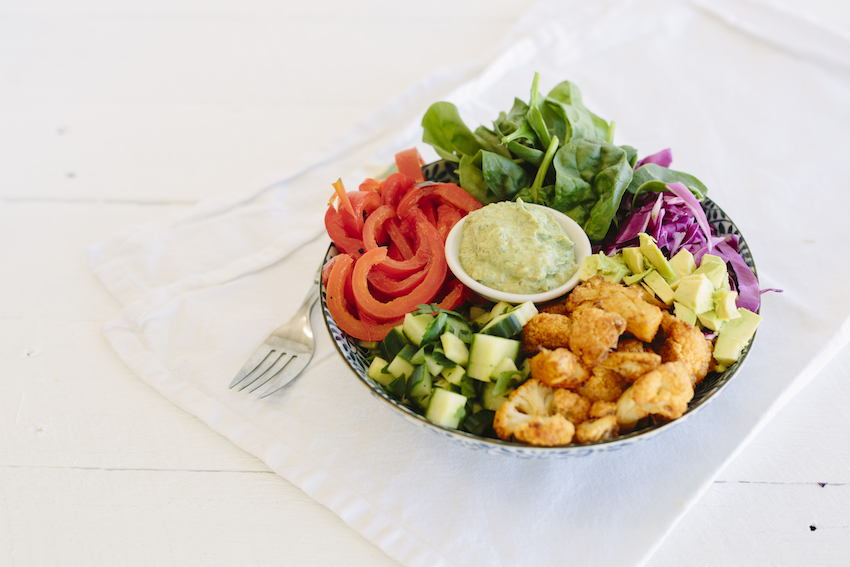 BUDDHA NOURISH BOWL
Roasted Spicy Cauliflower…
½ small cauliflower, roughly chopped
½ tsp garlic powder
¼ tsp chili powder
½ tsp cumin powder
1 tsp paprika powder
1 tbsp coconut oil or ghee
Nourish bowl ingredients…
1 small sweet potato, cut into chips and roasted
Red cabbage, thinly sliced,
Spinach
1 avocado
Herb Tahini Dressing…
¼ cup tahini
1 garlic clove, minced
Juice of ½ lemon
2 tbsp extra virgin olive oil
1 tbsp honey
Handful of dill, roughly chopped
Handful of parsley, roughly chopped
Water, to thin if necessary
Method
Preheat oven to 350ºF (180ºC).
In a medium bowl, add cauliflower, garlic, chili, cumin, paprika & coconut oil, stir well to coat the cauliflower.
Spread evenly on a lined baking tray and roast for 15-20 minutes.
In a food processor or blender, combine all dressing ingredients and process until combined well.
If the dip seems too thick, add more water to thin until you reach your desired consistency.
Assemble all ingredients in your favorite bowls and drizzle with tahini dressing.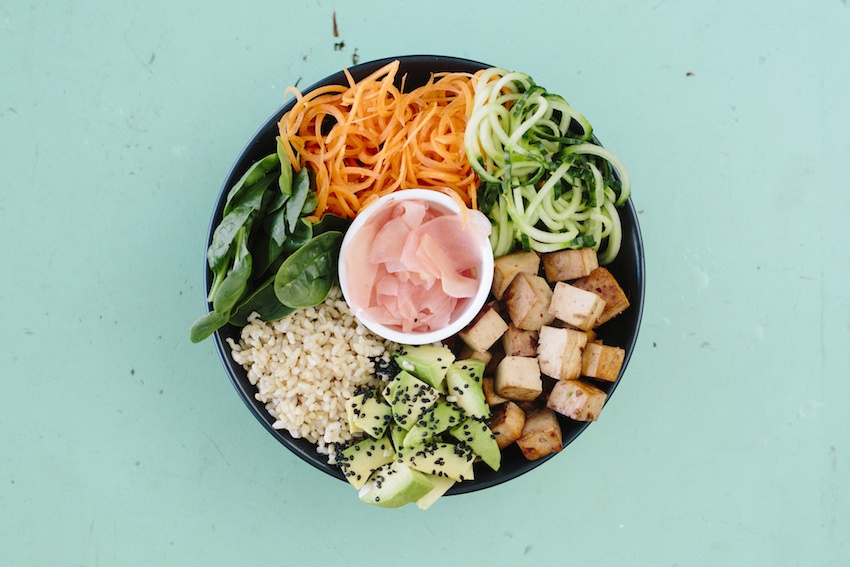 DECONSTRUCTED SUSHI BOWL
Marinated tofu…
5 ounces extra firm tofu
¼ cup tamari
3 tbsp rice-wine vinegar
1 clove garlic, minced
1 inch piece of ginger, minced
1 tbsp honey
1 tsp sesame oil
Bowl ingredients…
½ cup brown rice
1 carrot, spiralized, thinly sliced or julienned
1 small cucumber, spiralized , thinly sliced or julienned
1 avocado
1 tbsp sesame seeds
Handful of greens
2 tbsp pickled ginger
Method
Cut tofu into small cubes and marinade in tamari, rice-wine vinegar, garlic, ginger and honey while you prep the other ingredients.
Prep all veggies for your bowl.
In a frying pan over medium heat, add sesame oil, drain excess marinade and add tofu. Brown tofu, remove from heat and add to your bowls.
Finish assembling bowls with prepped veggies, avocado, greens, sprinkle with sesame seeds and top with pickled ginger.
---
If you haven't already, join our free global challenge at www.GetOffTheGluten.com to receive daily recipes & health tips, access to our private group for support and inspiration, plus before and after testing to track your progress in key areas of your life such as weight, sleep, bloating, skin-conditions, mental health and more!
JOIN THE GROUP CHALLENGE STARTS IN: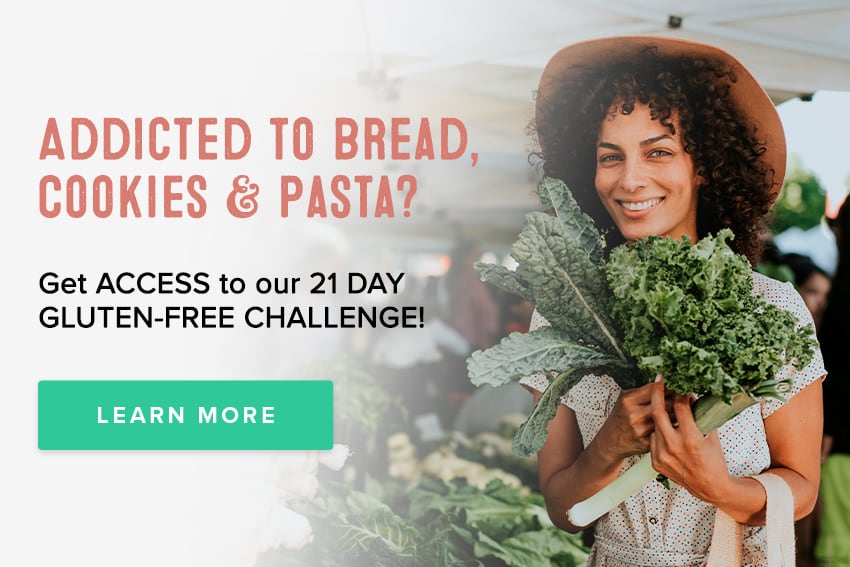 ---