Blueberry Chia Bowl with Caramelized Sesame Bananas
ADD TO MY RECIPES
In celebration of the upcoming Clean Eating Program, discover one of the incredible meals you'll be tucking into throughout the plan. With mouthwatering bananas and a delicious chia base, this will change the way you do breakfast.
Ingredients
For the chia bowl
1/2 cup frozen blueberries, thawed
1 cup unsweetened plant-based milk of choice (coconut, almond, oat)
3 tablespoons chia seeds
1 teaspoon ground cardamom
1 teaspoon ground nutmeg
Pinch of unrefined sea salt
For the caramelized banana
½ tablespoon coconut oil
1 banana, peeled and sliced in half lengthways
1 tablespoon maple syrup
1 tablespoon almonds, chopped
1 tablespoon sesame seeds
1 tablespoon walnuts, chopped
To Serve
1 tablespoon ABC nut butter
2 tablespoons coconut yogurt
Method
Mash the thawed blueberries with a fork then add plant-based milk, chia seeds, cardamom, nutmeg, and sea salt, stir to combine, and let sit for 20 minutes.
To make the caramelized bananas, heat coconut oil, and maple syrup in a frypan then add in the sunflower seeds, sesame seeds, and walnuts, stirring until they start to become sticky.
Make room in the center of the nut mixture in the frypan and place the banana slices there. Heat for just a minute on each side or until they begin to caramelize. Remove from heat.
Serve the blueberry chia in a large bowl, top with coconut yogurt, and the bananas in the middle.
Drizzle sticky nut mixture over the bananas then top with nut butter.
Loved this recipe? Discover more nourishing recipes in our Clean Eating Program. Over 21-days you'll get access to meal plans, shopping lists, healthy habits, and support from our Food Matters Health Coaches. We're starting together on Monday, September 28! To learn more visit the Clean Eating Program here.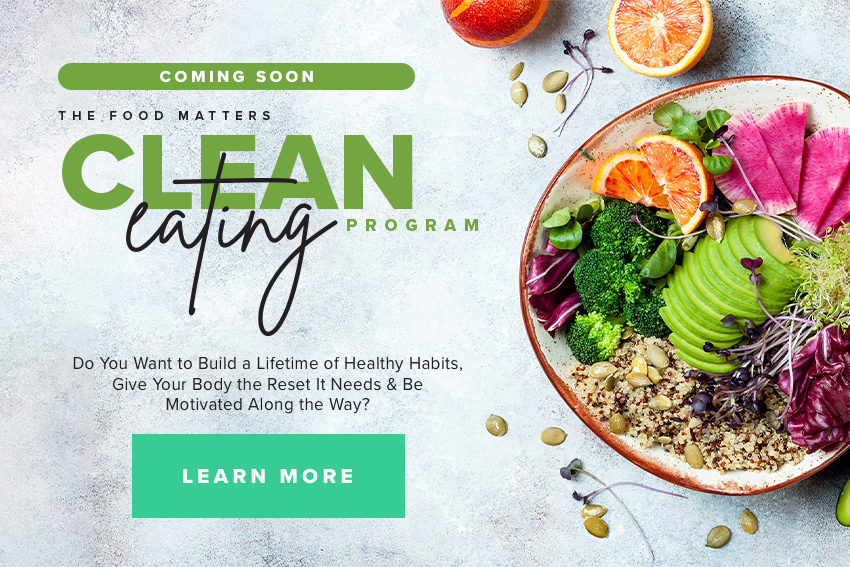 ---