Chia & Flaxseed Loaf (Recipe)
ADD TO MY RECIPES
A bread free of gluten, containing high amounts of skin nourishing ingredients... Some would say this is unheard of so we have found you the perfect recipe for such a thing. Did we mention how simple it is?!

This could easily become your daily (guilt-free) bread and what a diva of a loaf it is. Use it for blissful open-top sandwiches or a mouthwatering and satisfying toasted sandwich. The perfect skin food.

Makes one loaf
Ingredients
350 g (12 oz/21/3 cups) gluten-free self-raising flour
30 g (1 oz/1/4 cup) ground flaxseeds
20 g (3/4 oz/1/4 cup) chia seeds
115 g (4 oz/3/4 cup) mixed sunflower seeds and pepitas (pumpkin seeds)
1/2 teaspoon sea salt
4 organic eggs
1 teaspoon apple cider vinegar
4 tablespoons melted unsalted butter
80 ml(21/2 fl oz/1/3 cup) tablespoons additive-free coconut milk
6 drops stevia liquid
125 ml (4 fl oz/1/2 cup) filtered water
Method
Preheat the oven to 175°C (345°F/Gas 3–4) and grease and flour a 20 x 9 cm (8 x 31/2 inch) loaf (bar) tin.
Combine the flour, flaxseed, chia, sunflower and pumpkin seeds and salt in a bowl and mix until combined.
In a separate large bowl, use an electric mixer to beat the eggs for about 2 minutes – they should be pale and fluffy.
Stir in the apple cider vinegar, butter, coconut milk, stevia and water. Pour the wet ingredients into the bowl with the flour mixture and stir well to combine.
Spoon the mixture into the prepared loaf tin and bake in the oven for 40 minutes, or until a skewer inserted in the centre of the loaf comes out clean.
Turn out onto a wire rack to cool.
This loaf will keep for one week in the fridge or two months in the freezer. Pictured with 'Smashed Sardines With Avocado", from Lee's 'Eat Yourself Beautiful' recipe book.
Never miss a moment in nutrition news with Food Matters' latest articles.
Take the stress out of cooking with 21-days of guided meal plans, shopping lists, and nutrition support. You'll find all of this, and more, in our signature Clean Eating Program.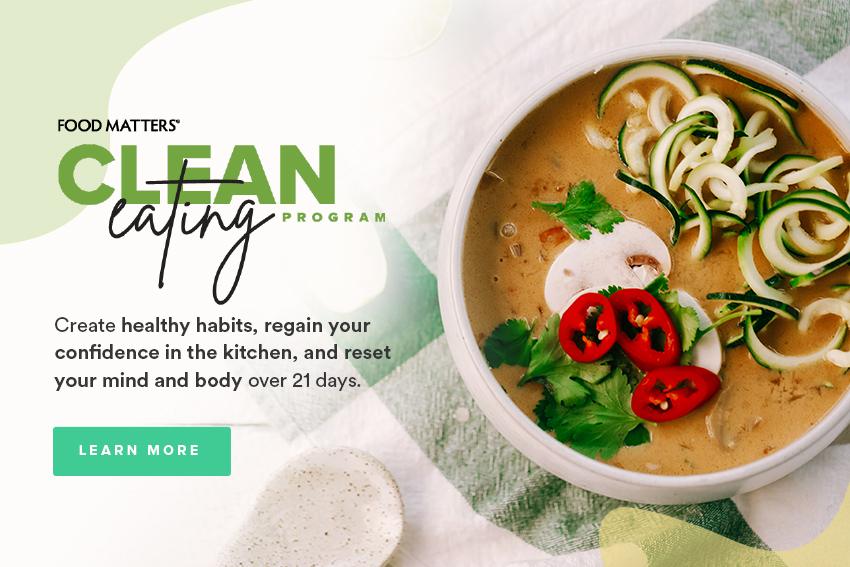 ---