How to Make Crunchy, Roasted Chickpeas Using Healing Herbs And Flavors
ADD TO MY RECIPES
Crunchy and spicy is a combination that we love in our food! Bake your own crispy chickpeas for a tasty and healthy snack.
Ingredients
2 15-oz cans chickpeas
2 tbsp extra virgin olive oil
1 tsp Himalayan salt
2 to 4 tsp spices such as chili powder, curry powder, garam masala, cumin, smoked paprika, rosemary, thyme, or any of your favorite herbs or spices
Method
Preheat oven to 400°F (200°C).
Rinse and drain the chickpeas by pouring chickpeas into a strainer and rinsing with running water.
Pat the chickpeas very dry with a clean dishtowel or paper towels.  They should feel dry to the touch.
Toss the chickpeas with olive oil and salt, and spread the chickpeas out in an even layer on the baking sheet.
Roast the chickpeas in the oven for 20 - 30 minutes until golden and crisp, checking every 10 minutes and giving the pan a shake.
Toss the chickpeas with the spices.
Besides eating these chickpeas as a snack, you can toss them in salads or sprinkle over soup in place of croutons.
Do you have a passion for nutrition & natural healing?. Learn more about the Food Matters Nutrition Certification  Program here.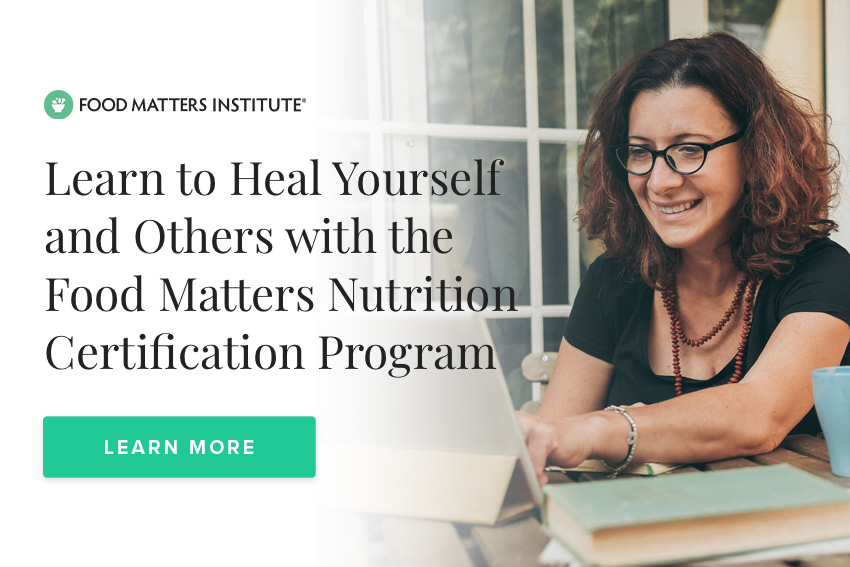 ---