Daily Healthy No-Cook Meal Plan: Overnight Oats, Avocado Wraps and Tuna Boats
ADD TO MY RECIPES
No time to cook? No problem. Blogger Elizabeth Rider shows you how to make 3 easy-to-assemble dishes that don't require any cooking. Each can be made ahead of time or doubled to enjoy at any time.
These recipes were inspired by a friend who asked Elizabeth for some easy meals her college-age son could prepare on his own. Regardless of your age, budget or kitchen situation, you will love these easy, delicious, and healthy meals.
Overnight Oats
Ingredients
(use organic ingredients where possible)
1 small banana, sliced
1 cup whole rolled oats
2-3 tsp chia seeds
1 tbsp almond butter
2 cups unsweetened almond milk
1 tbsp maple syrup
¼ tsp pure vanilla extract
Pinch of sea salt
Method
Start with a layer of sliced bananas in the bottom of a quart-sized mason jar, followed by approximately ½ -1 teaspoon almond butter, ½ teaspoon chia seeds and about 1-inch oats.
Continue to layer in this order until close to the top. Leave about 2 inches at the top of the jar.
Mix together unsweetened almond milk, maple syrup, a pinch of sea salt and pure vanilla extract.
Slowly pour almond milk mixture onto the layered overnight oats.
Refrigerate at least 6 hours, preferably overnight. Will keep in the refrigerator up to 4 days.
~~~~~~~
Green Ranch Wraps
Ingredients
(use organic ingredients where possible)
1 healthy wrap of your choice (e.g. 100% whole grain tortilla, gluten-free wrap , or paleo wrap )
1-2 tbsp homemade ranch dressing (recipe below)
½ avocado, sliced
1 handful spinach, or other greens of your choice
1 handful micro-greens, sprouts or pea shoots
1 tbsp raw sunflower seeds
Method
Layer all ingredients, wrap up and serve!
~~~~~~~
Healthy Homemade Ranch Dressing
Ingredients
(use organic ingredients where possible)
1 cup vegan mayonnaise (or substitute cashew cream)
1 tbsp raw apple cider vinegar
1 tbsp unsweetened plain nut milk or water
1 tsp granulated garlic powder
1 tsp onion powder
2 tsp dried parsley
2 tsp fresh chopped dill
2 tsp fresh chopped chives
¼ tsp sea salt
Fresh ground black pepper, or to taste
Method
Whisk all ingredients together then transfer to an airtight glass container to store in the refrigerator.
Add more or less unsweetened plain nut milk or water to your desired consistency.
Let it sit for at least 30 minutes for the flavors to develop—it's even better the next day.
~~~~~~~
Secret Ingredient Tuna Boats
Ingredients
(use organic ingredients where possible)
Romaine/cos leaves, rinsed and dried
2 cans albacore tuna, drained
2 tbsp celery, finely chopped
3 tbsp vegan mayonnaise
1½ tbsp unsweetened, fermented pickle relish
1 tsp raw, local honey
¼ - ½ tsp sea salt
Pinch black pepper
Toppings:
1 avocado, diced
8 grape tomatoes, halved
Method
Rinse romaine leaves, and spin dry in a salad spinner, or pat dry with paper towel.
Drain the liquid from the tuna cans and add to a mixing bowl. Break up the larger chunks of tuna with a fork until it is evenly flaky.
Add celery, mayonnaise, relish, salt & pepper to the bowl with the tuna and mix well.
ASSEMBLY
Lay out your individual leaves of romaine lettuce and add a scoop of tuna to each.
Top with tomatoes and avocado. Store leftover tuna for up to 2 days in the refrigerator.
NOTE: The dressing will keep for about a week in the refrigerator, so halve or double the recipe, if needed.
---
If you haven't already, join our free global challenge at www.GetOffTheGluten.com to receive daily recipes & health tips, access to our private group for support and inspiration, plus before and after testing to track your progress in key areas of your life such as weight, sleep, bloating, skin-conditions, mental health and more!
JOIN THE GROUP CHALLENGE STARTS IN: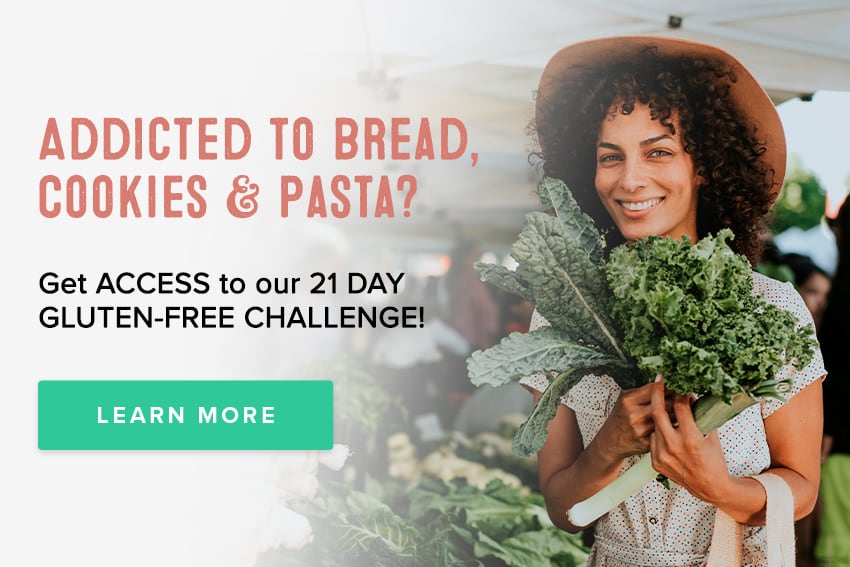 ---