Detox Soups To Ease Into Spring
ADD TO MY RECIPES
We've compiled a list of our most nourishing soups by our favorite health food bloggers. Rich in flavor, simple to make and perfect for relieving your digestive system from modern stressors, these recipes are our 'go-to' picks for flushing toxins from your body.
Using the same principles as juicing, soup also simplifies the need for complex digestion and supplies the body with a punch of nutrients. In cooler months, a fresh green juice is just not going to cut it.  Instead, opt for a warming soup that is both nourishing and delicious.
Have you heard of Borscht Soup before? Borscht is a traditional Eastern European dish made from beetroots. In this recipe tutorial, Laura Miller from Raw Vegan Not Gross shares not one, but two great recipes. Begin by learning how to create your own veggie stock and then incorporate it into a beautiful, delicious beet soup.
Canned and most restaurant chicken soups are filled with MSG, a chemical that you definitely don't want to eat. In this FMTV recipe, Elizabeth shows you how to make your own bone broth at home; a food that's been around for hundreds of years and really does heal you from the inside out. To add depth to the broth, Elizabeth then turns the broth into a to-die-for Chicken Quinoa Soup that's easy to make and has a secret ingredient that will quickly turn this into your new favorite soup.You'll  also learn extra tips and tricks to perfecting and storing your broth at home.
For those not quite ready for bone broth, this potassium balance soup is the perfect 'bone broth' alternative for vegans and vegetarians. This recipe tutorial by James Colquhoun is high in essential minerals such as potassium, magnesium and manganese, making it the perfect adrenal tonic for stress-related conditions and general fatigue!
Store bought tomato soups are a no go.  Laden with salt, sugar, and preservatives, it can seem like you are consuming ketchup in a can. Learn how to make your own beautiful oven roasted tomato soup with our favorite foodie and cook, Laura Miller.
Because one recipe isn't enough! We are definitely on the bone broth bandwagon at the moment. Here are some additional reasons to support our cause - bone broths are extraordinarily rich in protein and minerals. Particularly glycine, which supports digestion and the body's natural detoxification process; and proline, especially when paired with vitamin C, supports good skin health. Bone broths are also rich in gelatin, which is great for healthy skin, joints and digestive health.
---
If you haven't already, join our free global challenge at www.GetOffTheGluten.com to receive daily recipes & health tips, access to our private group for support and inspiration, plus before and after testing to track your progress in key areas of your life such as weight, sleep, bloating, skin-conditions, mental health and more!
JOIN THE GROUP CHALLENGE STARTS IN: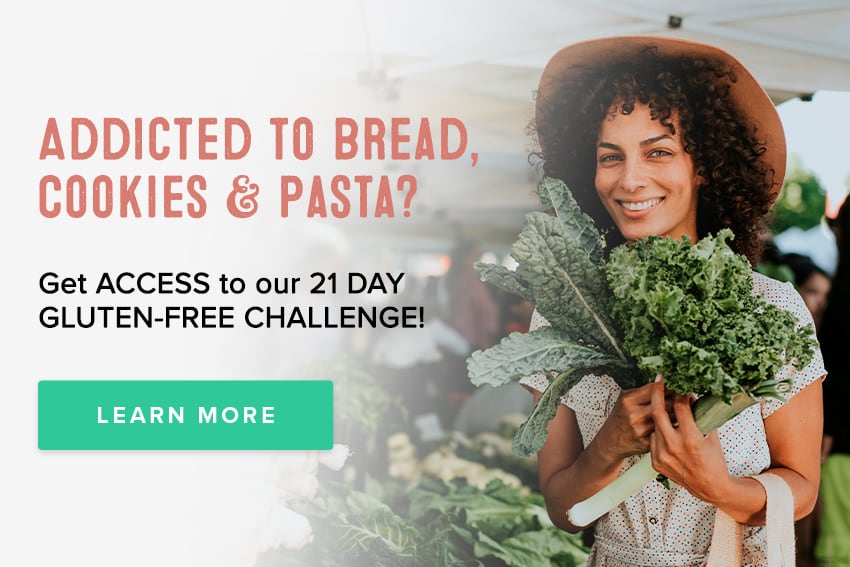 ---