Eggplant And Green Bean Curry (Recipe)
ADD TO MY RECIPES
There's nothing quite as disappointing as an undercooked eggplant, but the soft creaminess of a perfectly cooked eggplant is the epitome of culinary perfection. Slowly simmered and intermingled with sizzling spices, this curry will whisk you away to eggplant heaven.

WF  DF  GF  SF  VEG  VG
Serves 4

Ingredients
4 tablespoons extra virgin coconut oil
6 small eggplants (aubergines), cut into 6 cm (21/2 inch) wedges
300 ml (101/2 fl oz) tomato passata (puréed tomatoes)
270 ml (91/2 fl oz) additive-free coconut milk
300 g (101/2 oz) green beans
Celtic sea salt
Freshly ground black pepper
80 g (23/4 oz/1/2 cup) activated almonds, roughly chopped, to serve
Handful of coriander (cilantro) leaves, chopped, to serve
Juice of 1 lime
Lime halves, to serve
CURRY PASTE
1 large brown onion, chopped
3 garlic cloves, chopped
2 thumb-sized pieces of ginger, chopped
1 large red chilli, finely chopped
1 teaspoon ground cumin
1 teaspoon ground coriander
1 teaspoon cardamom
1 teaspoon turmeric
1 teaspoon curry powder
Method
Place all the curry paste ingredients in a food processor with 2 tablespoons of filtered water and whizz together for a few seconds.
Heat 2 tablespoons of the coconut oil in a large frying pan over medium–high heat and fry the eggplants until browned. Remove from the pan and set aside on paper towel to drain.
Heat the remaining coconut oil in the pan and cook the curry paste ingredients for about 3 minutes. Add the eggplant and stir so it is well covered in the paste. Add the tomato passata and coconut milk and simmer, partially covered, for 10 minutes. Lastly, add the green beans and cook for a further 6 minutes.
Recipes and Images from Supercharged Food, Eat Clean, Green and Vegetarian' by
Lee Holmes
, published by Murdoch Books.
Take the stress out of cooking with 21-days of guided meal plans, shopping lists, and nutrition support. You'll find all of this, and more, in our signature Clean Eating Program.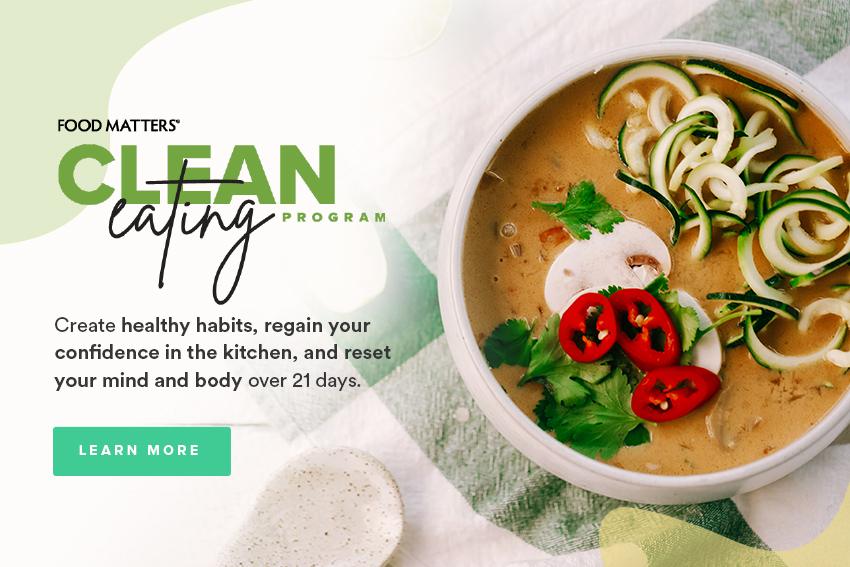 ---