Healthy Snickers Bar
ADD TO MY RECIPES
Rich, healthy nougat.  A sweet, gooey filling.  And smothered in chocolate.  What more can you ask for?  This healthy version of a Snickers Bar will definitely hit the spot!
It's surprisingly easy to make, and since it doesn't contain any processed ingredients you won't need to worry about a sugar crash later.
Ingredients
Nougat:
1 1/2 cups almonds, ground into meal*
1 tsp vanilla extract
A pinch of Himalayan or sea salt
2 tbsp coconut oil
1 tbsp water
2 tbsp maple syrup or rice malt syrup
Filling:
150 g medjool dates
1/2 cup hot water
Himalayan salt
Chocolate:
100 g chocolate bar (70% cacao)
1 tbsp coconut oil
Method
Line baking sheet with parchment paper or silicon mat. In a large bowl add all the nougat ingredients and combine with your hands to form a dough that sticks together when pressed with your fingers.
Press the dough into the prepared baking sheet using a pastry roller or a flat cup to help flatten. Cut the edges to get a rectangular nougat. Freeze for 30 minutes to set.
Remove nougat form freezer, slice into bars and gently separate them from each other. Bake for 25 minutes in a medium heat oven or until golden. Let cool before removing from baking sheet.
To make the filling add pitted dates to a bowl with hot water and let sit for 10 minutes. Mash the dates with a fork and mix with the water to form a date paste. Add a pinch of Himalayan salt and more water, if necessary, to get a spreadable, but not watery, consistency.
Once the nougat is cool, spread with a generous amount of date paste. Place nougat in the freezer to set while you prepare the chocolate.
Melt the chocolate with coconut oil over a double boiler on the stove top.
Remove nougat from freezer and add one at a time to the melted chocolate and gently flip to coat completely. Set back on the baking sheet with parchment paper/silicon mat and repeat with each one.
Freeze one more time for 5 to 10 minutes until the chocolate is firm. Enjoy straight from the freezer or keep in the refrigerator.
* If you make your own almond milk, you can use the remaining pulp in this recipe.  In that case, omit the tablespoon of water.
Do you have a passion for nutrition & natural healing?. Learn more about the Food Matters Nutrition Certification  Program here.
ENROLLMENT & BONUSES CLOSE IN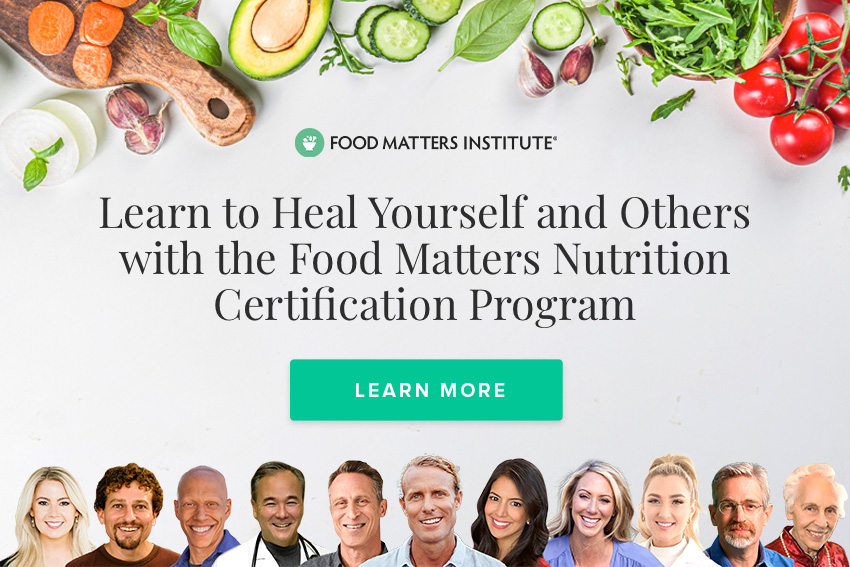 ---