Miso Eggplant with Buckwheat Tabbouleh
ADD TO MY RECIPES
The Food Matters soul-warming, tummy-filling tabbouleh is made from nothing but nourishing ingredients and paired with miso-glazed eggplant it makes the perfect dinner for the family (and is just as tasty for lunch tomorrow)!
Ingredients
Miso Eggplant
2 medium eggplants
1 tablespoon apple cider vinegar
1½ tablespoons maple syrup
½ tablespoon white miso paste
1-inch fresh ginger, grated
1 teaspoon sesame oil
Tahini Cream
1 tablespoon hulled tahini
2 tablespoons coconut yogurt
Pinch of unrefined sea salt
Buckwheat Tabbouleh
½ cup buckwheat groats
1 cup water
1 cup broccoli, finely chopped
¼ bunch parsley
1 scallion, sliced
1 tablespoon sesame seeds
½ tablespoon extra virgin olive oil
½ lemon, juiced
Method
Preheat the oven to 350°F (180°C) and line a baking sheet with parchment paper.
Cut eggplants in half and score a crosshatch pattern on the white flesh. Place on the baking sheet, white side up, and set aside.
In a bowl, add apple cider vinegar, maple syrup, miso paste, grated ginger, and sesame oil. Whisk until combined.
Drizzle the miso glaze over the eggplants and place in the oven to bake for 25 minutes.
While the eggplants are cooking, rinse the buckwheat under cold water and then place it in a small saucepan with one cup of water. Bring to a boil and then reduce to a simmer. Place a lid on the saucepan and let the buckwheat cook for 10 minutes. Drain the buckwheat.
To make the tabbouleh, in a mixing bowl, combine the cooked buckwheat, broccoli, parsley, scallion, sesame seeds, a drizzle of olive oil, and lemon juice. Stir to combine.
Prepare the tahini cream by whipping the tahini, coconut yogurt, and a pinch of sea salt with a fork or a whisk.
Once the eggplants are soft and caramelized, remove from the oven. Divide all of the food into two portions. Serve eggplants on a bed of buckwheat tabbouleh and add a dollop of tahini cream.
TIP: Soak buckwheat overnight or for 4 hours before cooking in 3 - 4 times the amount of warm water. Rinse and drain buckwheat before use. This activation process breaks down the phytic acid that the body can have trouble digesting.
Take the stress out of cooking with 21-days of guided meal plans, shopping lists, and nutrition support. You'll find all of this, and more, in our signature Clean Eating Program.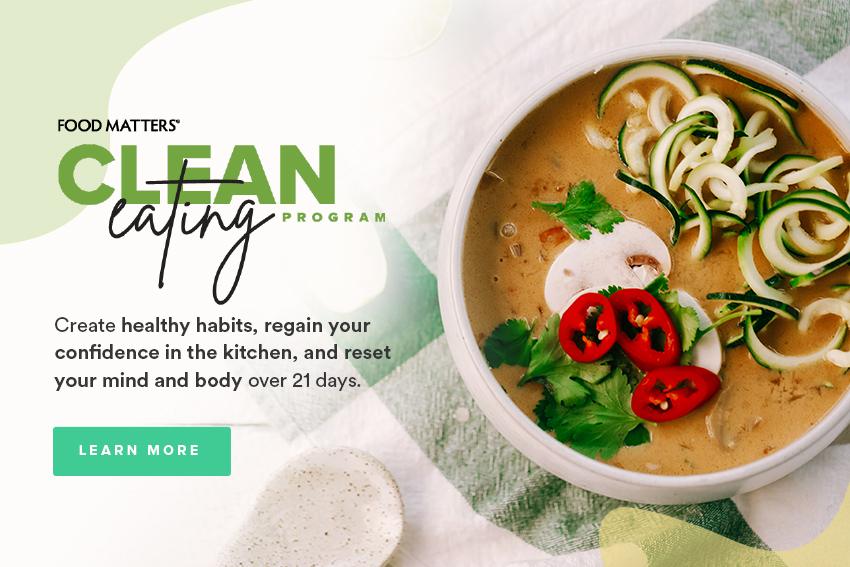 ---