Mushroom & Lentil Bolognese With Zucchini Spaghetti
ADD TO MY RECIPES
Pasta has always been a fave of mine, though it often leaves us leaving heavy and bloated! There are many reasons for this, but for a quick fix we're swapping out the pasta and using zucchini noodles! The hearty flavors of the mushroom and lentil bolognese will have you so satisfied you won't even notice the missing pasta!
Serves: 2
Yield: 4 cups
Preparation time: 25 minutes
Cook time: 30 minutes
Ingredients
1 carrot, diced
1 onion, diced
1 celery stalk, diced
2 cloves of garlic, crushed
1 tbsp olive oil
2 bay leaves
½ bunch of thyme leaves
4 portobello mushrooms, finely diced
100 g presoaked lentils, rinsed and drained
2 tbsp tomato paste
400 g (1 tin) diced tomatoes
1 cup vegetable stock
⅓ bunch of fresh basil
2 zucchini, spiralized
Salt & pepper
Method
Add the oil to a medium pan over medium heat, and sauté the carrot, onion, celery, and garlic.
Add the bay leaves and thyme, stirring for 1 to 2 minutes or until soft.
Add the mushrooms and cook for 3 minutes, until softened.
Stir in the lentils, tomato paste, tomatoes, and stock.
Season with salt and pepper, reduce heat to low, and pop on a lid. Cook, stirring occasionally, for 15 to 20 minutes, or until the lentils are tender.
Stir the basil into the bolognese.
Bring a large pot of water to boil and blanch zucchini noodles for 3 minutes. Strain and serve with bolognese.
Do you have a passion for nutrition & natural healing?. Learn more about the Food Matters Nutrition Certification  Program here.
ENROLLMENT & BONUSES CLOSE IN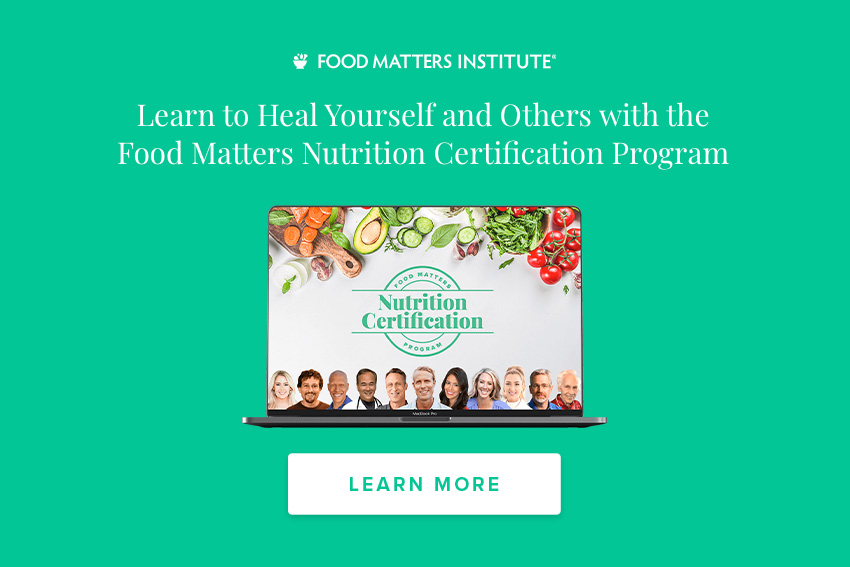 ---