Pumpkin Pie with Homemade Spelt Pastry
ADD TO MY RECIPES
We're all traditionalists when it comes to the all mighty pumpkin pie, and we mean no disrespect to Ms. Martha or your Mom. A slightly healthier alternative to the pure, "All-Purpose" flour crust that we normally find holding in our favorite pumpkin filling is a lighter, kinder on the stomach alternative - and it's gluten-free. We sacrifice none of the flaky texture but instead enhance the fiber content and enrich the depth of flavor.
Ingredients
1 3/4 cup pumpkin purée
1/2 cup maple syrup
2 eggs - room temperature
1 cup coconut milk
1/2 tsp vanilla
1/4 tsp salt
1 1/2 tsp cinnamon
1/4 tsp freshly grated nutmeg
Pinch of ground cloves
1/4 tsp allspice
1 recipe of the homemade gluten-free dough (below)
Handful of dried beans, rice or pie dough weights
Method
Preheat oven to 375°F (180°C).
Remove the gluten-free dough from the fridge and allow to soften until it is pliable enough to roll out.
Lightly flour a clean surface with some leftover flour and roll out your dough to roughly a 12'' round. Roll it back onto your rolling pin and transfer it into 9'' pie mold. Trim off the sides, leaving a 1'' overhang. With the overhang, you can crimp with your fingers or fold over and press down with a fork. There will be a bit of extra dough that you can use to personalize your pie with some cookie cutters and your imagination.
With a fork, prick the bottom a few times and line it with parchment paper. Carefully pour in your beans or weights and 'blind bake' your crust for 15 minutes or until the sides begin to gently color. After 15 minutes, remove the beans and parchment and return to oven for 5 more minutes. Once the bottom has a slight bit of color, remove from the oven and place to the side while you prepare your filling.
In a large bowl, combine your pumpkin purée, maple syrup, and vanilla.
Beat in your eggs, one at a time.
In a small bowl, combine your spices and mix into your pumpkin mix.
Measure out your coconut milk and while whisking, pour into your pumpkin mix until combined.
Gently pour your pie mixture into your crust. With a brush, brush the sides with an egg wash of 1 egg and a couple of tbsp of water or milk. Transfer back into your oven. Bake for 35 - 40 minutes depending on your oven. Check it after 35 minutes and if the sides are browning too quickly, tent the sides with some aluminum foil.
Your pie will be done when the center is just set but still has a slight jiggle to it. Remove from the oven and let cool at room temperature for 30 minutes and then transfer into the fridge for at least 3 hours. Overnight is best.
Top it all off with a bit of Coconut Whipped Cream and voila! You're all ready to wow your guests with your homemade, healthy switch of a Thanksgiving Classic!
~~~~~~~
Homemade Gluten-Free Pastry
Ingredients
1 1/2 cups gluten-free flour blend (here are our favorites)
1/2 cup ground walnuts
1 tsp salt
1 tsp coconut sugar
3/4 cup chilled organic butter, cut into cubes
1/4 - 1/2 cup ice-cold water
Method
Mix the flour, walnuts, salt, and sugar in a bowl.
Add the chilled butter and blend into the flour with either a pastry cutter, a couple of forks or if you're quick, use your hands.
Once the butter is broken down into pea-sized balls, add the iced water 1 tbsp at a time. Pie dough is a very finicky pastry and the amount of moisture it needs can very literally from day to day. What you're aiming for is a soft but pulled together dough that will hold its shape without feeling too firm. Wetter is better in this case.
Once the dough has come together, wrap in plastic wrap and chill for at least an hour.
* A helpful tip when rolling out the dough is to keep the dough between 2 pieces of either parchment paper or plastic wrap. It keeps your counter much cleaner and rolling it into your pie pan is a snap!
---
If you haven't already, join our free global challenge at www.GetOffTheGluten.com to receive daily recipes & health tips, access to our private group for support and inspiration, plus before and after testing to track your progress in key areas of your life such as weight, sleep, bloating, skin-conditions, mental health and more!
JOIN THE GROUP CHALLENGE STARTS IN: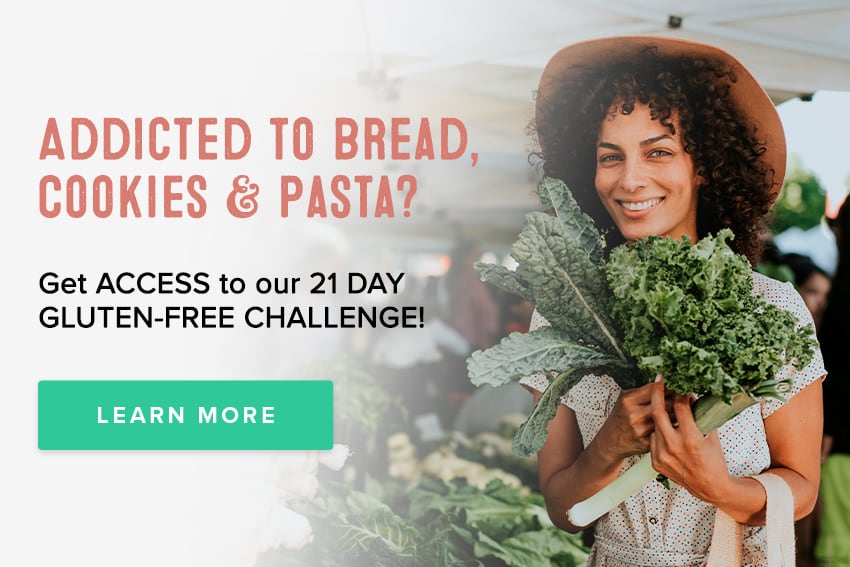 ---