Quick & Easy Edamame Dumplings With Vegetable Broth
ADD TO MY RECIPES
Little dumplings packed with Edamame, ginger and basil, floating in a delicious vegetable broth with lemongrass, tamari and mushrooms. Seconds are a must!
EDAMAME DUMPLINGS
2 cups shelled Edamame, cooked and drained
4 green onions, thinly sliced
1 tsp sesame oil
1 tsp grated ginger
½ cup fresh basil, chopped
1 packet of wonton wrappers (try and find good quality, gluten-free wrappers)
VEGETABLE BROTH
Method
Combine edamame, green onions, sesame oil, ginger and basil in food processor. Process to form a purée.
On a lightly floured surface, place a tablespoonful of dumpling mixture in the middle of a wonton wrapper, dip your finger in water and lightly run around the outside of the wonton wrapper.  Place another wonton wrapper on top and press down edges. Repeat with remaining mixture until it's all used up.
Make broth by warming all ingredients in a large saucepan.  Simmer for 10-15 minutes.
Take ½-1 cup of broth and add to another saucepan (enough to cover bottom), add single layer of wontons.  Cover and allow to steam for about 2 minutes.
Serve bowls of broth with wontons.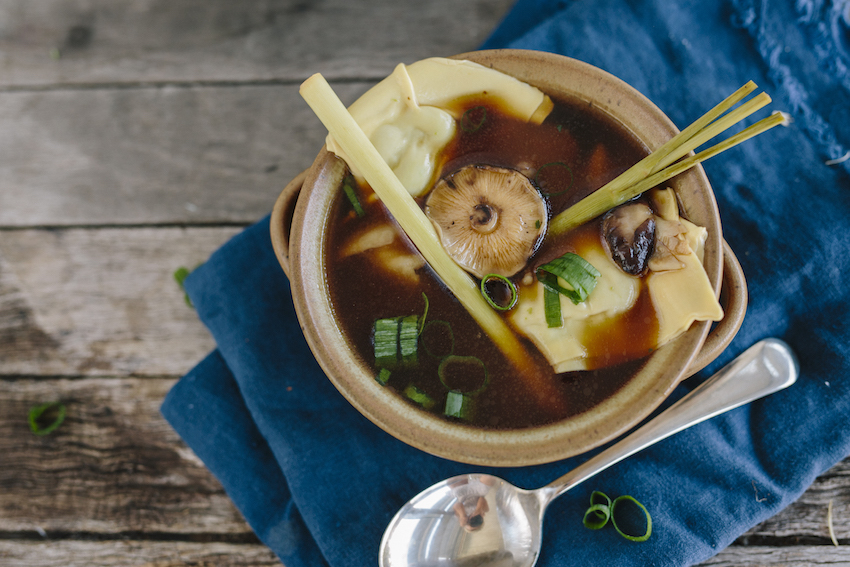 ---