Shakshuka (Baked Eggs Recipe)
ADD TO MY RECIPES
Shakshuka is believed to have originated from Tunisia. This dish of poached eggs in rich, spiced sauce makes the ultimate center-of-the-table breakfast!
Ingredients
1-2 tsp coconut oil

1 red capsicum (pepper), chopped

1 medium eggplant, chopped

1 tomato, chopped

1 tin of canned tomatoes (400g)

1 garlic clove, crushed

1 tbsp tomato paste

1 tsp harissa sauce (optional)

1 tsp ground cumin

1 tsp paprika

Sea salt and black pepper

1/4 cup water

1 cup kale or spinach, shredded

4 eggs
Optional: Serve with a dollop of yogurt and sprinkle of fresh herbs (basil or cilantro)
Note: Use organic ingredients as much as possible. Be sure to check canned or bottled ingredients.
What to do
Preheat oven to 350°F (180°C)

Heat the oil in a medium frying pan, and cook the capsicums and eggplant for 5-10 minutes over medium heat, tossing well, until softened.

Add tomatoes, tomato paste, harissa, cumin, paprika, sea salt and pepper and water and simmer for 10 to 15 minutes until sauce becomes thick. Add in your shredded kale or spinach last minute and stir through.

Pour sauce into a baking dish (or leave in your frypan if it is oven proof).

Make four hollows in the top, crack eggs into the holes, place into the oven and bake for 10-15 minutes or until your eggs are cooked to your liking.

Optional: Serve with a dollop of yogurt and sprinkle of fresh herbs (basil or cilantro)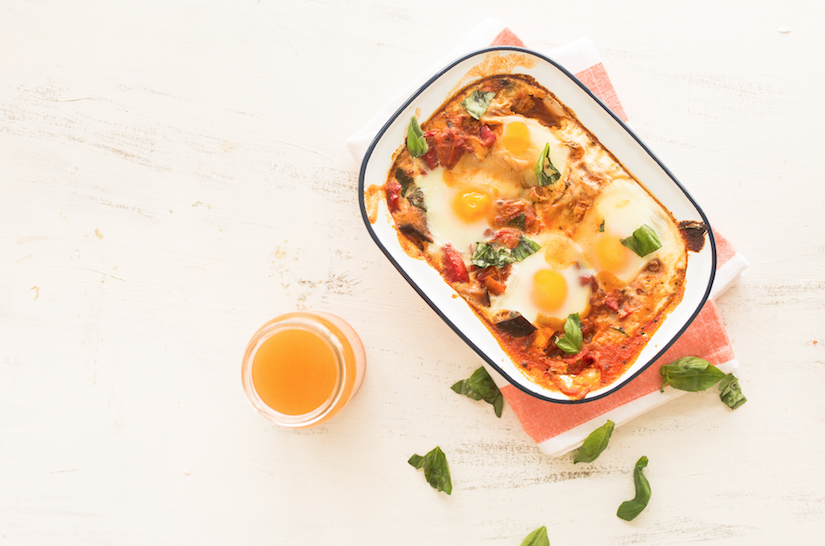 ---