Sticky Sesame Cauliflower
ADD TO MY RECIPES
To most, cauliflower is seen as a bland vegetable. To us, we see an opportunity to get creative and make something delicious with this versatile and cheap vegetable.
Packed with fiber and vitamins, this is the perfect vegetarian alternative to Sticky Sesame Chicken.
Ingredients
2 tbsp coconut oil
1 1/4 cups almond milk
1 cup buckwheat flour
1/2 tsp sea salt
1/2 tsp baking powder
1 cauliflower head, broken into florets
1/2 cup tamari
1/2 cup maple syrup
1/4 cup rice vinegar
2 tsp sesame oil
2 tsp fresh grated ginger
2 garlic cloves, minced
1 tsp sriracha
1 tbsp cornstarch
1/4 cup cold water
Sesame seeds, for serving
Rice, for serving
Method
Preheat the oven to 200°C (370°F).
Use about 1 tablespoon of coconut oil to coat the bottom of a large roasting pan.
Stir almond milk, buckwheat flour, salt and baking powder together in small bowl. Dip cauliflower florets in mixture to coat, shaking off any excess batter. Arrange in a single layer in roasting pan.
Bake 10 minutes.
While cauliflower bakes, combine tamari, maple syrup, rice vinegar, sesame oil, ginger, garlic and sriracha in a small saucepan. Place over medium heat and bring to a simmer. Allow to simmer for 10 minutes.
Stir cornstarch and water together in a small container until cornstarch is fully dissolved. Add to sauce mixture and stir to blend. Remove from heat.
Remove cauliflower from oven and flip. Lightly brush florets with remaining tablespoon of oil. Return to oven and bake 5 minutes more, until they begin to sizzle and lightly crisp.
Remove from oven and pour sauce over florets. Return to oven and bake 4-5 minutes more, just until sauce becomes very sticky and coats florets.
Serve over rice and sprinkle with sesame seeds.
Do you have a passion for nutrition & natural healing?. Learn more about the Food Matters Nutrition Certification  Program here.
ENROLLMENT & BONUSES CLOSE IN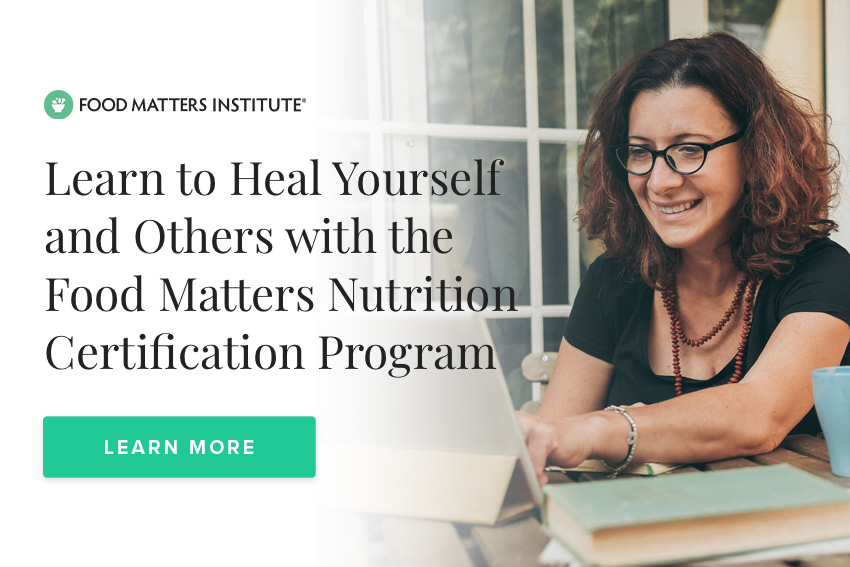 ---