The Best Immune-Boosting Ingredients for Juicing (Plus, Recipes!)
ADD TO MY RECIPES
Not only does juicing offer you an array of health benefits, but it can also be great for helping to boost your immune system when your body needs it the most!
When we start to feel run-down, we know it's time to dust off the juicing, stock up on some immune-boosting ingredients and flood our system with the things it needs to fight off any oncoming sickness.
These are some of the go-to juicing ingredients we love to use when we want to get those powerful benefits:
1. Ginger
Ginger is one of the best ingredients for helping your body to fight off infection. It's said to increase core body temperature and help promote circulation.
2. Lemon
Mostly due to the vitamin C content, lemon is an easy way to boost the immune system.
3. Turmeric
Ward off any oncoming infections with this powerful immune booster! Packed with anti-inflammatory properties, turmeric makes a great addition to your immune-boosting juice recipes.
4. Beetroot
Juicing beetroot can help boost your immune function and help to prevent any symptoms of cold and flu.
3 of Our Favorite Immune-Boosting Recipes
Classic Carrot Zinger
Awaken your digestive system with this cleansing and activating juice combination! Add a little extra ginger to get things going. If you're game ;-)
Ingredients
2 carrots
1-inch piece of ginger
½ lemon
1 orange
Turmeric Anti-Inflammatory Juice
Packed with antioxidants, vitamin A, beta-carotene and anti-inflammatory properties, this zingy combination will help you combat a weak immune system and decrease inflammation.
Ingredients
1 apple
1 carrot
½ lemon
1-inch piece of ginger
1-inch piece of turmeric
Extra: a dash of black pepper
Immune Boosting Beet Juice
Beetroot is powerful in assisting to cleanse the body and boost the immune system. This combination will help to nourish your cells and strengthen the immune system.
Ingredients
1 beetroot, stem removed and washed
1 apple
1-inch piece of ginger root
1 large carrot
1 cucumber
Do you have a passion for nutrition & natural healing?. Learn more about the Food Matters Nutrition Certification  Program here.
ENROLLMENT & BONUSES CLOSE IN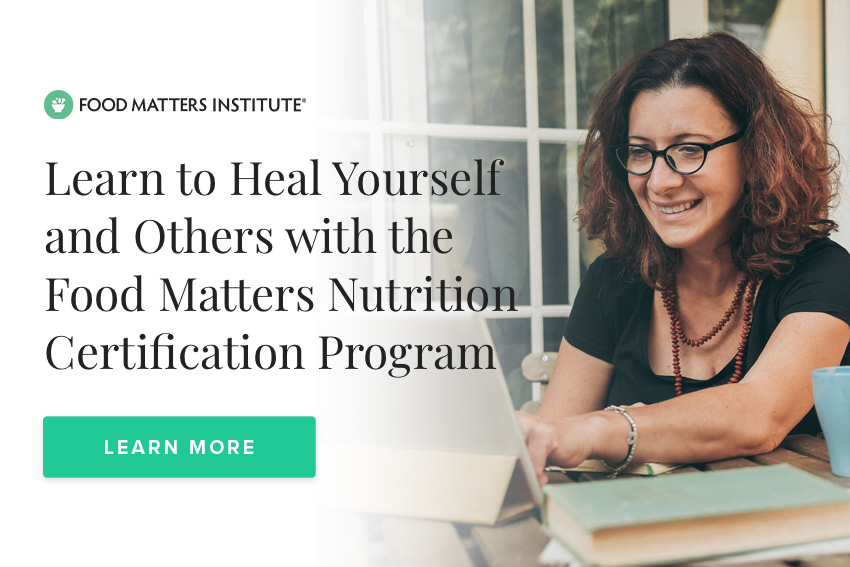 ---