Broccoli Rabe Soup With Crunchy Spiced Seeds
ADD TO MY RECIPES
We're all about supercharging our meals to take them to the next level. Presenting to you - our Broccoli Rabe Soup with Crunchy Spiced Seeds. You'd be forgiven if you are thinking 'this doesn't sound supercharged' but between the original green superfood and those crunchy little toppers, you're about to find out how good boring broccoli can be!
Broccoli packs a nutritional punch.  The original superfood before kale, it is often referred to as green trees; and yes, it can be a little bit boring at times. This veggie deserves to shine in the spotlight! Amp up your daily intake in this and you'll notice a difference in your energy and happiness. For those sugar cravers out there, increase your intake of greens like broccoli and notice your cravings begin to decline.
As for those crunchy little toppers, they add the perfect balance to any soup; because soup without some kind of crunch is bland! Sunflower and pumpkin (aka pepita) seeds are nature's perfect little snack - or in this case, toppers! They are packed with an abundance of nutrients.
Getting creative with the old superstars like Broccoli doesn't have to be hard.  Try something like our soup and add some crunchy and delicious toppers!
Ingredients
Broccoli Rabe Soup…
1 head broccoli, trimmed and chopped
1 tbsp extra virgin olive oil
Salt & Pepper
1 leek, sliced thinly
2 garlic cloves, crushed
1 tsp coriander seeds
1 medium potato, peeled and diced into chunks
3 cups vegetable broth or stock
Crunchy Spiced Seeds…
Method
Preheat oven to 350ºF (180ºC).
In a medium bowl, mix together your seeds, spices and coconut oil. Spread evenly on a lined baking tray and roast for 25-30 minutes.
In another bowl, toss together broccoli, olive oil, salt and pepper.
Once your seeds are toasted, roast the broccoli for 10-15 minutes until tender and lightly brown.
While broccoli is roasting, heat coconut oil in large pot, add leeks and sauté until softened, about 4-5 minutes.
Add garlic, coriander seeds and stir. Add potatoes and broth.
Bring to a boil, cover and reduce heat to simmer until potatoes are cooked through.
Add roasted broccoli and heat for another 2-3 minutes.
Allow soup to slightly cool, then blend (in blender or food processor) in batches until you have a smooth puree. Taste and add salt and pepper, if needed.
Serve with Crunchy Spiced Seeds and a dollop of coconut yogurt (optional).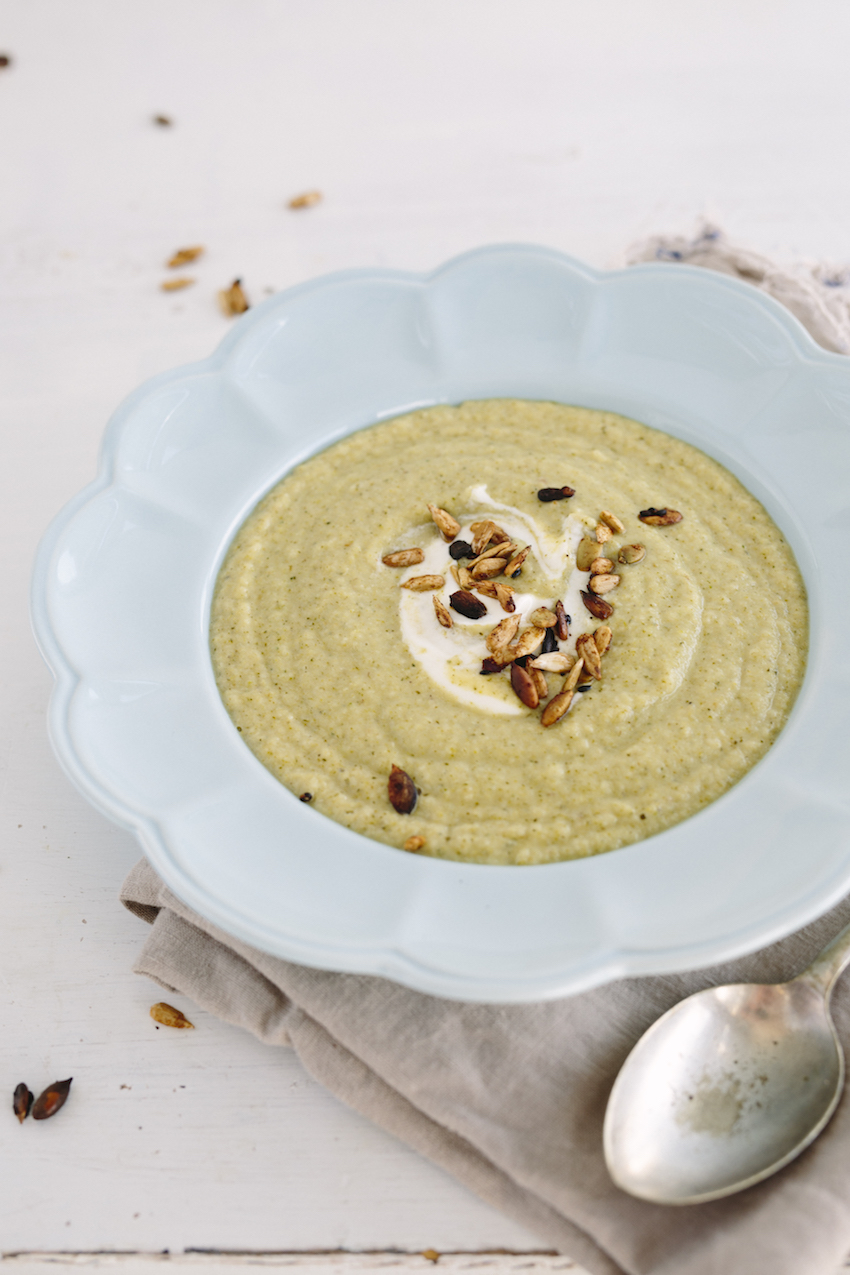 Take the stress out of cooking with 21-days of guided meal plans, shopping lists, and nutrition support. You'll find all of this, and more, in our signature Clean Eating Program.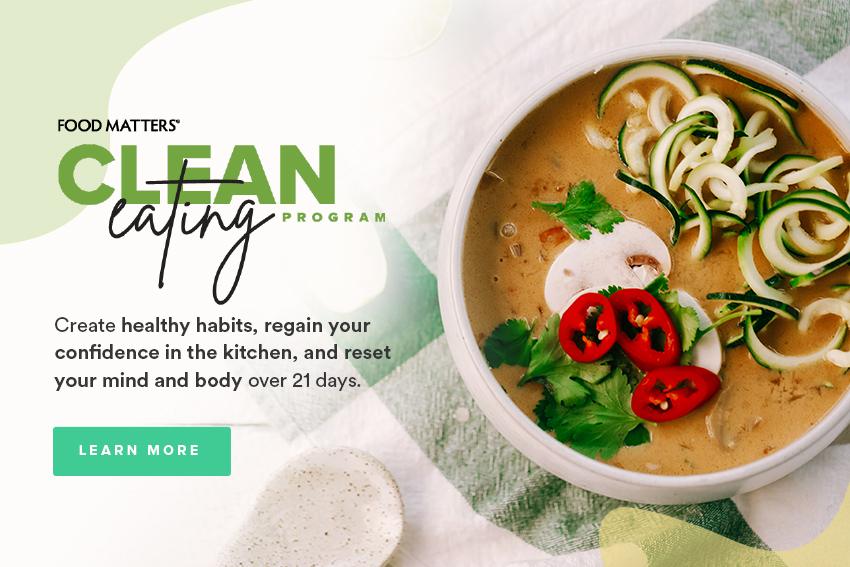 ---