How To: Overnight Oats 3 Ways!
ADD TO MY RECIPES
Oats are such an amazing food. They're rich in fiber and beta-glucan, helping to cleanse and support your digestive system, while naturally supporting healthy cholesterol levels. They also provide a source of manganese, selenium, phosphorus, magnesium, zinc and antioxidants! They're regularly consumed as oatmeal for breakfast, making a hearty start to your day. But somedays we simply don't have enough time to stir up a pot in the morning. Plus, when it's hot outside, the last thing we feel like eating is a hot bowl of oats!

So what's the alternative? We've come up with 3 delicious ways to revamp your oats that don't require cooking and only need minimal preparation time in the morning! Eat them cold or warm them up, the choice is yours!
The Base Recipe
1. Mix 1 part oats with 1 part liquid e.g. 1/2 cup of whole oats with 1/2 cup of coconut milk.
2. Mix any spices, sweeteners, or other add ins such as nuts, seeds, dried berries, coconut, etc. You'll need to add extra liquid if adding chia seeds or flaxseeds!
3. Place into an airtight container such as a glass jar with lid, and let the oats soak in the liquid overnight in the fridge.
4. In the morning when you're ready to eat them, serve with fresh fruit, nuts or any other toppings you desire!

They're so easy to take with you! Simply make it in a jar with an airtight lid and take one with you as you head out the door! They make a great, portable breakfast when you're stuck in traffic, heading straight to work from the gym, or simply for those mornings where you're running late for work and haven't yet had time for breakfast!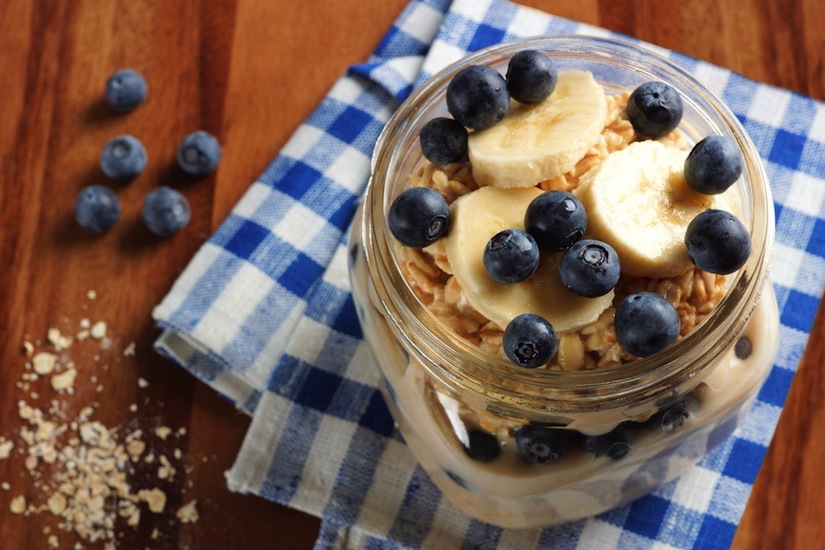 Try making your own flavor combinations, or try one of our favorites:
1. My Favorite - Coconut & Blueberries
Base Ingredients:
1/2 cup quick cooking oats
1/2 cup coconut milk or coconut water
1/4 cup frozen blueberries
1 tbsp desiccated coconut
1 tsp cinnamon
1 tsp coconut sugar
1 tsp chia seeds

Toppings:
Add extra coconut, blueberries and/or chia seeds to serve
2. Cacao Banana
Base Ingredients:
½ ripe banana, mashed
3/4 cup whole rolled oats
1 tbsp chia seeds
3/4 cup water
2 tbsp cacao powder
1 tbsp maple syrup
¼ cup coconut or almond milk

Toppings:
Add a sprinkle of cacao nibs and some banana slices to serve.
3. Pecan Peanut Butter
Base Ingredients:
1/2 cup whole oats (or quick cook)
1 tbsp chia seeds
1 tsp cinnamon
1 tsp ground vanilla bean or (2 tsp of vanilla extract )
3/4 cup almond or coconut milk
1 tbsp natural peanut butter (or any other nut butter)
1 tsp of maple syrup
1 tbsp of pecans, crushed
1/2 ripe banana, mashed

Toppings:
Add extra pecans, a drizzle of nut butter, banana slices, cacao nibs and/or shredded coconut to serve.

Tip : Make a large batch to feed the family or save yourself even more time. Simply create the base recipe of soaked oats with milk, then when it's time to eat, everyone can add their own flavors! The base recipe should keep for 2-3 days in an airtight container in the fridge.
---
If you haven't already, join our free global challenge at www.GetOffTheGluten.com to receive daily recipes & health tips, access to our private group for support and inspiration, plus before and after testing to track your progress in key areas of your life such as weight, sleep, bloating, skin-conditions, mental health and more!
JOIN THE GROUP CHALLENGE STARTS IN: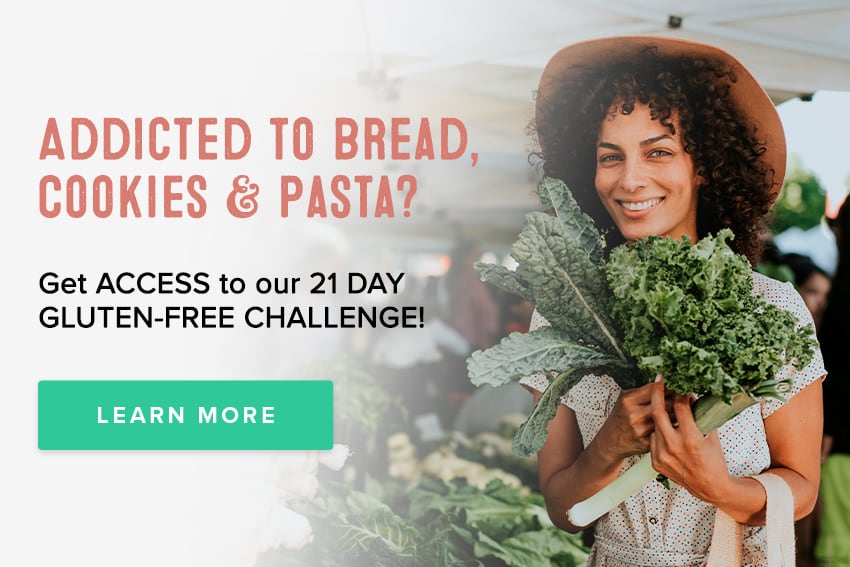 ---