Layered Quinoa Trifle (Christmas Recipe)
ADD TO MY RECIPES
Tis the festive season. So let the hunger games begin.

The decorations have been hanging around the supermarket for months, weekly gift guides have been falling out of newspapers across the country and now Christmas is so close we can almost touch it. It's a time when dessert making is at its peak and there's no better time to get re-acquainted with trifles.

Loved by many, trifles are a somewhat retro Christmas dessert where indulging in seconds or thirds is not uncommon. Laying out the fruit sponge, scattering with delicious fruit and adding thick layers upon layers of custard, cream, jelly and whatever else you have on hand is all part of the process. Maybe Christmas trifles are still a tradition at your house and even now you love to pile your plate high with this popular and colorful dessert?

With these memories in mind, I've combined some of my favorite nutritious ingredients to recreate the classic trifle recipe. The recipe is from my cookbook Eat Yourself Beautiful.

In this layered quinoa trifle there are layers upon layers of health-promoting ingredients. I've substituted sponge for quinoa, giving the dish a distinctive creamy nuttiness. I've added a couple of dollops of full-fat Greek style natural yoghurt added in place of cream but if you don't consume dairy why not try a cashew nut cream instead. Just sprinkle through some coconut flakes for crunch and texture and your trifle is ready for tasting.

I think you're going to enjoy my layered quinoa trifle recipe with a twist!  You may like to serve it in a glass jar with a ribbon tied around the edge.

Serves 4
Ingredients
100 g (31/2 oz/1/2 cup) quinoa

1/2 teaspoon ground cinnamon

pinch of Celtic sea salt

60 ml (2 fl oz/1/4 cup) unsweetened almond milk or milk of your choice

1/2 teaspoon alcohol-free vanilla extract

6 drops stevia liquid, or 1 tablespoon rice malt syrup

1 tablespoon slivered almonds

2 bananas, sliced

130 g (43/4 oz/1/2 cup) full-fat Greek- style yoghurt or coconut yoghurt

4 tablespoons coconut flakes 110 g (33/4 oz/1/2 cup) mixed berries

1 teaspoon almond butter, melted

1 tablespoon chia seeds, for sprinkling
Method
Place the quinoa in a fine-mesh sieve. Rinse with cold running water for 2–3 minutes, moving the seeds around with your hand to ensure that the seeds are well rinsed and any residue is removed.

Bring 250 ml (9 fl oz/1 cup) water to the boil in a large saucepan.

Add the quinoa, return to the boil, cover and reduce the heat to low for 12–15 minutes or until all the water has been absorbed.

Remove from the heat and set aside to cool.

Place the quinoa in a bowl and stir through the cinnamon and salt.

In a saucepan over medium–low heat, warm the almond milk for 3–4 minutes.

Stir in the vanilla and stevia or rice malt syrup.

Add a couple of spoons of quinoa to four glass jars, or glasses.

Mix through the almond milk and follow with layers of slivered almonds, banana slices, yoghurt, coconut flakes and berries. Repeat until the jars are full, with berries as the top layer.

Top with the melted almond butter and chia seeds.
Take the stress out of cooking with 21-days of guided meal plans, shopping lists, and nutrition support. You'll find all of this, and more, in our signature Clean Eating Program.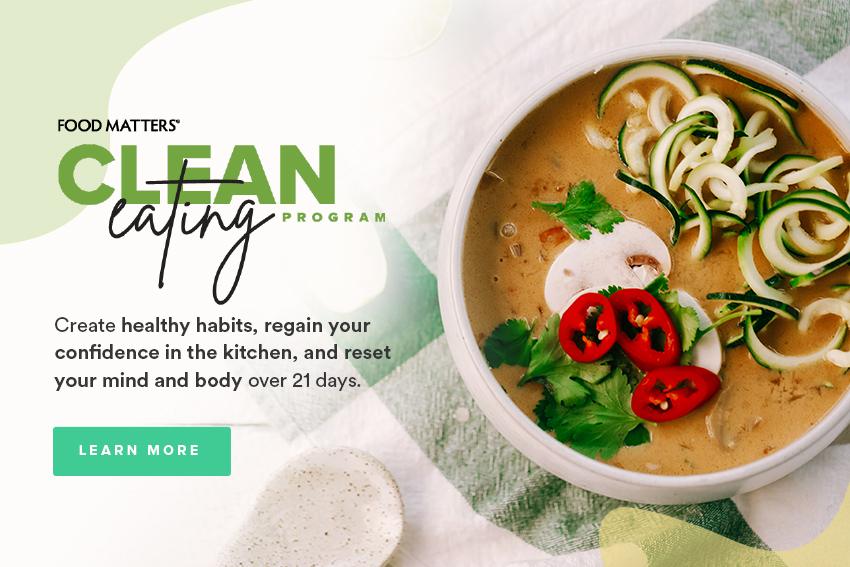 ---