Prebiotic Tray Bake With Tahini Drizzle
ADD TO MY RECIPES
This prebiotic bake is pimped up with a tangy garlic tahini drizzle. Roasting is a great way to cheer up any vegetable that may have been left in the fridge too long. The vegetables all cook at different speeds, so some are crunchier than others, which adds to the beauty of this dish.
Ingredients
200 g (7 oz) Jerusalem artichokes
1/2 lemon
200 g (7 oz) parsnips, peeled and quartered lengthways
300 g (10 1/2 oz) heirloom or baby carrots, trimmed
2 leeks, white part only, washed well, cut into 2 cm (3/4 inch) rounds
2 red onions, cut in half, or into thick wedges
1 jicama (Mexican yam bean), peeled and thinly sliced
12 asparagus spears, trimmed
60 ml (2 fl oz/ 1/4 cup) extra virgin olive oil
Aleppo pepper or red chili flakes, for sprinkling
Garlic tahini drizzle
1 garlic clove, crushed
Pinch of Celtic sea salt
3–4 tbsp tahini
3–4 tbsp lemon juice, or more to taste
2–3 tbsp filtered water
Method
Preheat the oven to 200°C (400°F). Line a large roasting pan with baking paper.
To prepare the artichokes, scrub them well, but don't peel them unless the skin seems too rough. Cut in half lengthways and immediately rub the cut surface with the cut surface of the lemon, to stop it browning.
Place all the vegetables, except the jicama and asparagus, in a single layer in the roasting pan. You don't want to crowd the vegetables, or they won't roast and crisp up, so use another lined roasting pan if necessary. Drizzle with the olive oil and rub to coat well.
Bake for 25 minutes, turning the vegetables once.
Add the jicama and asparagus and roast for a further 10 minutes, or until the asparagus is just cooked and all the vegetables are golden around the edges.
Meanwhile, to make the garlic tahini drizzle, mash the garlic and salt to a purée, using a mortar and pestle. Transfer to a bowl and whisk in the tahini. Add the lemon juice and a little bit of the water, whisking continuously, adding a little more water each time until the sauce reaches the consistency of thick cream or runny yogurt. Taste and adjust the seasoning.
Serve the roasted vegetables with the garlic tahini drizzle.
Note: Tahini is a paste made from lightly toasted sesame seeds. It tends to separate on sitting, especially if kept in the fridge. You can bring the tahini back together by leaving the jar upside down for 15 minutes, then giving it a quick stir with a clean spoon.
Do you have a passion for nutrition & natural healing?. Learn more about the Food Matters Nutrition Certification  Program here.
ENROLLMENT & BONUSES CLOSE IN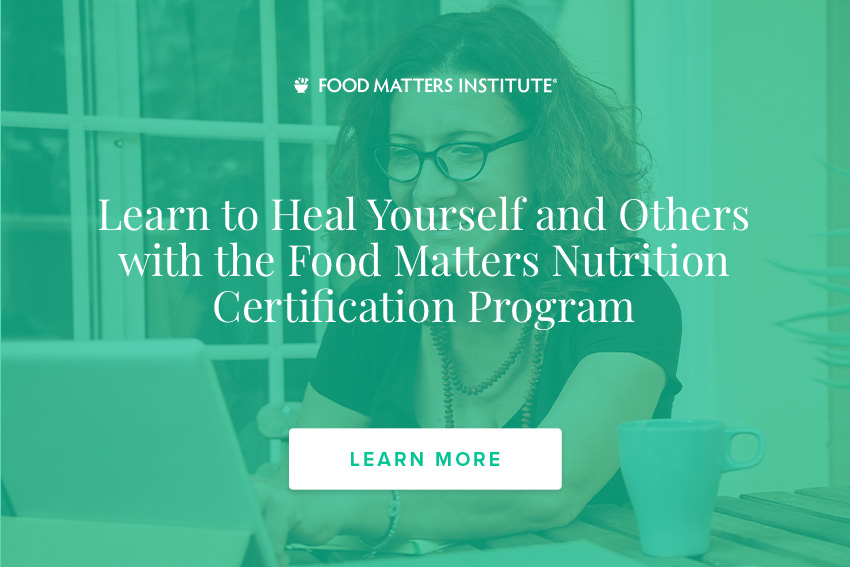 ---