Quinoa Chili In A Pumpkin Cauldron
ADD TO MY RECIPES
Chili is a Fall staple in most households. Why not spruce it up a bit for the Halloween season by switching out the Con Carne for some protein-packed quinoa and put away the slow cooker in replacement for this season's best gourd! Chili in a pumpkin is appealing for the eyes and your taste buds!
Ingredients
1 pumpkin – hollowed out & seeded (keep the seeds and the lid)

2 cups of cooked quinoa

1 can chickpeas & kidney beans

1 can

diced

tomatoes

1 medium

onion,

diced

1 medium

carrot,

diced

1 large celery

stalk,

diced

1 cup mushrooms, sliced or diced

1 bell pepper, any color you like!

2 cloves garlic

1 tbsp ground cumin

1 tsp smoked paprika

2-3 tsp ground chili (depends on how hot you like it)

Salt & pepper to taste

Cilantro or parsley, roughly chopped for garnish

Avocado, diced for garnish

Olive oil for light frying
Method
Preheat oven to 350°F (180°)

Cook quinoa as per packet instructions

Heat olive oil in a large pot over medium heat. Add onions, carrots, celery, and mushrooms. Once coated in the olive oil, add the spices and stir. Cook through until onions are translucent and carrots and celery are nearly cooked through. All the residual moisture from the mushrooms should be cooked out by this point.

Add the minced garlic and chopped bell pepper. Cook for 3-5 min

Add the canned beans and tomatoes and give a good stir. If too thick, fill up half the can of tomatoes with water and add it into thin out.

Let simmer on low for 10 minutes and remove from heat.

Add in cooked quinoa and stir to combine. Pour your chili mixture into the hollowed-out pumpkin and place it on a baking tray and transfer to your oven.

Bake for 45 min- 1 hr. Once the pumpkin is dark orange and you can pierce the inside and have no resistance from the knife when putting through the flesh, it's ready to come out!

Serve with the lid off to the side and a fresh sprinkle of cilantro or parsley, and have diced avocado on the side as an optional topping.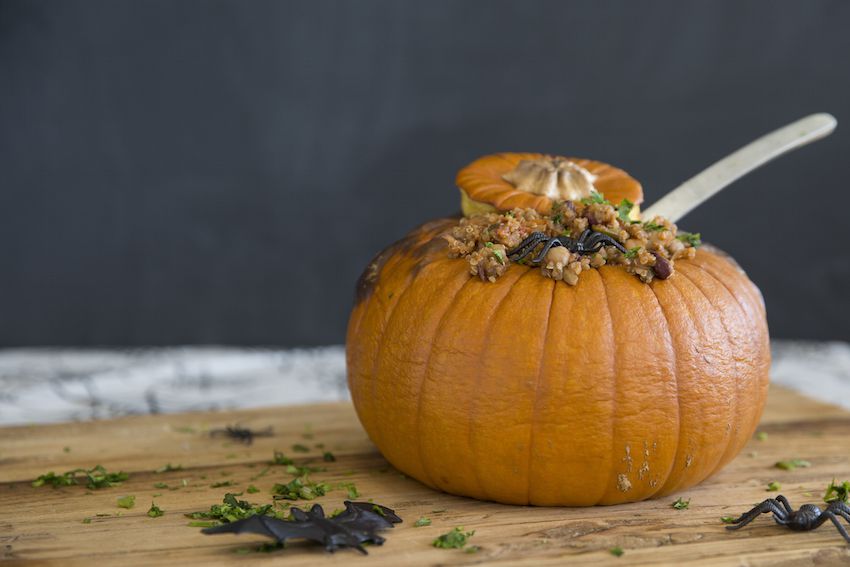 Do you have a passion for nutrition & natural healing?. Learn more about the Food Matters Nutrition Certification  Program here.
ENROLLMENT & BONUSES CLOSE IN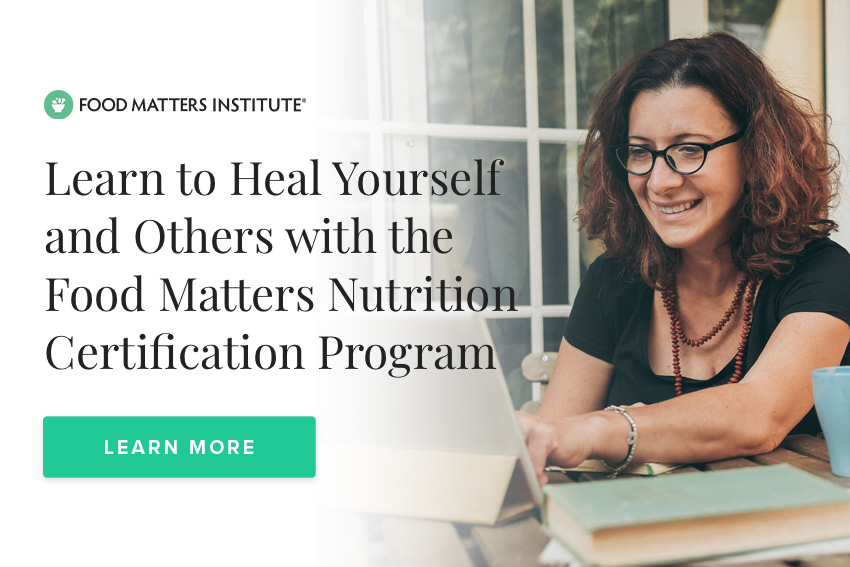 ---