17 Simple, Healthy Weight Loss Swaps
Does it ever feel like losing weight and being healthy are a little bit in conflict? So many weight loss products contain artificial sweeteners, replace fat with extra sugar, and are totally empty of nutrition. And while we might want to be our most comfortable weight, it's important to look after our health as well.
And let's face it - we're humans, not robots! Food is one of the greatest pleasures in life and 'going without' all the time is unrealistic for many of us and can make life a little dull.
So say goodbye to low-fat substitutes, artificial "Frankenfoods", and say hello to wholesome swaps that will nourish your body while naturally helping you on your weight loss journey. These 17 swaps will show you some simple ways to make healthier choices and why you should!

1. Tater Tots
What: Little, golden, hash-brown style potato bites.
How much exercise required to burn them off: 40 mins cycling (for a 5oz serving of tots)
Healthy swap:
Skip the frozen or fast-food bags of tater tots and make your own at home! They are really super simple :)
Try these lower-carb sweet potato broccoli tots or simply peel and parboil potatoes (I love to add a little parsnip too!), then finely grate using a cheese grater or rice masher.
Squeeze the excess water from the potatoes and add your choice of seasonings, such as salt, pepper, nutritional yeast, parsley, shallots, or oregano, plus a little gluten-free flour to bind it all together! Roll this mixture into little 'tots'. Fry or oven bake the tots with a little oil of your choice. Sooooo good!
Benefits of swapping:
Potatoes are naturally high in potassium, and if you choose smaller potatoes, they tend to have a lower glycemic index so they won't spike your blood sugar as high. Plus adding in extra veggies boosts the nutrient content, and oven baking means less refined fats hiding in them!

2. Donuts
What: Donuts need no introduction, however, they're fried dough in the shape of a circle with either a whole in the middle or filled with cream/jam or other sugary additions, and doused in cinnamon sugar, icing sugar, or slathered in frosting. They're super high in fat, and riddled with refined sugar to send your blood sugar sky high!
How much exercise required to burn them off: 35 mins circuit training (1 standard donut = 190 cal)
Healthy swap:
With a few healthy twists, you 'donut' have to miss out on this popular sweet! Simply halve a gluten-free, wholegrain bagel, mix some date paste, tahini and vanilla essence together to form a 'caramel spread' and top with natural sprinkles. Voila!
Or try your hand at making your own healthy homemade 'baked donuts' here.
Benefits of swapping:
When using wholefood ingredients to make your 'faux' donut, you're going to be getting way more nutrients, including fiber and calcium from the dates and tahini, respectively. The combination of healthy fats, fiber and slow-releasing natural sugars means your appetite will be satisfied, and your blood sugars will be much more stable.

3. Cheese Puffs
What: A puffed corn snack/crisp, coated with a mixture of cheese or cheese-flavored powders. Certainly nothing natural there!
How much exercise required to burn them off: 25 mins walking (1 oz Cheese Puffs = 150 cal)
Healthy swap:
Earth Balance Puffs. While these may not exactly constitute a 'health food', they do contain less of the noxious additives in regular Cheese Puffs.
Benefits of swapping:
Artificial cheese flavorings contain a number of additives that are particularly harmful for your health. It's best to steer clear of these! Go for as natural as you can, keeping even the natural puffs as an occasional treat.

4. French Fries
What: Sticks of white potato deep-fried in refined vegetable oils until crispy, then tossed in salt.
How much exercise required to burn them off: 25 mins jogging (3 oz serving of french fries = 234 cal)
Healthy swap:
I'd take oven-baked, crispy, sweet potato fries over french fries any day! (They seriously taste just as good, if not better than the real thing.) Simply cut whole sweet potatoes into shoestring fries, coat with a little oil and sea salt, then oven bake until crispy. You can check out the full Food Matters recipe for sweet potato fries here, or paleo zucchini fries.
Benefits of swapping:
When you make your own homemade fries, you avoid all the refined, vegetable oils that are high in Omega-6, which can be inflammatory in high doses. If you use sweet potato, you get even more nutrients as well, including beta-carotene. They're naturally low GI too.

5. Twinkies
What: An American snack cake, marketed as a "Golden Sponge Cake with Creamy Filling". If you really want to know what's in that filling, see here.
How much exercise required to burn them off: 18 mins boxing with punching bag (1.4 oz piece = 135 cal)
Healthy swap:
Simply make or buy a gluten and dairy free sponge cake. Cut thin ½ inch layers of the cake crosswise, then cut lengthwise every 2 inches to form thin strips. Spoon a little cashew cream down one end of this strip and roll it up to form your very own healthy 'Twinkie'! Or enjoy a nutrient-rich No-Bake Carrot Cake with this delicious recipe!
Benefits of swapping:
By swapping out the cream for cashew cream, you're getting an extra dose of mood-boosting amino acids, and none of the horrendous mix of refined, highly processed ingredients tucked away in those seemingly harmless snack cakes.

6. Chocolate Ice Cream
What: Sugar, dairy, milk solids, vegetable fats, emulsifiers, flavors, colors and additives all blended up with a little water and some other obscure ingredients to make a creamy, sweet ice-cold treat that so many of us love.
How much exercise required to burn them off: 25 mins tennis (½ cup = 250 cal)
Healthy swap:
Mmm… Did someone say chocolate? And ice cream! Here's a healthy version, coming right up!
Simply take one frozen banana and blend with 1 tbsp raw cacao powder and 1 tsp maple syrup. So quick and super delish!
We've got a bunch of vegan ice cream recipes for you to try:
Benefits of swapping:
Bananas are rich in potassium and fiber, and their natural sweetness combats the bitterness of antioxidant rich cacao perfectly! If you have more of a sweet tooth, use the Superfood Chocolate instead of the regular cacao powder and maple syrup combo. The ingredients in that superfood blend will have your taste buds singing and your mood elevating! Not to mention, cacao is one of the highest plant-based sources of magnesium!

7. Spaghetti Bolognese
What: A full-bodied dish typically containing minced meat and some vegetables in a tomato-based sauce, served with wheat spaghetti.
How much exercise required to burn them off: 1 ½ hours swimming (light to moderate pace) (1 medium serving = 750 cal)
Healthy swap:
Spaghetti bolognese is a classic family meal and ticks a lot of boxes; it's quick, convenient, relatively inexpensive and totally tasty!
Here are some ideas to make yours a little healthier and lighter on the waistline, too:
Use Spaghetti squash or zucchini noodles instead of pasta (try our Raw Zucchini Pomodoro here!)
Substitute cheaper mince/ground beef with lentils or lean mince
Sprinkle nutritional yeast instead of parmesan over your dish
Use passata or canned (unsweetened) tomatoes instead of 'ready-made' bolognese sauces
Benefits of swapping:
Spaghetti squash and zucchini have a much lower glycemic load than pasta, and also offer a good dose of fiber! A lower carbohydrate version also helps to keep the total calories down, meaning you can enjoy the same portion size but with less calories.

8. Reese's Pieces Peanut Butter Cups
What: A highly-processed, sweetened peanut butter filling in a rich milk chocolate cup.
How much exercise required to burn them off: 22 mins skiing (1.5 oz = 210 cal)
Healthy swap:
That bright orange package is enough to set-off instant mouth-drool. Unfortunately, that small little cup contains a deceptively large quantity of fat and sugar.
Make your own healthier version by mashing together ½ cup cooked/canned cannellini beans, ½ cup pure peanut butter, ½ cup dairy-free dark chocolate chips and ¼ cup honey or maple syrup. Roll into small balls - you get a delicious peanut butter/chocolate combo but the beans boost up the protein and bring down the fat and sugar content. Might sound strange, but it totally works!
Try stopping at eating only one of these Peanut Butter Bites, or indulge in a Raw Peanut Butter Cup Cheesecake for a special occasion.
Benefits of swapping:
Pure peanut butter is a great source of healthy fats, and cannellini beans are low GI and high in fiber. Plus they're packed full of nutrients to nourish your body, unlike Reese's sugar-filled version.

9. Pizza
What: Base. Sauce. Toppings. Cheese. Need we say more? :)
How much exercise required to burn them off: 2 ½ hours power yoga (2 slices = 800 cal)
Healthy swap:
Mere mention of 'New York Slice' is enough to get your tummy rumbling. But did you know that healthier, homemade versions can taste just as good? Check out these ideas to healthify your pizzas at home:
Use large field mushrooms, thick slices of aubergine (eggplant) or thin gluten-free wraps as your pizza base.
Skip the cheese or go for smaller quantities of a richly flavored cheese (preferably from organic and/or pasture-fed sources), such as feta or goat's cheese.
Or try some of our favorite pizza ideas:
Benefits of swapping:
Aubergines (eggplant) naturally contain an antioxidant called anthocyanin, which is good for cardiovascular health. Plus if you opt for a thin base, your ratio of healthy toppings to base means you're getting more nutrients per bite! Not to mention the teaspoons of refined vegetable oil and hydrogenated fats you'll avoid when making your own at home!

10. Potato Chips
What: A popular snack. Potato chips or crisps are thin slices of potato that have been deep-fried, baked, kettle-cooked, or popped until crunchy.
How much exercise required to burn them off: 17 mins aerobic dancing (1 package/ 1 oz = 160 cal)
Healthy swap:
While the odd indulgence in potato chips certainly isn't the end of the world, they certainly don't deserve a place in our daily diet. If you're craving a savory snack, opt for homemade and lightly salted popcorn or kale chips instead.
Benefits of swapping:
Kale is highly alkalizing and rich in many minerals. While popcorn is a fun, light snack to have from time to time, with typically less refined fat content than chips or crisps.

11. Nachos
What: Nachos are what you get when you combine cheese, corn chips, savory meat sauce and Mexican spices. A flavor explosion that's very hard to resist…
How much exercise required to burn them off: 65 mins water aerobics (1 regular order/ 7 oz = 450 cal)
Healthy swap:
Why not enjoy this signature Mexican dish but make your nachos healthier by:
Holding the corn chips. Try serving your nachos on a bed of rice or quinoa OR making your own healthy corn chips by oven baking thin strips of gluten free flat wraps.
Substituting half or all of your mince (ground beef) with kidney or black beans.
Holding the cheese.
Choosing plain cultured yogurt instead of sour cream.
Or share some Vegan Naked Nachos with your friends!
Benefits of swapping:
When using wholefood ingredients to make your nachos, and adding in more beans, you're bumping up the fiber content - which will make you fuller much easier! Kidney and black beans are also good vegetarian/vegan sources of iron. Holding off on the corn chips and cheese also means you're saving on extra calories from refined, processed fats. The yogurt swap also boosts your probiotic intake!

12. Mashed Potato
What: A creamy potato mash is one of the ultimate comfort foods for dinner time!
How much exercise required to burn it off:1-hour pilates (1 cup = 237 cal)
Healthy swap:
Simply substitute ½ of your potato mix with mashed (cooked) cauliflower and keep your butter and cream to a minimum. (A little bit of coconut cream or olive oil makes a lovely, healthy fat alternative.) You'll barely taste the difference!
Try it tonight with our Mixed Root Vegetable Mash recipe here!
Benefits of swapping:
Cauliflower contains sulphur compounds, which may help to reduce cancer risk. Plus, as it contains lots of water, it will reduce the calorie load of your mash, meaning you can eat the same amount without overdoing your calories for the day.

13. Milk Chocolate
What: A woman's only desire during "that time of the month". Jokes aside, it's quite possibly the most craved food of all time. It's creamy and sweet - a rich blend of milk fats, milk solids, sugar, cocoa, and other additives that tempts many of us. But the highly processed forms aren't doing our health any good.
How much exercise required to burn them off: 13 minutes skipping (1.5 oz bar = 210 cal)
Healthy swap:
Craving chocolate? Choose quality over quantity and throw in some extra goodness!
Gently heat a small amount of raw vegan dark chocolate until just melted, then dip a fresh strawberry in the chocolate mix until the strawberry is 50% submerged. Set the strawberries aside on a tray for the chocolate to cool, then enjoy. Berry chocolate bliss!
Tempted by chocolate? Try these:
Benefits of swapping:
Bump up the antioxidant hit with dark chocolate, and reduce the sugar content by opting for 85% or more cacao. When you use chocolate as a dip for fruits such as strawberries, you're also getting an extra dose of fiber and vital nutrients for your wellbeing.

14. McDonald's Big Mac
What: One of the most iconic burgers of all time, but not for it's health properties! Find out what's really in a Big Mac here.
How much exercise required to burn them off: 80 mins moderate elliptical trainer (1 burger = 540 cal)
Healthy swap:
If you really love eating burgers, why not make some healthier versions yourself?
Here's how:
Choose a gluten-free bun.
Make a veggie patty or use lean mince (ground beef) from grass-fed, free-range sources.
Hold the cheese or opt for an organic, free-range source .
Pack your burger bun with heaps of extra salad (it will fill you up and gives your body an extra hit of nutrients).
Or try your hand at this deliciously filling Portobello Mushroom Burger that's low carb and totally mouthwatering!
Benefits of swapping:
Homemade burgers mean you know exactly what's going into them! Most store-bought burgers contain little to no veggies. So by making them yourself, you can pile them up high, making sure you're filling up on the good stuff, not just the oversized bun.

15. Buffalo Wings
What: A chicken wing section (wingette or drumette) that is generally deep-fried, unbreaded, and coated in vinegar-based cayenne pepper hot sauce and butter.
How much exercise required to burn them off: 80 mins moderate rowing (10 pieces = 500 cal)
Healthy swap:
This classic American dish may be high in flavor but it's sadly extremely high in salt and refined fat. Here are some ideas to enjoy the flavors of buffalo wings, on healthier terms:
Use chicken thighs instead of chicken wings, from pasture-fed, organic sources wherever possible. Chicken thighs are succulent, tender and a much healthier cut of meat.
Make your own marinades using freshly ground spices and wholefood ingredients, wherever possible.
Lightly pan fry or oven roast the chicken thighs, as opposed to deep frying. For a bit of extra crispy decadence, coat the thigh fillets in some gluten-free bread crumbs or light batter before cooking.
Benefits of swapping:
Chicken thighs are a good source of protein (if you choose to eat meat) and contain less inflammatory fats. Homemade marinades typically won't have as much sugar or salt either!

16. Mac 'N' Cheese
What: Elbow pasta, cream, cheese, salt and who knows what else! This creamy pasta dish is the ultimate quick-fix comfort food, but it does nothing for your health.
How much exercise required to burn off a serving: 1 hour lawn mowing (1 side serving = 465 cal)
Healthy swap:
Like most things, making your own version at home allows you to use premium ingredients and pack in optimal flavor! Check out these healthy tips:
Use gluten-free pasta, made from quinoa and brown rice flours. These tend to be higher in protein and fiber, making them much more filling.
Make your own 'cheese' sauce from scratch. If you eat dairy products, use milk and cheddar cheese sourced from organic and pasture-fed animals. Alternatively, there are plenty of vegan bechamel sauce recipes going around. Add a little nutritional yeast on top for a genuine cheese-like flavor.
Or try our Vegan Cauliflower 'Mac N Cheese' for a seriously delicious alternative! Trust us on this one!
Benefits of swapping:
Quinoa 'pasta' contains good quality amino acids and fiber, making it a great food for vegans. Plus nutritional yeast contains B vitamins, needed for energy and overall wellbeing. You'll also save a ton of unhealthy fat and refined carbohydrate if you switch over to the 'Cauliflower Mac N Cheese!'

17. Banana Split
What: An ice cream-based dessert served in a long dish called a 'boat'. A banana is cut in half lengthwise and topped with ice cream, sauces, crushed nuts, whipped cream and a maraschino cherry. Don't let the name fool you - this old-fashioned dish is certainly not for the faint-hearted!
How much exercise required to burn them off: 95 mins indoor bowling
(11 oz serving = 490 cal)
Healthy swap:
This classic dish is understandably one that nobody wants to miss out on, whether for nostalgic reasons or you simply love the combination. Here are some tips to make it a little lighter but enriched with nutrients to nourish your body:
Use half of a large banana, or opt for a small lady finger.
Add a small scoop of dairy free ice cream, or even plain cultured organic yogurt, with just a dash of pure maple syrup.
Melt a small amount of the highest quality, fair trade dark chocolate that you can find.
Scatter a small quantity of chopped, activated nuts over the top.
Benefits of swapping:
Bananas are high in potassium and fiber while nuts are a good source of long-lasting energy and healthy fats. Plus the smaller portion size using the combination above, means you won't be in a sugar-coma post-dessert time.
Please note: All calories listed are based on product/brand averages and the energy expenditure of an average 80kg adult.
I hope these tips help you enjoy the foods that you love, without feeling deprived. It's really possible to savor our favorite flavors! The only thing we're really missing out on is all the extra calories and lousy sources of nutrition!
So tell us, what's YOUR favorite healthy swap you use at home? The more tips we can share, the better!
---
If you haven't already, join our free global challenge at www.GetOffTheGluten.com to receive daily recipes & health tips, access to our private group for support and inspiration, plus before and after testing to track your progress in key areas of your life such as weight, sleep, bloating, skin-conditions, mental health and more!
JOIN THE GROUP CHALLENGE STARTS IN: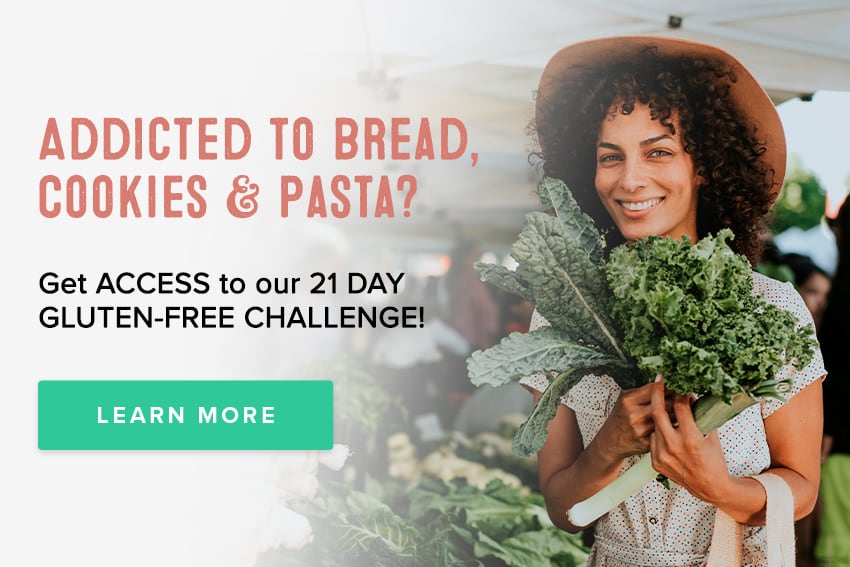 ---