Your Ultimate Mother's Day Recipe Collection
ADD TO MY RECIPES
We love our moms. Seriously, when we reflect on all the amazing things they do for us, the unconditional love and the sacrifices we make, it almost feels like there's no way we could even express our gratitude. But one thing my mom always appreciates, and I know the other moms of FMHQ do too, is a home-cooked meal made with love. So whether you're making her some treats, spending the afternoon cooking together, or making dinner to show your appreciation, this is our ultimate Mother's Day recipe collection.
Fun Foods To Make Together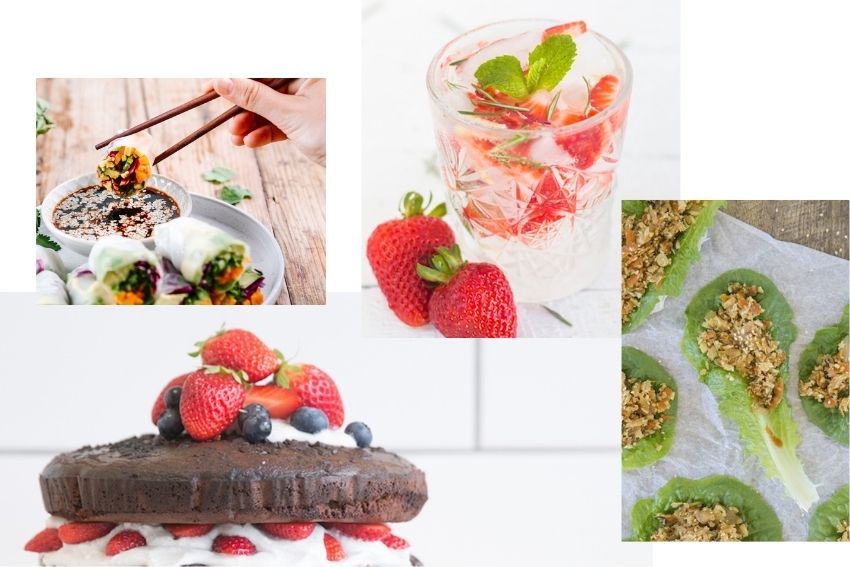 A delicious mix of berries, rosemary, and mint makes this mocktail the talk of the party. All you need is some kombucha or kefir and a few ingredients, and you're set for a delicious unwind while you're making magic in the kitchen.
Traditionally San Choy Bau is made with mince, we've swapped the meat for cauliflower rice without compromising on taste. Using cauliflower rice as in place of meat, will leave you feeling great plus cauliflower is packed with vitamin C, vitamin K, and vitamin B while also giving you a great source of fiber, manganese, and biotin. This is a super simple and fast dish that you could add any ingredients to, depending on what you have in the fridge, but it's the perfect dish to make together.
Simple, summery rolls are a staple for any day occasion. Whether it's a shared lunch or a meal put together after a long day at work, a few vegetables and this delightful dipping sauce are all you need. This recipe is ideal for kids to help with too, as they love rolling their own papers!
A lower-carb alternative to regular pizza that sneaks in some extra veg... We've opted for an authentic Italian-style topping, but you can add as many extra veggies as you like to make it your own! Traditional pizza bases are heavy in gluten-rich flour that can be difficult to digest and leave you feeling sluggish. This cauliflower base adds some extra veggies to your meal making it nutrient-rich, light on your stomach, and it tastes amazing.
Nothing reminds me of quality time more than moments spent slaving away over a beautiful cake. Fortunately, this beautiful cake is even simpler than it looks. It's gluten-free, dairy-free, and guaranteed to keep you coming back for more.
Treats To Show You Care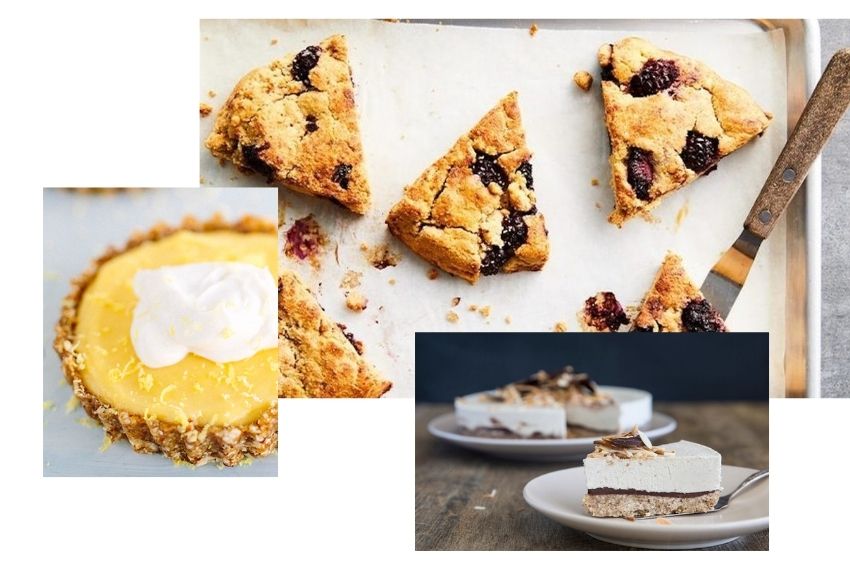 I'll admit, Almond Joy's (Bounty Bars if you are in Australia) have always been a family favorite of ours so I felt a little inspired to recreate these flavors into a raw vegan dessert. That nutty base, chocolate layer hidden under that creamy coconut layer, topped with lightly toasted almonds and coconuts... Need I go on?
Rich, healthy nougat. A sweet, gooey filling. And smothered in chocolate. What more can you ask for? This healthy version of a Snickers Bar will definitely hit the spot! It's surprisingly easy to make, and since it doesn't contain any processed ingredients you won't need to worry about a sugar crash later.
We promise this is just as good as the classic version you know and love… just healthier! In this classic, lovable dessert we've swapped out gluten-containing grains and flours in the base for nourishing nuts and gluten-free oats which make the perfect crunchy base. Then we've added things such as natural sweetener, coconut oil, and cacao butter to make a healthier curd. It's a little bit tart, a little bit sweet, and the perfect Mother's Day treat.
Nothing says I love you quite like foods that nourish the body, and these gummies do just that. Since when would anybody have thought that a gummy could be healthy?! This version is filled with good quality, gut-healing gelatin, high-antioxidant berry, and flavored with a silky-smooth coconut cream layer. This recipe is a delicious fusion of classic flavors.
These berry scones come from Dr. Hyman's cookbook, Food: What the Heck Should I Cook?, and they're a delightful twist on the homemade classic. A basket of freshly baked goods goes a long way in my family, and these delicious scones are sure to in yours too...
The Best Meals Made With Love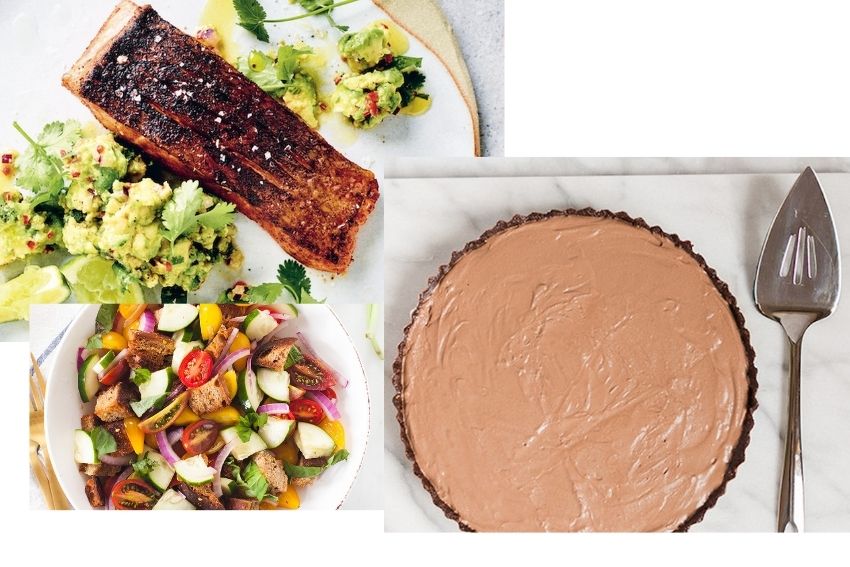 Have a brunch in mind? Look no further than these tasty breakfast tortillas. They're equal parts nourishing and moreish, and they're always a crowd favorite at any long brunch (especially alongside a mimosa with freshly pressed OJ).
If you're hosting a sit-down dinner for two or more (or even hosting over zoom), this panzanella salad can't be missed. It makes the most of fresh, local ingredients that you can gather from the farmers' market, and uses up anything that's about to go to waste. It's embracing the thriftiness that your mom instilled in you - make her proud.
If there's one food that brings everyone together, it's a homemade lasagne shared around the table. This is a nourishing take on a simple classic ragu, harnessing the health benefits of lentils and other nutrient-rich vegetables that shouldn't be too far out of reach. It's comfort food at it's finest, and says I love you from the inside out.
For something that feels like a fancy dinner out, but from the ease of your home, don't look past this dish. While ocean trout is the star of the dish, you can easily switch it out for wild-caught salmon or a white fish of your choosing. Select your mom's favorite from your local fishmonger and surprise her with this (and a nice glass of red).
Every good dinner needs a reliable dessert, and this no bake vegan chocolate tart is as satiating as it is dependable (and there's almost always leftovers to enjoy throughout the week). It's raw, it's vegan, and it's absolutely mouthwatering. What a perfect way to round out your Mother's Day.
---
If you haven't already, join our free global challenge at www.GetOffTheGluten.com to receive daily recipes & health tips, access to our private group for support and inspiration, plus before and after testing to track your progress in key areas of your life such as weight, sleep, bloating, skin-conditions, mental health and more!
JOIN THE GROUP CHALLENGE STARTS IN: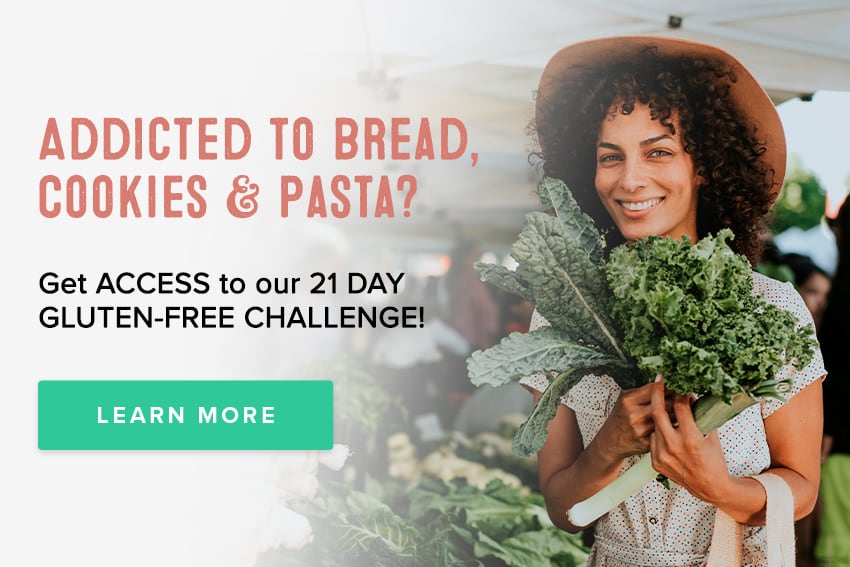 ---