10 Hacks To Make Any Veggies Taste Good
ADD TO MY RECIPES
It's OK to admit that you haven't always liked eating vegetables! When someone placed a large plate of steamed vegetables in front of you as a child, it's no wonder that you quickly decided that they are your least favorite food.
As the tables turn, you are getting older and having kids of your own.  It's time to start getting a little creative and make any vegetable full of flavor.
Don't make the kids (big or little) sit at the table until they've finished their plate of broccoli.  Try these 10 hacks to make veggies taste good every time!
1. Stop Steaming. Start Roasting.
You don't have to be creating a Sunday Roast to use this method to make your vegetables taste amazing! We're huge fans of roasting vegetables as it brings out a whole new flavor that is deeper and more caramelized. A drizzle of olive oil, a sprinkle of salt and pepper, and they'll turn out great every time!
Roasting up a big batch of mixed vegetables makes a perfect meal prep for the week ahead. Keep some on hand in the fridge to help bulk out salads for lunch. Try this Roast Beet, Sweet Potato and Kale Salad or Celeriac & Sweet Potato With Saffron Quinoa .
2. Blend Them
If you are really struggling to get in 5-7 servings of vegetables, try changing their texture! The easiest way to do this is by making soup or adding them to your smoothies!
You can spice up your soups with many different flavors or toppings, and easily add a number for vegetables to create the perfect combo. This Tomato and Carrot Soup is simple but super tasty, and you can't beat a Warming Squash Soup with Crispy Chickpea Croutons ! We have loads more vegetable soup inspiration here .
Don't fear to add leafy greens to your daily smoothies .  It may change the color of them, but if you're rocking a good combo, chances are you won't even taste it! You can even try adding vegetables like celery, fennel and mashed sweet potato!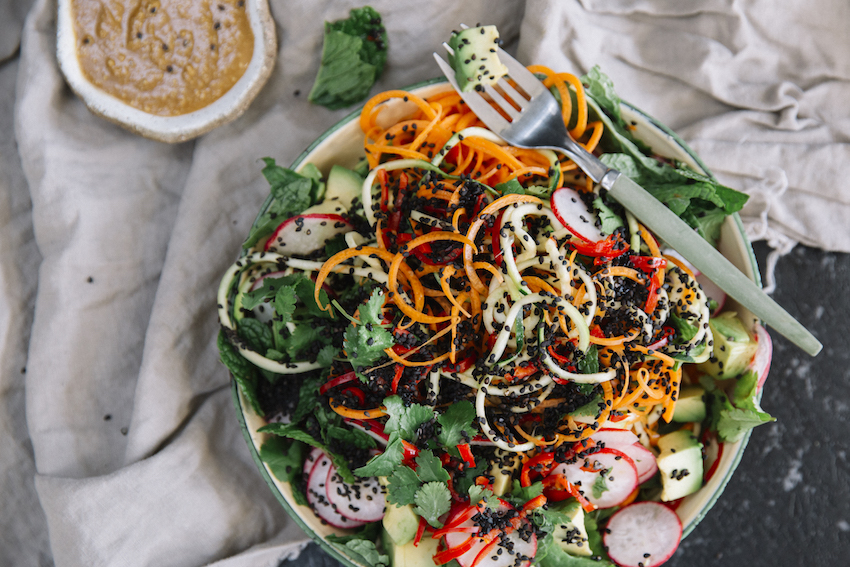 3. Spiralize Them
Swap out your go-to pasta with vegetable noodles! Spiralizing vegetables will instantly transform them. The best part is there are so many combinations you can try to make it work for the whole family.
Our favorite right now is this No-Noodle Thai Salad , but you can get creative with sweet potato noodles , stir-fries or pasta dishes. This hack is a great option for non-veggie-loving kids. They can have fun with you creating zucchini, eggplant or parsnip noodles using a Spiralizer .
4. Stir-Fry Them
Snap out of your usual veggie routine and start creating fresh stir-fries! Stir-frying vegetables will allow you to focus on the vegetable first, rather than the protein. For example, stir-fry a variety of your favorite vegetables such as bell peppers, carrots, mushrooms, onions, broccoli and bok choy, then serve with rice or quinoa.
Stir-fries are a super quick and easy way to pack the rainbow into one dish with some big flavors like Chili, Ginger Chia Jam or maybe a Lemon-Ginger Combo ?
5. Make Fries
Seriously, find me someone who doesn't like a good chip! Potatoes aren't the only veggies that make great fries.
We're obsessed with roasting strips of our favorite vegetables to create healthy fries. Try this with sweet potato , carrots and even zucchini fries .
6. Don't Throw Them
How often have you thrown away parts of vegetables that you wouldn't usually eat?  We're talking about stalks, celery leaves, onion peels, and the ends you chop off.
Save these off cuts and create yourself one delicious, home-made, vegetable stock!
7. Dip It Good
Making your own dips is easier than you think.  Plus it is a great way to use leftover vegetables and is a healthy snack to have on hand for the kids! Our dips are packed with maximum flavor and nutrients, yet so simple to throw together! Get the recipes here.
8. Get Sneaky With Them
Whether you are hiding them from yourself or from the kids, this is a super easy hack to get more vegetables into the diets of your loved ones. Ramp up your efforts to hide them by sneaking more into pasta sauces. Take that tomato sauce to the next level by adding bell peppers, onions, and carrots!
Baking them into your favorite dishes is also easier than you think. Next time you're creating brownies, try using a roast beetroot as a base .  They will be rich and moist, and no one will even know! This Zucchini Breakfast Bread is a winner for using up those extra zucchinis lurking in the vegetable drawer.
Love it or hate it, cauliflower is one of the most polarizing vegetables! What if we told you that you could get the kids to eat it? Change it into something totally different by creating a cauliflower pizza base or these amazing Crunchy Cauliflower Tacos!
9. Stack 'Em Up
Take a bunch of vegetables (a mixture of your favorite and not-so-favorite), slice them thinly, layer with a creamy homemade vegan 'cheeze' sauce in a baking tray, and pop them in the oven to bake for 30 minutes! We love creating baked vegetable stacks like this Vegan Zucchini Lasagne . Perfect to have on hand for a healthy and hearty lunch, too!
10. Flavor Them
Don't underestimate your herb and spice rack. This is the easiest way to turn drab veggies into fab veggies! Plus, you'll be boosting their nutritional value! Check out this list for some of our favorite herbs and spices that you can add to your vegetables not only for flavor, but also extra health benefits.
.
---
If you haven't already, join our free global challenge at www.GetOffTheGluten.com to receive daily recipes & health tips, access to our private group for support and inspiration, plus before and after testing to track your progress in key areas of your life such as weight, sleep, bloating, skin-conditions, mental health and more!
JOIN THE GROUP CHALLENGE STARTS IN: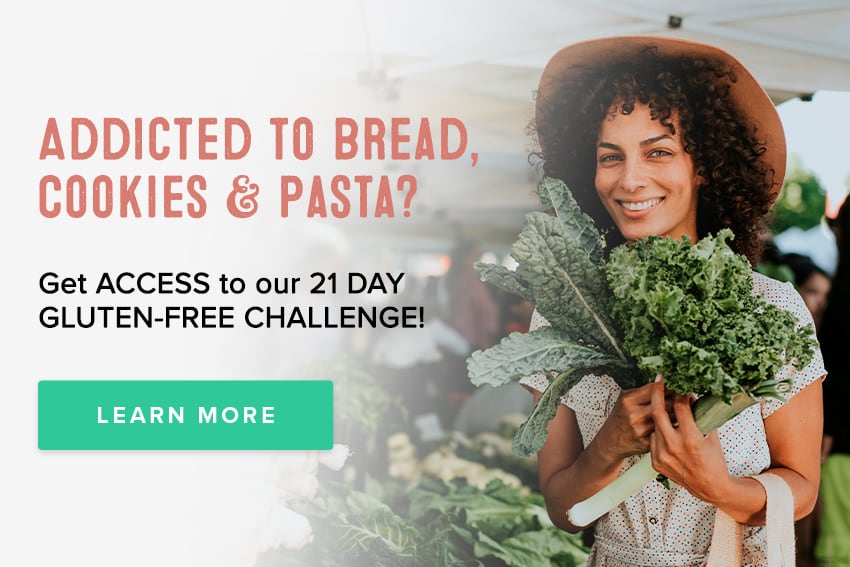 ---