25 Quick & Healthy Recipes We Love
ADD TO MY RECIPES
Healthy food doesn't have to be difficult to make, expensive, or need hours of preparation! We are big believers in showing our community just how quick and easy it can be to create healthy, wholesome meals for the whole family!
So we've rounded up 25 of our favorite recipes including; breakfast, mains, snacks, desserts and smoothies.
Favorites of the Food Matters Team and the FM community, these recipes are our go-to's when we're short on time or just need a little bit of healthy inspiration!
Not sure how you can add more turmeric into your diet? Reap the benefits by adding it to your favorite daily smoothie! We love this anti-inflammatory smoothie.
Whether you need a quick breakfast or snack, here's a fun way to enjoy apples.  Remember, "An apple a day keeps the doctor away." Buy organic, when possible.
What a great snack, high in fiber, protein, manganese and iron. A super dairy and egg-free option. We have added a hemp twist to provide omega 3, omega 6 and gamma linolenic acid (GLA) which your hair, skin and nails will love; and making this the ultimate beauty food.
In 10 minutes you can whip up this yummy meal for lunch. You will not believe this plate is nearly all vegetables and, being a raw dish, none of the nutritional benefits will be lost.
Start your day by wrapping up your omelette and greens in nutritiously dense nori seaweed, which our paleo friends can enjoy, too, as it's grain free.
Want to know how to include more kale in your diet? This recipe will teach you how to enjoy it raw in barely any time, adding some pomegranate for necessary vitamin C and walnut to get your vitamin B's up.
There is something about the combination of pumpkin, a fragrant curry paste, and coconut milk! This Thai inspired pumpkin soup will warm you from the inside out.  It's packed with nourishing ingredients!
Want a lunch that will give you gorgeous skin, hair and nails? Here is a mixture of raw, alkalizing ingredients combined into a tasty salad. It's light on the belly, too.  What a great bonus!
A quick, gluten free and complete protein meal. Low in calories but full of essential vitamins and nutrients: iron, B-vitamins, magnesium, phosphorus, potassium, calcium, vitamin E and fiber.
Note: Cook quinoa the night before if you're hurried on other days.
Who doesn't love pancakes?  Here are some variations on quick recipes that have a lot of nutritional value yet minimal ingredients. We have added four different types of pancakes for you to enjoy on alternate days.
Whether you enjoy this for breakfast or lunch, you`ll certainly be satisfied with this slow releasing carbohydrate meal.  It's packed with fiber, folate, protein and essential fats, but it won't leave you feeling too full. Note: Cook quinoa in advance for quicker preparation time.
Zucchini pasta, this time with an Italian twist that vegans and paleos will love equally.  No cooking required, which means you will absorb all the magnesium, folate and fiber to be had from this meal.
This is so delicious and naturally sweet it could be had for breakfast or a dessert. It's hard to believe this treat is so healthy but chia seeds are rich in antioxidants and provide fiber, iron, and calcium. The coconut milk will provide those essential fatty acids you need. Together, both these wonderful foods contain protein, so it can be enjoyed as a meal or snack.
Need to add more probiotics to your diet? With regular consumption, sauerkraut will give you the good bacteria your gut needs, as well as aiding digestion. It is rich in vitamins and will boost your immune system. It will take some time to ferment, but once ready you'll be able to serve it from the jar every day, no cooking required
Want to know how to get more green vegetables in your day? You can start at breakfast time. This delicious smoothie bowl has greens blended with banana, coconut milk yogurt and lime so that all you'll taste is a creamy and naturally sweet sensation.  It's a great way to start your morning!
There really is something special about this sweet treat. It's almost too beautiful to eat with its vivid, colorful hues of red raspberries, glowing green pistachios and ayurvedic properties!
A liquid snack if you're on the run or it can be enjoyed as a starter before lunch and dinner. This tasty soup is fresh, purifying and alkalizing but also high in vitamin C and fiber thanks to the main ingredient - fennel.
Who would have thought you could whip up a dessert this quickly and have it taste so good? Well, you can with this mousse.  It's a fantastic blend of superfoods including avocado, dates and cacao for a healthy heart; and mesquite powder, vanilla, rice malt syrup and nut milk for a protein hit.
Perfect for a warm day, they are all raw and easy to make. You will love the variety of colorful, crunchy vegetables and will absorb plenty of vitamins, as well as a generous amount of protein from the tofu. For those who like a little spice, you'll adore the tangy dipping sauce that goes with them. To be enjoyed vegan or non-vegan as a snack or light meal.
This couldn't be easier to make and an awesome alternative for those who love toast.
Subsitute sliced bread with sweet potato - an excellent source of vitamins and minerals as well as dietary fiber that will maintain your energy levels until your next meal. Topped with sweet and delicious chia berry jam, which can be easily made when you've got an extra 15 minutes.
Forget coffee!  Replace it with this nutty, spicy and immunity enhancing latte, instead. It's infused with the natural anti-inflammatory ingredients of pumpkin and turmeric, which will also enlighten your mood, as well as cinnamon to maintain your blood sugar. This makes it the perfect pick-me-up on a chilly day, minus the caffeine.
The combination of ingredients in this juice helps to improve blood circulation, boost your metabolism, and detoxify toxins, helping to prevent excess fat cells forming in the body. Refresh and rehydrate with this delicious skin-supporting drink!
Sometimes less is more; this simple low-carb smoothie only needs 4-5 ingredients. A great way to start the day and get your body burning fat, thanks to the ginger and nutmeg spices making it digestible and soothing for an upset stomach.
It's 3:00 p.m. and you're craving a nutritious, delicious snack. We've got just the thing! These heavenly balls are low in carbs so they won`t spike your insulin but have good fats of sunflower and coconut oil to fill you up and nourish your skin. Along with magnesium, iron and calcium from cacao for healthy muscles, blood and bones.
If you love noodles but need to watch the carbs, here is an ingenious way to make noodles using sweet potato tossed in an alkalizing, protein rich and tasty dressing.


Our Goal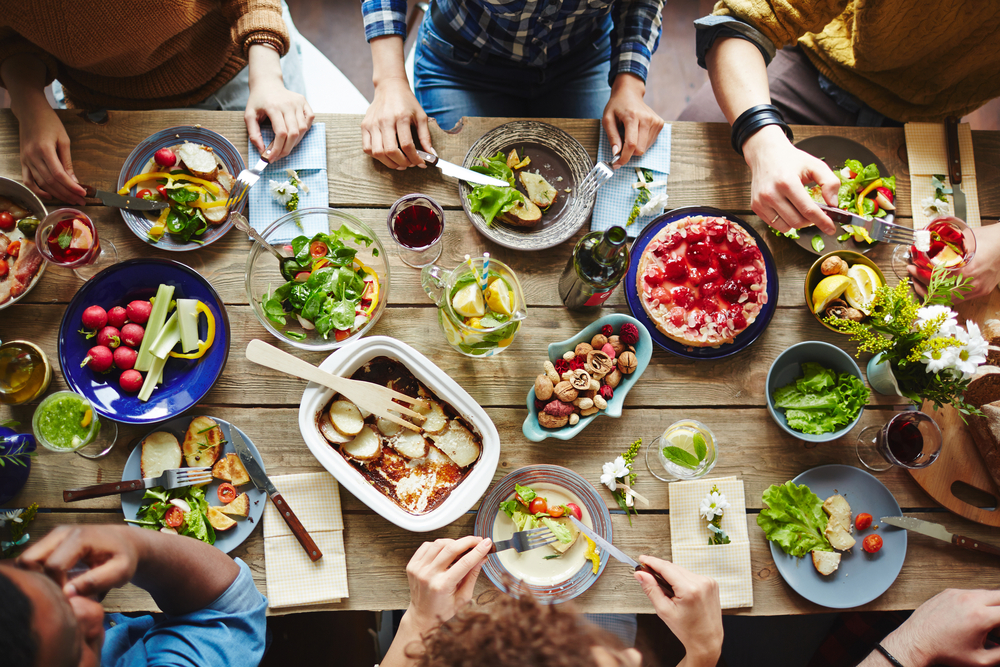 One of our main goals here at Food Matters is to reignite our community's passion and get them into the kitchen with the whole family, creating nourishing meals daily to live their best life ever!
We believe you have it in you to put a stop to the mindless eating of dull, nutrient-devoid foods and say hello to a colorful plate of nourishing goodness! But we also know how hard it can be to take these steps, which is why we have the power of our community behind us!
Do you have a passion for nutrition & natural healing?. Learn more about the Food Matters Nutrition Certification  Program here.
ENROLLMENT & BONUSES CLOSE IN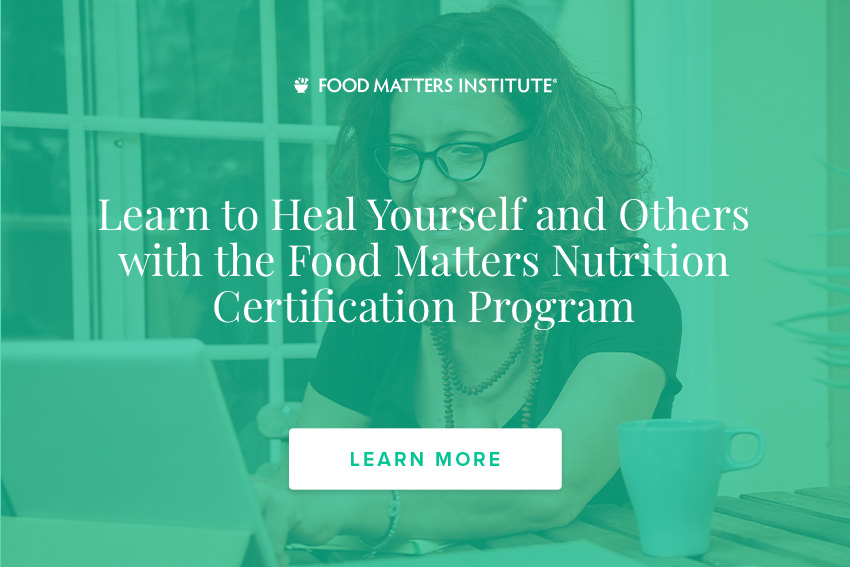 ---